Retired Physicist Who Champions Children
Kids of Leon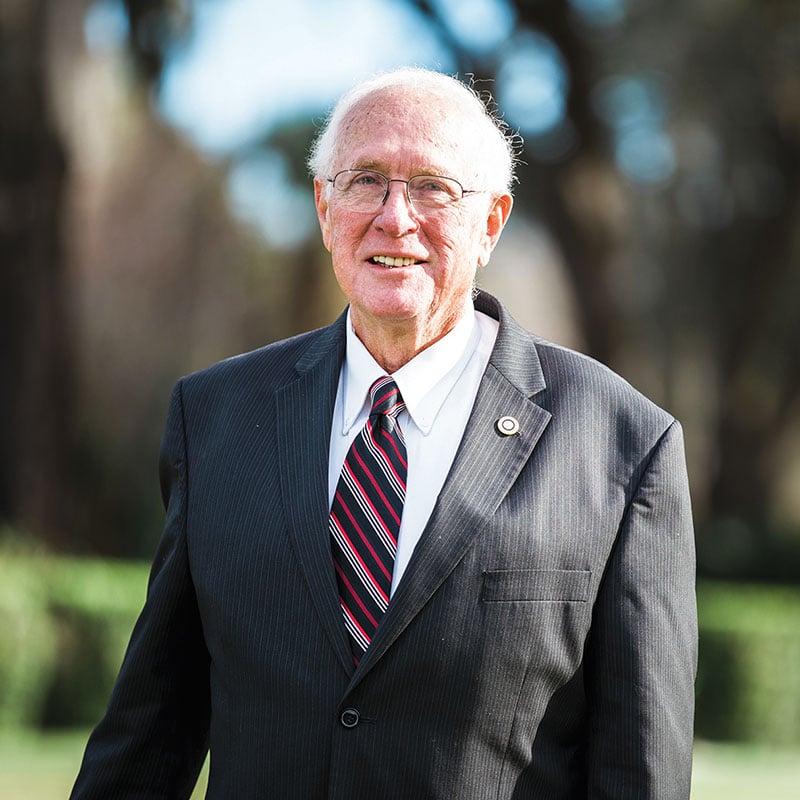 Retired from what had been known as the Naval Surface Warfare Center in Panama City Beach and surrounded by family members who believe strongly in "paying the civic rent," Leon Walters was vulnerable.
Getting involved with the Bay Education Foundation would prove inescapable.
Dr. Glenda Walters, his wife, was serving as a mentor to a Foundation scholarship student, Amanda Nell Cobb, who grew up in a poor, single-parent household, but could not be separated from her passion for learning and her desire to go to college.
One of their daughters, Lisa, an attorney, was a foundation board member who had been instrumental in bringing about the organization's Take Stock in Children Scholarship Program.
But it was Cobb who cemented the Leon Walters/Foundation relationship. While Glenda was Amanda's mentor of record, Leon would emerge as a father figure in her life.
Walters, 76, was hooked and became a foundation board member and chairman of its fundraising golf tournament. At this writing, he has committed to serving the foundation as board president for a fourth year.
"Amanda was like so many of our scholarship students," Walters said. "She had no role model and little support at home. No member of her family had ever been to college. In fact, her mother resented the foundation. She intended for her daughter to drop out of school and go to work.
"But Amanda would not be denied." She wished to learn, and she wished to teach.
Cobb would become the first Bay Education Foundation scholarship student to earn a bachelor's degree, graduating from Flagler College in 2005 as an English major. She didn't stop there. She went on to earn a master's degree in English literature from the University of Central Florida and then embarked on international teaching tours of duty.
She taught English in China and then in Russia, where she met a dentist, Vladimir Meshcheryakov, whom she would marry. The couple now lives in Virginia, where Mrs. Meshcheryakov — she now goes by Nell — is closing in on her doctorate and working as the dean of students at Strayer University's Henrico College Campus in Glen Allen.
Walters was a physicist by trade. A graduate of Florida State University's main campus, he worked as a Senior Executive Service (SES) physicist at the Naval Surface Warfare Center, supervising areas including underwater countermeasures, mine warfare, amphibious warfare and diving and life support.
"A lot of people don't know what SES is," Walters said, "but it is the equivalent of admiralty on the civilian side."
Given his training and experience, Walters gravitated to the Science,Technology, Engineering and Mathematics (STEM) camps conducted at Florida State's Panama City campus.
As a volunteer instructor at one such camp, Walters shadowed a reserved  middle schooler, La'Fred Gibbons, who one day, surprisingly, spoke up and took on the responsibility of programming a robot.
"He excelled at that, and I made sure he received a foundation scholarship," Walters said. "But he and his mother moved to Georgia when he was just a sophomore in high school and later moved to Ohio."
Departure from Bay County resulted in forfeiture of the scholarship, but Walters has stayed in touch with Gibbons, who has made his way to Tuskegee University in Alabama. There, he is a junior majoring in chemical engineering and mathematics.
"He is an outstanding citizen," Walters said, "and his situation was a lot like Amanda's. He was a member of an itinerant family, and he had to make his own way."
The foundation grants "2-plus-2" tuition scholarships to students who enter contracts whereby they pledge to remain "drug- and crime-free" throughout their high school years. Students living up to their end of the bargain are entitled to two tuition-free years at Gulf Coast State College in Panama City and two at the Florida public university of their choice. Should they opt for a private school, as Cobb did, they are responsible for the difference between public and private tuition costs.
Today, the foundation works to stay in touch with about 115 scholarship students who are in either high school or college.
Walters & Co. does its part that way.
"Glenda is mentoring a student and so is my son, my youngest daughter and my son-in-law," the patriarch and foundation president said. "It's a family thing for us."
---
Meant to Be a Mentor?
Mentors change lives by leading children to commit to values, establish goals, improve their academic and life skills and develop confidence.
The success of the Take Stock in Children scholarship program in Bay County is a result, in large part, of the role played by mentors — a role that appeals to people who want to have a lasting, profound impact on their community.
Weekly mentoring sessions range from 45-60 minutes in length and take place on school campuses. Take Stock in Children mentors receive training and materials that provide them with the tools they need to help students improve grades, prepare for college, plan for careers and develop life skills. Mentors, without exception, find themselves reflecting with gratitude on the adults in their own lives who groomed them for success.
---
To learn more about Take Stock in Children mentoring opportunities, contact the Bay Education Foundation at (850) 767-4111.