Remembering Our Little Patriots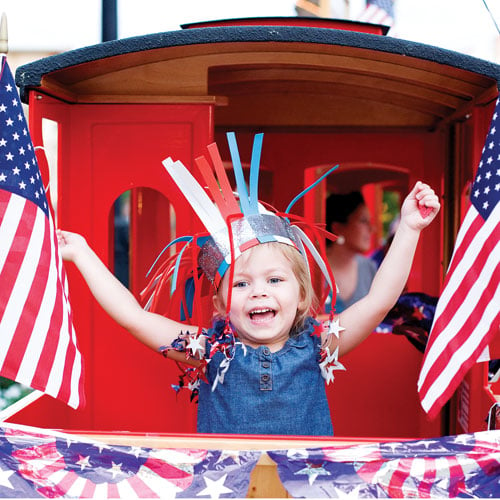 Here on the Emerald Coast, we're blessed with a tremendous military presence. The arrival of the Army's 7th Special Forces has brought even greater awareness of our troops' continual sacrifices. From restaurants to retail shops to events, our community shines a spotlight on supporting the troops. The month of April is a time to shine the spotlight on the youngest members of the military family. In 1986, then-Secretary of Defense Casper Weinberger designated April as the Month of the Military Child. As we celebrate the 26th anniversary of this event, it should spark communities across the nation to recognize our youngest heroes — our Little Patriots.
The designation of the Month of the Military Child in 1986 also marked my second brat's birth at Wright Patterson Air Force Base. Brat is an affectionate term that's sometimes mistaken as derogatory by civilians. Yet, for military families it's an admirable term — symbolic of adaptability, worldliness and patriotism. From birth onward, brats absorb military structure, jargon and pride into their fiber.
Given my military service, my husband's military career and our children's frequent transitions, we assigned an acronym for BRAT to symbolize hopeful outcomes: BRAT (Be Relocated And Transformed)! While some brats dig in their heels and detest an impending move, others spread their wings and embrace opportunity for change. My brats were polar opposites with every PCS, or permanent change of station. With each move, something is lost yet something is also gained. For military children, there's little hope of living in the same neighborhood while growing up. But there's great hope of exploring the world. For military families, "home" isn't a point on a map; it's a place inside your heart.
On average, military children attend six to nine different schools. With repeated deployments, navigating good-byes and reunions is a continual challenge, as are missed milestones like birthdays, games, recitals and more. Sometimes, deployment results in a brat-related PCS — requiring children to change homes and schools until their deployed parent returns.
According to the American Forces Press Service, more than 900,000 children have had one or both parents deploy. Those numbers are made up of "active duty brats" and "suddenly brats." In record numbers, reservists have deployed to war, leaving behind their suddenly military families. Nearby or apart from military installations, support is essential for a hopeful journey. The Month of the Military Child is a perfect opportunity to lend support for our Little Patriots during deployment and beyond.
Look at life through a child's eyes, and put yourself in their shoes. Challenge your community to make a greater difference for our military families. Our Little Patriots deserve the spotlight for their adaptability, worldliness and patriotism — honor our nation's youngest heroes today!