Reef Madness
Team effort brings sealife close to Walton County shore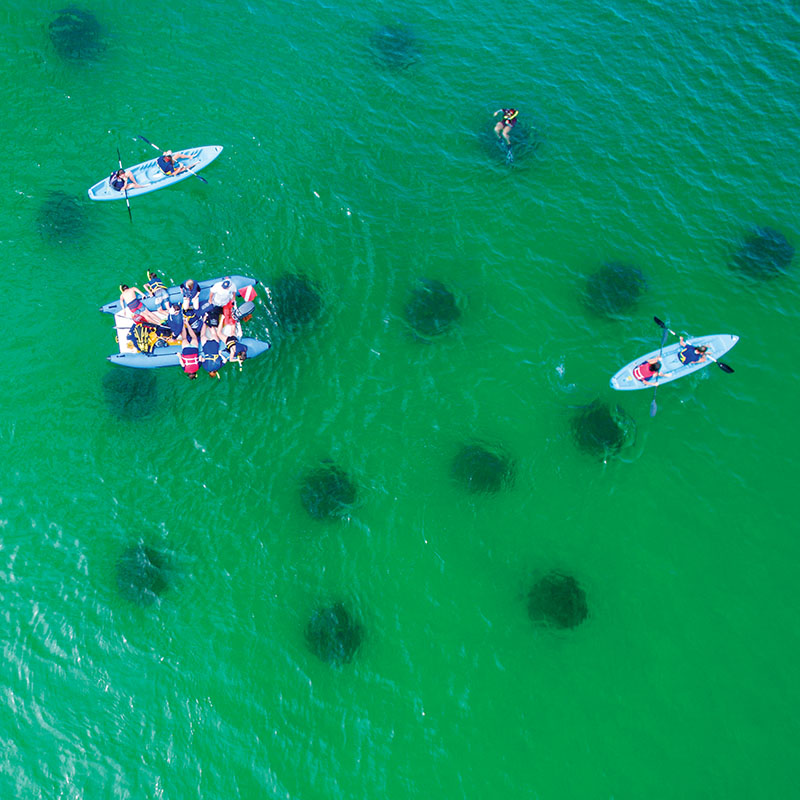 Converting an inspired concept into reality can often be a daunting task, but that hasn't stopped Andy McAlexander and the South Walton Artificial Reef Association.
"Definitely unique," is how Alex Fogg describes the SWARA-created snorkel reef that was planted just off Grayton Beach in July 2015. "It's one of those things, you have to see it to believe it and understand it."
Which is something Fogg is paid to do as part of the Florida Fish and Wildlife Conservation Commission. And as such, his job is to help SWARA execute the plan McAlexander and his board created in 2013 for three more snorkel reefs, to be followed by nine nearshore reefs and two offshore reefs.
"All the sites are major public accesses that the Walton County Tourist Development Council maintains and are of the highest use," McAlexander said. "And we also did our very best to evenly distribute the locations across the 26-mile wide county. Our hope is that through the use and exploration of the reefs by residents and visitors, we'll create an awareness of how unique that environment is and that we ought to take steps to preserve it."
As the owner of the Mac Farms produce business and a local Realtor who enjoys diving as a hobby, McAlexander was attending a Restore Act conference that was addressing the aftermath of the 2010 BP Oil Spill. And the idea was born.
"I started thinking about if there was something I could create for Walton County that would have a positive impact for the community as well as the environment," McAlexander said.
"Something that had a net return for everyone — what would that be? Since Walton County does not have a pass into the Gulf of Mexico, I thought of creating a near-shore reef system because most of our visitors » enjoy paddleboarding and kayaking. So if we could give them something to do that has an environmental impact, without needing a boat and motor to get there, that would be special. And it's taken off from there."
SWARA board member Bill Horn spent 22 years as a marine fisheries biologist with the FWC Artificial Reef Program.
"I've always wanted artificial reefs off of Walton County," Horn said. "My family's owned a place in Seagrove Beach since the 1950s. Locals know what our tourists probably don't. There are no natural reefs until you get out to 100 feet deep, so there's no place for reef fish and reef critters. What we're doing will bring a whole different suite of fish that wouldn't have been in that area, like snapper, grouper, butterflyfish and damsel fish. From large fish that people like to catch to tiny little fish that are just pretty to watch and enjoy."
The impact of the first reef was immediate, according to McAlexander, Horn and Fogg.
"Within hours, there were fish swarming around it," McAlexander said. "And we've seen in subsequent dives that it's alive. We've had documented sightings of fish not usually seen that close to the coast, plus green turtles, tunicates (similar to sponges) and all kinds of barnacle growth."
Cost of the first project was just short of $190,000, including a $150,000 grant from the Walton County Tourist Development Council. Future costs would run between $200,000 and $250,000 per project. Thanks to help from Matt Trammell and Taylor Engineering in Destin, all the necessary permits have been secured. And SWARA is working with Fogg and the FWC to obtain some of the $1.2 million Walton County is receiving as part of BP money known as Early Restoration Phase Three Funds from the Natural Resource Damage Assessment Program.
"It's been a team effort," McAlexander said, his face lighting up with a big smile. "I'm very proud of that our community and our government have embraced the reef program, and hopefully we will all reap the benefits of it for decades to come."