Red, White and Food
Harvest Festival enjoys strong first year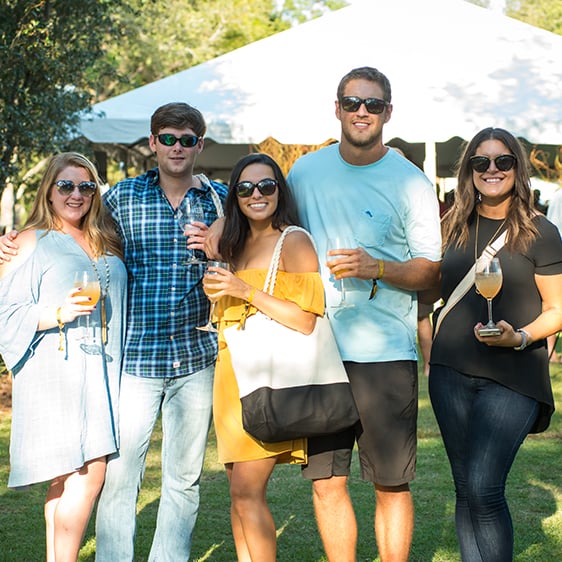 The first-ever Harvest Wine & Food Festival kicked off its four-day run along the Emerald Coast on Thursday, Nov. 2, and rewarded attendees with fine wines and award-winning local fare, cementing itself as a new favorite fall fête.
The celebration, presented by the Destin Charity Wine Auction Foundation (DCWAF), connected with connoisseurs and casual sippers, alike, with its assortment of more than 400 wines, liquors and craft brews from across the globe.
Night one of the festivities featured Celebrity Winemaker Dinners at Café Thirty-A, The Wine Bar at WaterColor and Seagar's Prime Steaks & Seafood. Gamble Family Vineyards, Magnolia Blossom & Champagne Delamotte and Rudd Oakville Estate wines exquisitely complemented each seaside supper.
On Friday, the festival moved to the WaterColor Beach Club, where the delectable Al Fresco Reserve Tasting attracted the attention of aficionados with its presentation of library wines. Ageworthy vintages were accompanied by a sumptuous spread of finger foods, savored as the sun approached the horizon.
DCWAF's three-day silent auction was launched on Friday, leading participants to bid on exotic wines, vacation destinations and other choice activities. Festival and auction proceeds benefit DCWAF's efforts to assist underprivileged children in Northwest Florida. DCWAF currently contributes to 15 Emerald Coast charities that are focused on children.
On Saturday, hundreds gathered at WaterColor's Cerulean Park for the festival's Grand Tasting. Provided with tote bags and complimentary wine glasses, guests stepped into a labyrinth of over 60 booths and food stands showcasing each vendor's specialty. From crisp and bright whites to bold and rich reds, the wine kept flowing and so did the fun.
To ensure you weren't drinking on an empty stomach, Busy Corner Cheese and Provisions, Honey Hutch, 30A Olive Oil, Momo's Authentic Healthy Food and Destin Ice Market 30A provided gardenside light bites.
Those looking for more substantial grub were not disappointed. Back Beach BBQ served up their signature sliders, embellished with your choice of sweet slaw or chimichurri sauce. Jackacudas Seafood + Sushi kept the good grub coming with fresh sushi, shrimp 'n' grits and creamy, deep-fried rangoons that had guests lining up for another helping. Meanwhile, you could get your fresh oyster fix from Brotula's Seafood House and Steamer.
Many flocked to tents staffed by Grayton Beer, Church Street Brewing, Holy Mackerel, 3rd Planet Brewing, Burnt Hickory Brewery and Destin Brewery, and washed their eats down with a more generous pour.
Despite the tasty treats and endless drinks, the venue itself was something to behold. Possibly earning its name from the striking blue waters of its fountains and surrounding moat, Cerulean Park is a scene straight out of a fairy tale. Attendees visiting the butterfly garden were joined by flurries of majestic orange Monarchs. Accented by sunflowers and a cloudless sky, the setting was a perfect one celebrating the season's delicacies.
VIP ticketholders were welcome at Emerald Coast Magazine's Pop-Up Party. Businesses featured in the October/November edition of the magazine combined to provide a fantastic VIP tent experience.
While enjoying the acoustic tunes of Allie & Salty, VIPs were treated to the magazine's signature cocktail, "On EC Thyme," Timber Creek Distillery bourbons, and more wine selections from Gamble Family Vineyards.
Expert chefs from Cuvée Kitchen + Wine Bar served savory lamb meatballs with goat cheese, fall beet salad and mascarpone scallop fritters accented with smoked jam. Restaurant Paradis featured their crowd-favorite pork belly with pear chutney, and a satisfyingly crispy shrimp tostada.
Friends posed with friends at the Epic Photo Co. booth and admired the alluring jewelry of Bijoux De Mer designer Renee Drinen, modeled by Rowland Publishing's Kenzie Lohbeck and Darla Harrison.
The festival wrapped up with a Sunday Brunch and Bubbles event at Bijoux in Miramar Beach, where the silent auction closed. DCWAF is proud to announce that the Harvest Wine & Food Festival garnered over $100,000 to donate among their chosen charities.
Plans are already in the works for a second annual fest to be held Nov. 1-4, 2018. Tickets will be available in July. For more information, visit dcwaf.org.