Rain Gear You'll Want to Wear
Spring showers make for sleek slickers and stylish rain boots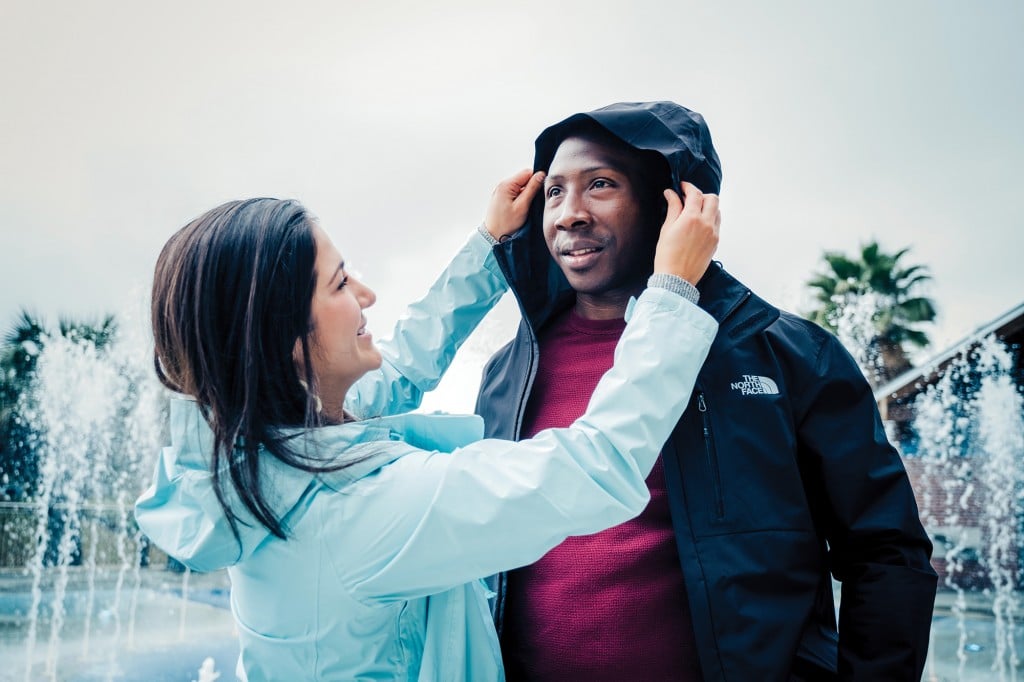 Rain, rain go away! Or, maybe not, if you're properly outfitted in fashionable waterproof wear.
We all know Florida's spring and summer are unpredictable. Blue sunny skies one minute, clouds and a steady downpour the next.
Not being properly prepared and outfitted can literally and figuratively put a damper on the day.
Living in Florida, it's wise to invest in rainwear. I know what you're thinking: It's bulky, uncomfortable and not stylish. You're picturing it now, swishing around in a plastic coat and lugging heavy rain boots through puddles.
Fortunately, rainwear has come a long way in its comfort, fabrics and sense of style.
Josh Wakstein, co-owner of Hy's Toggery in Panama City Beach, suggests quick drying synthetic clothing, which the store offers in a wide selection, including tees, polos, dress shirts, pants, shorts and even dresses.
By looking at these pieces, you would never know such technology went into making the garments.
"Staying dry is staying comfortable, and that's why it's also important to wear clothing that will dry quickly for those times you leave the jacket in the car," says Wakstein.
Where quick-dry clothing is important, above all, a proper rain jacket is suggested for the most rain coverage and protection.
Wakstein says there are three key factors you should seek in a rain jacket.
One, a waterproof breathable fabric that keeps the rain out while letting air in so you don't sweat in the jacket.
Two, taped sealed seams. This will look like a piece of tape running the length of the seam and ensures it's waterproof.
Three, an adjustable hood because you want to keep the rain off of your head but also want to make sure the hood stays on and out of your field of vision.
Rain jackets are more fashionable and functional than ever. New materials have gotten rid of that shiny, plastic look. Many even come in stretchable materials, making them sleek and comfortable.
Seaside Style, the official lifestyle brand of The Town of Seaside, offers a variety of coastally influenced rain jackets. Erica Lambert, Seaside Style's marketing coordinator, suggests the trendy Pack-n-Go Pullover.
It is made of light polyester and packs into its own front pocket with a zipper closure, making it small enough to fit in a bag or briefcase.
Seaside Style offers men's, women's, children's and even pet rain jacket options.
There are plenty of rain boot brands out there. The brands Hunter and Sperry have even made the typical rubber boot cute in a rainbow of eye-catching colors.
There are many brands that also offer waterproof material boots that are unsuspecting.
Designer options that are super stylish include Sam Edelman and J.Crew. For more casual wear, in Florida there is no lack of fast drying, slip resistant sandals, flip flops and deck shoes.
With such improvements in the look and feel of rainwear, you can weather any storm in style.
Don't Forget The Kids
Brighten rainy days with a Youth Charles River Rain Jacket ($51) at Seaside Style. Made of 100 percent nylon, this lightweight jacket with a stripe accent is wind- and waterproof. Thoughtfully designed with elastic gathering at the hood (no drawstrings) for added safety.