Putting Their Best Food Forward
Notable Emerald Coast chefs suggest holiday meals that depart from the usual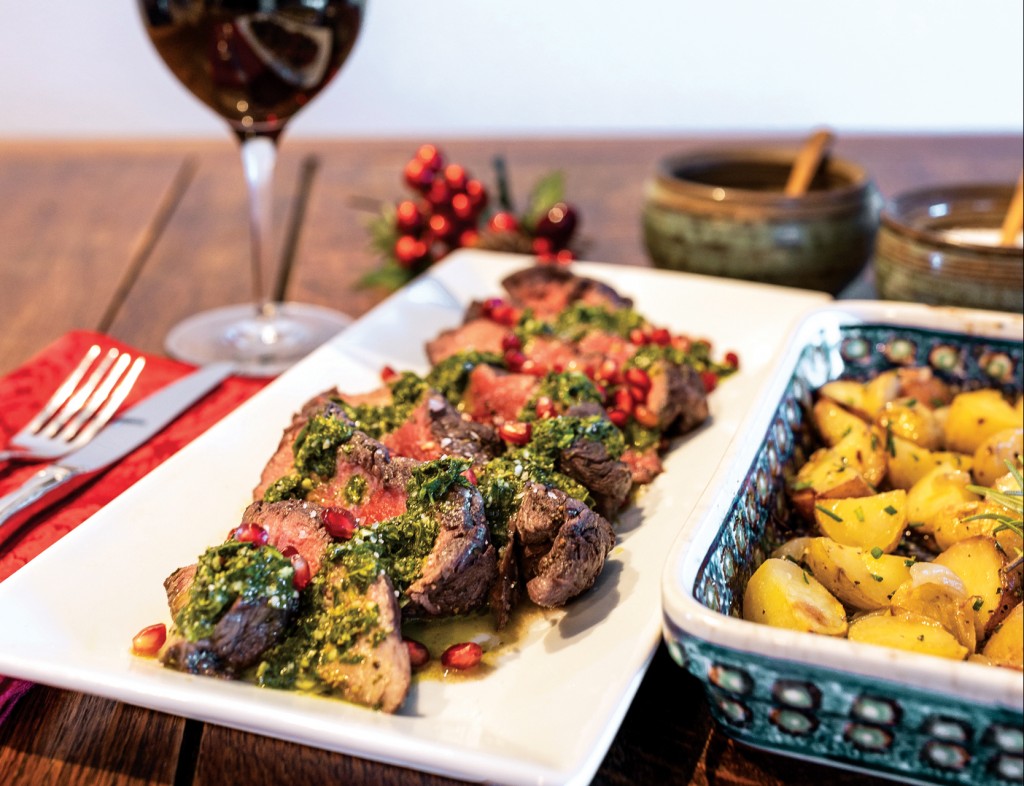 Poppy's flaky, fried catfish, Texas-style jalapeño cornbread, bacon-simmered pinto beans and country peas and Mammy's homemade peach cobbler with a dollop of "vaniller" Blue Bell ice cream.
For me, those are the flavors of Christmas.
Departures from stuffed turkey, gingerbread and mulled wine, to be sure. But we do raise glasses of spiked nog and suspiciously unlabeled jars of "spiced moonshine" of which Uncle Michael never fails to partake. That's about as close to convention as the Warren clan of Maud, Texas, (pop. 1,096) gets.
No worries. Our closest neighbors — the pesky gophers that dig up Mammy's pansies, a ceaseless flight of cardinals and bluebirds and the occasional doe and her Bambi — will not judge us.
Perhaps you've grown weary of churning out the cranberry sauce, green bean casserole and sweet potato soufflé at Thanksgiving, only to make it all over again at Christmas. Perhaps you're new to the Emerald Coast and looking to start new holiday traditions.
The following not so customary recipes provided by Emerald Coast chefs just might provide the inspiration you need to spice up your seasonal menu.
Carey Stegall Aka Chef Jekyll
His name is Carey Stegall, but you can call him Chef Jekyll.
It's his cooking persona and a nod to the call sign he had when flying F-16s for the
Air Force.
I reached Jekyll in the fall, while he was vacationing with his wife in Rhode Island. He may have had a little wine, and let slip tales of losing his "serious, studious" reputation abroad.
"I think I learned to let my hair down when I started flying with the Danes and Norwegians in Germany," Jekyll laughed.
"I wasn't a wild child per se, but look, all people need to know is that Jekyll is the good guy, Hyde is the bad guy!"
Good Guy Jekyll needed something to do once he retired. He didn't want to get involved in the defense industry or fly for commercial airlines, so he turned to his enduring passion for cooking.
As a private chef, Jekyll serves the Destin, Fort Walton Beach and Santa Rosa Beach areas. Having spent time in Italy, India, Thailand and Hawaii during his military career, Jekyll gained an appreciation for international cuisine and often incorporates those flavors into his clients' entrees.
He presents to us a red wine-marinated beef tenderloin, Italian in origin, but elevated with a South American chimichurri sauce. This is a dish Jekyll said he makes at least once a month, but he modifies it for the holidays with the addition of arils, or pomegranate seeds, for an aesthetically pleasing, red-and-green color scheme.
"You can garnish with arils for a sweet pop of flavor that compliments the vinegary tang of the chimichurri," he said. "The beef comes out medium-rare, very tender and rich. It's a dish I really enjoy making."
For this meal, Jekyll recommends a full-bodied red wine, something that stands up to the herbaceous chimichurri. He goes with a "spicy, peppery-type" Zinfandel.
This Christmas, when Jekyll visits his family in either Virginia or Colorado, I wondered if he might make this dish. According to him, gatherings remain mostly traditional, with baked ham, roasted pork or spatchcocked poultry.
While he is a chef, he has learned not to stick his nose in another's galley.
"I try not to be intrusive in the kitchen, but I generally end up having a hand in it," he said of Christmas dinner. "I just like to contribute, let's put it that way."
Amy Potmesil, The Nest General Store

If you're a longtime Pensacola resident, you've no doubt tasted one of Amy Potmesil's sumptuous seafood dishes on a night out.
For many years, Potmesil was the chef behind The Grand Marlin of Pensacola Beach. Then she, along with Blake Rushing, opened the Union Public House, a craft pub offering contemporary Southern cuisine.
Now she's joined forces with baker Justine Gudmundson-McCain at The Nest General Store, a café and sister store to Gudmundson-McCain's other business, Bluejay's Bakery.
Trained at the Art Institute of Atlanta, Potmesil has been cooking professionally for the better part of 18 years.
Ironically, she said, the holidays are the only time she makes good use of her own pantry.
"I always end up cooking Christmas dinner for my family because, as a chef, you're never really cooking at home," she said. "It's the one time of the year that I'll get into my kitchen and really throw down."
When tasked with supplying an atypical holiday recipe, Potmesil proposed a béchamel-sauced, root vegetable gratin. Packed with rich flavor and hearty winter veggies, it's the perfect compromise for those who aren't quite ready to pass up a Christmas ham.
"You've got your celery root, parsnips, white sweet potato and kale," Potmesil said. "And you're going to want to chop your kale small, so it doesn't get stringy. The béchamel compliments the root vegetables because you brown the butter for a roux, so you've got this really nice, nutty complexity going on."
So as not to disrupt those chestnuts roasting on an open fire, Potmesil recommends a crunchy hazelnut garnish. While the gratin can accompany virtually any holiday feast, Potmesil said it would go best with a traditional prime rib, Yorkshire pudding and a marinated, winter vegetable salad.
It's a recipe that seemingly fits Potmesil's MO, which she described as "kitschy, eye-popping and strangely elevated dishes."
Naturally, I'm curious as to what has constituted meals at holidays past.
"Typically, our main course is a standing rib roast, or maybe a roasted duck with, like, four different sauces," she said. "I make a crab cake casserole that's always a hit, a bourbon caramelized onion dip or a hot Cajun crab dip. I'll spend a couple of days in the kitchen just prepping, making my own demi-glace from veal bones — things like that.
"I go all out. Maybe a bit too much."
Mary Thweatt, Edible Bay Catering and Personal Chef Services

A product of the Culinary Institute of America and Gulf Coast State College's culinary program, Mary Thweatt, owner of Edible Bay Catering and Personal Chef Services, has been cooking for more than 40 years.
Her business, established in 2012, brings to Panama City, Panama City Beach, Destin and 30A kitchen-stocking services, cooking lessons and full-course meals for dinner parties, gatherings and special events.
I was intrigued by her website's sample menus, which include an exotic Tibetan Monk's New Year meal (stuffed dumplings, lentil soup and Dresil, a rice pudding with honey and fruit); Grecian stuffed mushrooms; and Hawaiian pineapple-glazed ribs.
Not knowing what Thweatt's eccentricity might mean for Christmas supper, she didn't disappoint when she offered up a recipe for a tasty Bahamian Seafood Noel.
"This is a traditional Bahamian dish that they would, in fact, eat to celebrate," said Thweatt. "You can use local Gulf shrimp, and because you're cutting the lobster into nice, big chunks, it's a great way to treat your guests to lobster while stretching your dollar."
The tomato and bell pepper sauce, she said, is decadent — slightly spicy, and rich with garlic. The seafood stew is typically served over rice, but you're free to substitute grits, polenta or any other starch.
Thweatt recommends a bottle of merlot or cabernet sauvignon, any red with a medium-to-full body to cut through the Noel's thick, garlic-rich broth.
"And, you have a very colorful dish," added Thweatt. "There's lots of reds and greens to go with the season."
After operating her own restaurant and working as a cook and as a caterer, Thweatt is happy to be wearing her private chef hat. Her time with Edible Bay has afforded her the pleasure of cooking many a holiday meal for folks, the most memorable of which sparked a heated debate.
Thweatt served a grilled sweet potato, mango and red onion salad, and while all agreed it was delicious, some felt it blasphemed the sweet potato.
"One half of the room said sweet potatoes should only ever be smothered in brown sugar and marshmallows, while the other said after having my dish they couldn't imagine eating them any other way," Thweatt laughed. "It was really funny watching them go back and forth."
After all, isn't breaking bread with family and clashing over your political and culinary views what the holidays are all about?
"Eating with and feeding people, for me, is an act of love," said Thweatt. "From the very beginning, that's how you're shown love: Your mom feeds you and, in doing so, loves you. So, for me, the main ingredient to a perfect holiday meal is family."
Chef Jekyll's
Grilled Beef Tenderloin
with Chimichurri and Arils
Prep: 20 minutes, plus 2 hours marinating time
Cook: 30 minutes // Serves: 4 – 6
Ingredients
2 pounds of top-quality beef, such as USDA Choice beef tenderloin or Prime ribeye
Marinade:

2 cups dry red wine

1 lg Vidalia onion, peeled/quartered

20 whole black peppercorns

6 dried juniper berries

3 bay leaves
Chimichurri:
1 large garlic clove, quartered

1 tsp kosher salt

¼ cup packed fresh oregano

¼ cup packed fresh mint

½ cup packed fresh cilantro

1 ½ cups packed fresh flat-leaf parsley

1 cup extra virgin olive oil

¼

cup white wine vinegar

1 tbsp fresh lemon juice

½ tsp freshly ground black pepper

½ cup pomegranate seeds (arils), to garnish
Directions
Put beef in a 1-gallon Ziploc bag with all the marinade ingredients for at least 2 hours, preferably 4 hours, turning the bag over occasionally.
To make the chimichurri, chop garlic in a food processor with oregano, mint, cilantro, and parsley. With the machine running, drizzle in the olive oil and then vinegar and lemon juice. Taste, and adjust seasoning with salt and pepper as desired. If it's too thick, add just enough water to make it flow. The herbs should be very finely chopped.
Prepare a charcoal or gas grill for high heat. Take the beef out of the marinade and discard the marinade. Season the beef with salt right before grilling. Sear the steak on all sides, and then move it to a cooler part of the grill to finish.

For medium rare, remove it from the grill when a meat thermometer reads 120°F. Allow steak to rest at least 10 minutes before carving into thick slices.
Carve the steak in half-inch thick slices across the grain (diagonally). Add a little salt to the cut sides of the steak, arrange on a long platter, drizzle with chimichurri, and decorate with pomegranate seeds for a nice presentation. Serve immediately.


---
Root Vegetable and Kale Gratin with Brown Butter Béchamel and Hazelnuts

Ingredients
2 large celery roots, peeled

2 large white sweet potatoes, peeled

1 rutabaga, peeled

2 cups kale, chopped into small pieces

2 qts whole milk

½ cup butter

1 cup flour

4 garlic cloves, minced fine

1 shallot, minced fine

1 cup Gruyere cheese

½ cup Parmesan cheese

¼ cup toasted and chopped hazelnuts

Thyme for garnish
Directions
On a mandoline slicer, slice each of the root vegetables to ⅛" thickness. Set aside.
In a large pot on low heat, brown the butter, allowing the milk solids to toast to a deep brown color without burning. Add the garlic and shallot to the butter and sweat for two minutes.

Add the flour and mix; stir over low heat for 3 minutes. Carefully add the milk and whisk until combined. Continuously stir this mixture until it comes to a slight simmer, then remove from heat. Add the sliced vegetables and kale and stir to combine.

I

n a greased baking dish, add the mixture, top with both cheeses. Bake at 350 degrees

for 45 minutes or until golden brown and a toothpick inserted gives no resistance. Remove from oven, garnish with hazelnuts and small pieces of the thyme sprig.


---
Bahamian Seafood Noel
Serves 6
Ingredients
2 dozen shrimp peeled and deveined, tails removed

2 to 3 lobster tails (about 1 pound), shell removed and cut into 1 inch pieces

1 stick of unsalted butter

2 large cloves of garlic minced

3 green onions cut into ½ inch pieces

¼ cup sliced mushrooms (optional)

¼ cup chopped red bell pepper

¼ cup chopped green bell pepper

3 tablespoons flour

½ cup dry white wine

1 14-ounce can whole peeled tomatoes, cored and chopped

1 ½ cups shrimp stock (can substitute chicken stock)

Juice of ½ lemon

Salt and pepper

½ cup chopped fresh parsley
Directions
Melt butter in a large pot over medium-high heat. Add garlic, onions, mushrooms, and bell peppers and cook about two minutes to soften. Add flour and cook for another two to three minutes or until it begins to smell nutty, remove from heat, add wine and whisk well.
Return to heat and cook for about two to three minutes. Next, add tomatoes and shrimp stock and blend well. Bring to a soft boil, add seafood, and cook for two minutes or until seafood is cooked through. When finished, your shrimp should look like the letter C.
Add lemon juice and then salt and pepper to taste. Serve over hot cooked rice, polenta, grits, or pasta. Garnish with parsley and enjoy.