Putting Patients First
New children's hospital aims to make young patients feel comfortable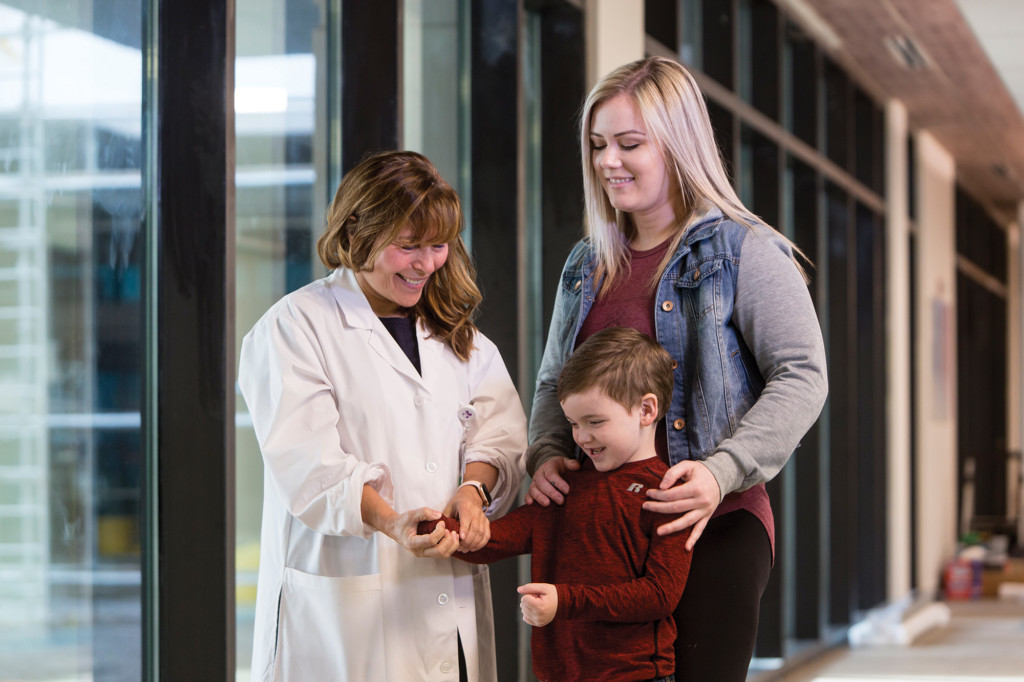 For Cat Outzen, Director of Community Relations & Children's Programs at the Studer Family Children's Hospital, the facility is "child-friendly, not childish."
"It wasn't designed with what we think is good for them, but what they have told us they want," Outzen said.
And with the new facility comes ample family accommodations, engaging entertainment and a carefully cultivated, affable environment to make every child feel at home.
Undoubtedly, this experience starts with the hospital's dedicated team of child life specialists, a team of medical professionals whose background in child development affords them the ability to normalize the hospital experience for each patient.
"Whether you're 2 or 18, our child life specialists can explain medical procedures in a manner that is catered to you," Outzen explained.
"They also introduce coping plans to families, oversee appropriate play and celebrate a patient's developmental milestones."
Child life specialists check in with patients daily and remain updated on their diagnoses and scheduled procedures.
They are responsible for helping children accomplish tasks such as properly swallowing pills and providing positive distractions from procedures that could be uncomfortable, painful or frightening.
"Whether it's an IV start or a lumbar puncture, positive distractions help children disassociate and focus their attention elsewhere," said Outzen.
If a child must lie on their back for treatment, there may be an elaborate mural on the ceiling, or "I spy" activities on the walls. Mobile distraction stations introduce a sensory experience — complete with lights, sounds and aromatherapy — and are especially well received by smaller children and those on the autism spectrum.
The children's favorite distractions, said Outzen, are often the four-legged friends of the hospital's Facility Dog Program.
"Our dogs work alongside child life specialists to support patients throughout their treatment," Outzen explained.
"They're great listeners; some of our teenage patients have found them more comforting to talk to than people."
As of this writing, Studer Family Children's Hospital employs a 3-year-old golden retriever named Sprout, who works full-time alongside her handler. By 2020, four more highly trained facility dogs will join the program, which encourages and motivates patients to become more active.
Activity and play is highly encouraged and promotes healthy coping mechanisms, normalization and catharsis. The playroom, located on the fourth floor of the new facility, is a medical-free space.
"There are no white coats, no stethoscopes or anything allowed in our playroom," said Outzen. "It's a strictly recreational and a safe space for patients to make friends, play games and relieve stress."
Video games, board games and art supplies abound, supplying a plethora of playful activities from which patients may choose. Thanks to many generous donations, the playroom is additionally stocked with a catalog of toys and stuffed animals that children can adopt and take back to their rooms.
The fourth floor is also party central for St. Patrick's Day festivities, Halloween and Christmas carnivals and birthday bashes.
Local organizations will often pop in to host special art activities, and the U.S. Air Force and Navy often visit to complete crafts with the children. And, it's always a home run for fun when the Pensacola Blue Wahoos baseball team and mascot swing by.
But leisure isn't limited to indoors. "The Mother Seton Garden outside the facility is a space for us to care for all of the other children who enter our facility," said Outzen.
"Some of our patients will use it — especially those with autism or those in pediatric rehabilitation — but there are thousands of kids who come to visit their siblings or grandparents and need a space to release their energy and unwind."
The Mother Seton Children's Garden features flora of all different colors, textures, sizes and scents that stimulate the senses and provide a tranquil, therapeutic environment.
Families may bring Fido for a romp in Sacred Heart's new dog park or enjoy the sunshine and spot butterflies from one of the many special seating areas.
For children, the main attraction is undoubtedly the playground, which features traditional play equipment, as well as sensory-centric stations and green space.
"We want children to tell us what we're doing right and see what they react the most positively to," Outzen said.
"We're excited the new Children's Hospital will provide a lot more inclusive spaces for families to be together and quiet areas to calm the mind, body and spirit. We're looking forward to the privacy, peace and opportunities that this facility will provide for our patients."