Public Art Sculptures Color Rosemary Beach
A new sculpture walk has become a fixture in the community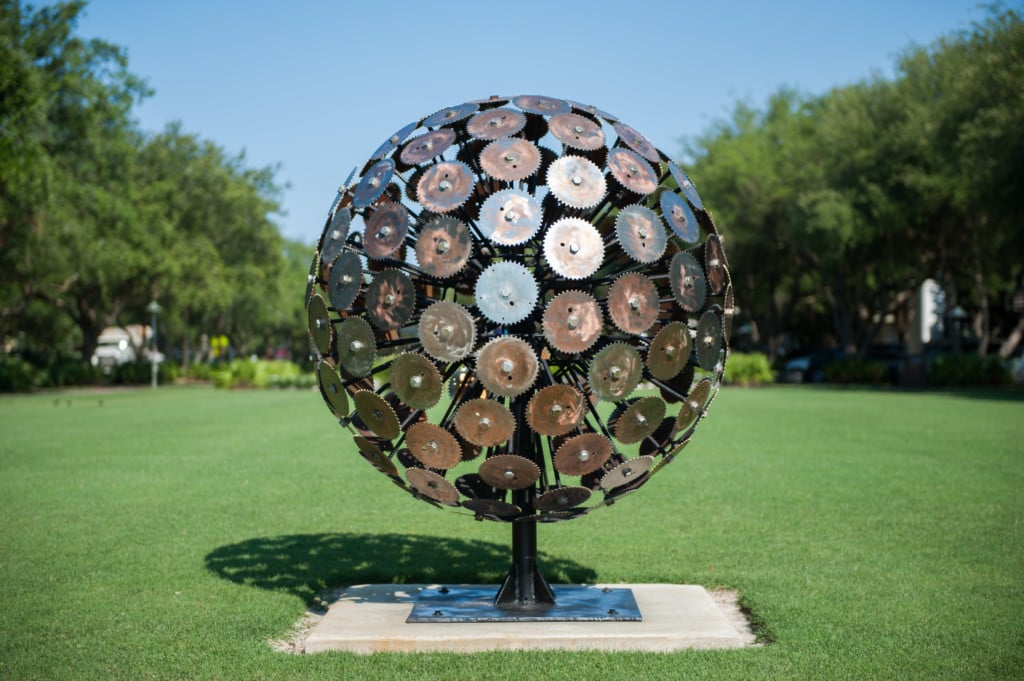 In 1997, nascent Rosemary Beach was 107 acres of obscure, unpopulated and largely pristine land.
It was then that St. Louis, Missouri, residents Tom Kramer and wife Mary purchased property, built a vacation home and helped pioneer a community. Kramer, when asked about his leap of faith, says the decision was always "easy."
"We had stopped by Rosemary Beach while on vacation, and I remember standing atop a dune," Kramer recalled.
"It was one of those days when the Gulf was perfectly calm with no wake, beneath a bright blue sky. It was the most beautiful sight I'd ever seen."
Kramer, now a full-time resident, has been devoted to preserving and enriching that beauty ever since.
In 2014, he and fellow members of the Townscape Enhancement Committee of Rosemary Beach began to talk about the role of public art in a New Urbanist community.
"With New Urbanist towns such as Rosemary Beach, you find that housing is more dense than suburban locations," Kramer said.
"Everything is centralized. It's a five-minute walk from the square to shops, restaurants, the post office or town hall."
But one of the most defining characteristics of New Urbanism/Neo Traditional townships, he said, is the unique scope of its architecture: intricately designed abodes, wide-open green spaces and coastal backdrops begging to be accented.
Ironically, a notion for a way in which to do so wouldn't dawn on Kramer until he was thousands of miles away in Provence, France.
While sampling the wines of a bucolic commune known as Gigondas, the Kramers stumbled across an al fresco showcase of about 30 sculptures dispersed throughout the town.
"I looked at my wife, she looked at me, and we said, 'My God, we could do this at Rosemary Beach!' "
So, it was in 2015 that the Rosemary Beach Sculpture Exhibition (RBSE) was founded, governed by a small committee consisting of Kramer and four others. It took a couple of years, said Kramer, to "get ideas off the ground," but in 2017, the event debuted 12 entries, including a unique, three-sided blue dog sculpture, "Colors of My Mind," by the late, famed artist George Rodrigue.
"Colors of My Mind" was later donated to the Rosemary Beach Property Owners Association by Rodrigue's widow, Wendy, and is prominently displayed along Scenic Highway 30A today.
Sixteen new multimedia sculptures are currently being exhibited in Rosemary Beach for the third annual RBSE and will remain in place until Feb. 24 of next year.
"We did things a little differently this year," said Kramer.
"We used a website called Café, where artists submit their projects, then our committee went through about a hundred of them. It was easy to narrow down our top 20, but a little harder to whittle it down to 16. We knew we wanted the sculptures to differ from each other stylistically, and I think we achieved that diversity well this year."
The 16 artists featured in this year's exhibition hail from across 11 different states, Washington D.C. and even Austria.
Kramer said the RBSE refrains from restricting artists to a certain theme, allowing for a larger window of creativity.
One entry, "The Race," by Jeff Best, consists of three, wire-sculpted steeds, whose respective colors represent courage, speed and endurance.
Ray Katz's "Red Green Construction" is an abstract, multi-hued steel sculpture said to speak to the human experience of "evolution, metamorphosis and transcendence."
"Woman in the Wind," a sleek, bronze statuette by Kim Fiebiger is seen by Kramer to be "different from the rest. Where others are abstract, this is a figure, and one that is apropos of the climate of our culture and celebrates women."
And, that's not the only piece with a little social commentary. RBSE partnered with the Ohana Institute in Rosemary Beach to participate in Washed Ashore, an educational initiative in which students constructed "Invasive," a lionfish molded from plastic debris fished from the Gulf.
"They chose the lionfish because it is an invasive species with no natural predator in our waters," Kramer explained.
"And like the lionfish, single-use plastics are a menace to marine life. We gave them carte blanche, and the students came up with that idea themselves. We couldn't be more pleased with what they have accomplished."
Like "Invasive," all 16 sculptures are equipped with their own story. If you're going to take the sculpture walk, Kramer suggests you download the app, Otocast, to your smartphone, and follow along with a free audio tour narrated by the artists themselves.
"We're very fortunate to receive continuous encouragement and positive feedback from our community," said Kramer.
"It's my hope that one day, Seaside, Alys Beach and other communities along 30A will join us in participating in a sculpture exhibition, and we all continue to grow the local art scene."