Principal Broker Erin Oden Blends Parisian with Paradise
You could say she has a certain je ne sais quoi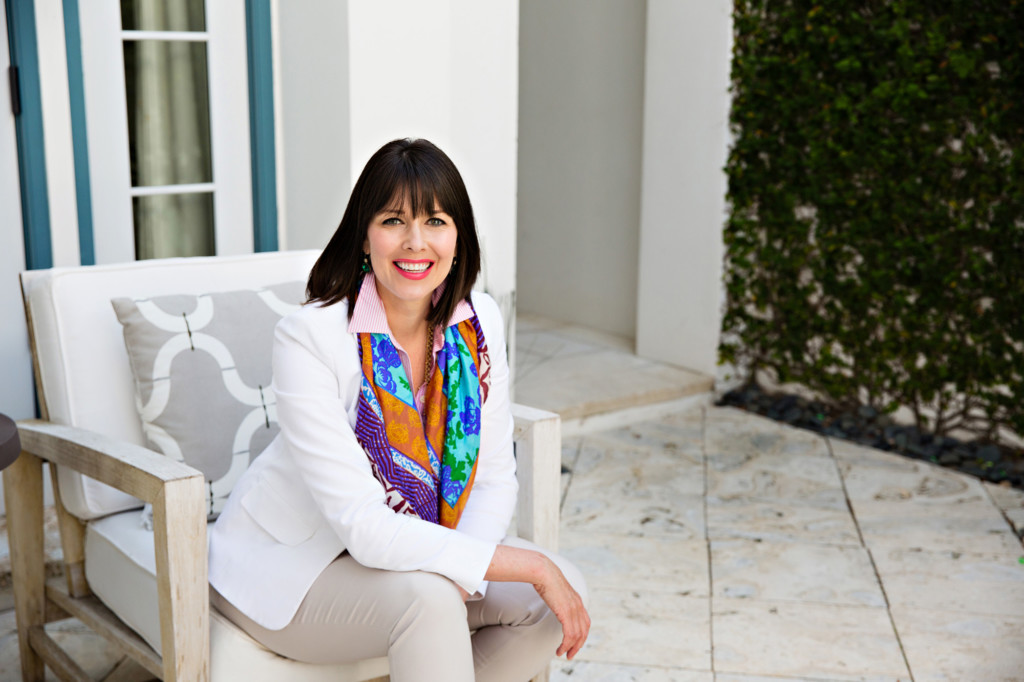 Often, Erin Oden finds herself meeting with clients clad in shorts and flip-flops, maybe even a swimsuit cover-up. And, almost as frequently, she will entertain comments along the line of, "Gosh, you are so dressed up."
Oden is the owner and principal broker at Coastal Luxury, a boutique brokerage in Seacrest whose focus is Gulf-front properties from Panama City Beach to Destin — and especially along Highway 30A.
"We deal with people who are shopping for second homes, investment properties or retirement homes while they are on vacation, and that's fine," Oden said. When they suggest she may be overdressed, she reminds them, "We're working."
Oden says her firm emphasizes the importance and the effect of a dress code that speaks professionalism.
"We want to send a message to our clients with our style and our wardrobe that lets them know we take our meetings with them seriously," Oden said. "And, when you dress for a successful day, that can really affect the outcome."
For Oden, what she calls a "sincere confidence," one grounded in knowledge and expertise, is of critical importance to her business.
"The vision of our company is rooted in client service. Only by understanding our market well can we properly serve clients and provide them with what they need to know."
Oden gained an appreciation for a proper wardrobe and "dressing for the day" while living in Paris for six years beginning at age 10.
Given the opportunity, her father, a Coca-Cola employee, opted to leave Atlanta to work overseas for a time.
"Parisian living was a great influence on me," Oden said.
"Growing up there, I would see older women riding bicycles in dresses and heels with a baguette in the basket. While an American woman may be content to be seen in her yoga outfit all day long, a French lady never would be so attired."
"Some wouldn't even want it known that they exercise. The French obey lots of rules around dining and style."
Today — it's a Friday — Oden wears jeans, ballet flats and a navy blue blazer over a red shell accessorized with a red, white and blue scarf. Somewhat casual, but still professional.
"There are key pieces that every businesswoman should have in her wardrobe, and they are items that we can all afford," Oden said, citing a black suit as a must-have. "A black blazer and black pants or a pencil skirt. White button-down shirts. Appropriately low black heels. Keep it simple."
Oden said that black, navy and gray are the predominant colors in her closet. She mixes and matches pieces and rotates her options.
Before leaving her house in the morning, she prefers to spend time planning her day, not deliberating about what to wear.
In France, Oden attended a private school, the American School of Paris.
About half of the students there were from the United States, and the other half were students from Europe and Asia who enrolled in the school as a step toward qualifying for acceptance to an American university.
Oden returned to the U.S. on holiday breaks and spent summers in Destin. Her family had vacationed in Pensacola for years before they met a Houston couple in Paris who owned a condo in Destin. The Texans introduced Erin's parents to the World's Luckiest Fishing Village, and they were hooked.
They, too, bought a unit in Destin where Erin met her eventual husband, Jon.
Returned permanently to the U.S., Oden earned a communication degree at the Panama City campus of Florida State University and, in the process, completed an internship at WJHG-TV in Panama City Beach.
While she had an interest in broadcast journalism, she was committed to staying in Northwest Florida and recognized that there was only a limited opportunity to achieve success doing small market TV.
She entered the world of real estate, instead, starting at a small operation in Seaside before launching her business. As an Emerald Coaster, Oden enjoys living in a small-town environment with "wonderful cooperating brokerages."
Her clients, whom she described as "amazing and very qualified," come primarily from Nashville, Houston, Dallas, Atlanta and New Orleans. A few are from Mississippi, and she deals with the occasional outlier from Los Angeles and St. Louis.
In marketing her business, Oden said, she has no need for a global reach, preferring a strategically targeted approach.
"History has shown us who our buyer is," she said.
Most buyers find properties of interest to them online before consulting Oden and her team. "30A" is a popular search criterion, so much so that some buyers don't look beyond that scenic highway.
That is, an attractive Gulf-front property located just east of the Walton-Bay county line may go overlooked because it doesn't come up when people type "30A" into the search bar.
Given that circumstance, a concerted marketing effort may be required to bring the listing to the attention of qualified buyers.
"But it will sell," Oden said — with sincere confidence.
After all, that property, too, would be part of what Oden calls a "matchless piece of paradise" — paradis sans pareil.