Love, Friendship, Celebration
Pride Festival turns Panama City park into a no-invalidation zone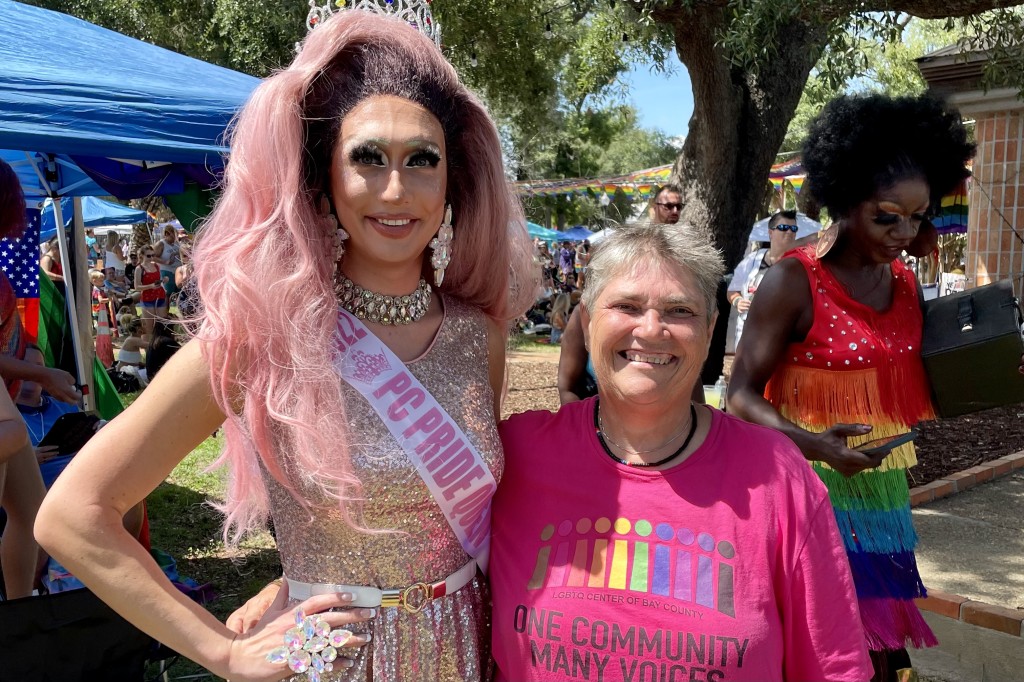 A smallish, smiling man with a monkey on his arm approached me and made my acquaintance. Soon, I would learn that the monkey, named Morris, is a puppet and that his handler, Joseph Coker, inspired by the likes of America's Got Talent sensation Darci Lynne Farmer, is an aspiring ventriloquist.
A gay man, Coker wore a black T-shirt emblazoned on its front with a rainbow flag. Surrounded by hundreds of others milling about Bay County's second-ever Pride Festival, he was at ease and unhesitatingly told me about himself, his goals, his partner and their place on the beach.
Coker volunteered that he struggles with depression and anxiety, "but today, I am meeting people, making friends, supporting others and enjoying life," he said. In that, he had a lot of company. For six hours on Saturday, June 11, festival organizers succeeded in transforming McKenzie Park in downtown Panama City into an invalidation-free zone where everyone was free to be himself, herself, themselves.
Love won the day, but the Pride Festival was more than a love fest.
"Pride isn't just a celebration — it's a declaration," said Bay Pride 2022 committee chairwoman Arlene Garner. "We are here to fight, and we will continue to fight to claim our rightful place as full citizens in the United States. Pride is a gathering of people who come together in love and friendship to show how far LGBTQ+ rights have come and how, in places including Florida, there's still work to be done."
For five years prior to her recent move to St. Petersburg, Garner volunteered 40-50 hours a week at the LGBTQ Center of Bay County, which was founded by her partner, Cindy Wilker.
"I am proud of the Center's accomplishments," Garner said. "It has delivered more than 50,000 pounds of food to people in need in Bay County. Through our work with the Department of Housing and Urban Development, we housed dozens of people and helped hundreds. We provided funds for medical care, mental health services and tuition assistance while infusing more than $250,000 into Bay County's economy."
Casey Phelps, a singer/songwriter, lined up the musicians who performed at the Bay County Pride festival. She has played with groups including the Screaming Fleas; organized open mic nights at a restaurant, Patches, on Panama City Beach and arranged fundraising concerts featuring local acts. She volunteered at an AIDS hospice in Cincinnati before moving south.
"I am gay and, as a child, I was frightened to death to buy a book at Borders with gay themes," Phelps said. "I would put it in a stack with other books when I went to the register and hope it didn't get noticed."
Noting that the first ordinations of rabbis in Germany since World War II took place just seven years ago, Phelps said, "Progress is always slow. If it's rushed, it tends to be lost."
Alicia Simmons Miracle, Bay Pride 2022's master of ceremonies, said progress has been made in Bay County. In 2016, she helped organize a gay film festival that was held at Gulf Coast State College, an activity that was attended by but one protestor.
In years since, however, she has been frustrated by the furious politicization of gender identity and the enactment of legislation such as the so-called Don't Say Gay bill strongly promoted by Florida Gov. Ron DeSantis.
Miracle grew up in Newark, New Jersey, and moved to California where she entertained audiences as a stand-up comedienne at venues such as the Laugh Factory, the Comedy Store and Improv Hollywood.
"I've tried to get big-time entertainers that I know to do gigs in Florida, but they have told me they will not come here for as long as Mr. DeSantis is governor," Miracle said.
She learned as a small child not to reduce people to a sexual orientation. An older cousin who was gay babysat her when she was small.
"We have to create a climate in which our children feel free to be themselves and stop killing themselves in their bedrooms," Miracle said.
Coker is all about spreading joy and helping people combat depression. When he and his menagerie — it includes a possum, a chimp and a dragon dog in addition to Morris — get their act all the way together, Coker plans to lighten the mood at assisted living facilities and various nonprofits.
"When I get into ventriloquism, I leave the world behind," Coker said.
Just then, a man wearing a "Straight Outta the Closet" shirt spied Morris and smiled.