For LGBT Locals, Life Looks Pretty Good at this End of the Rainbow
Emerald City LGBT Community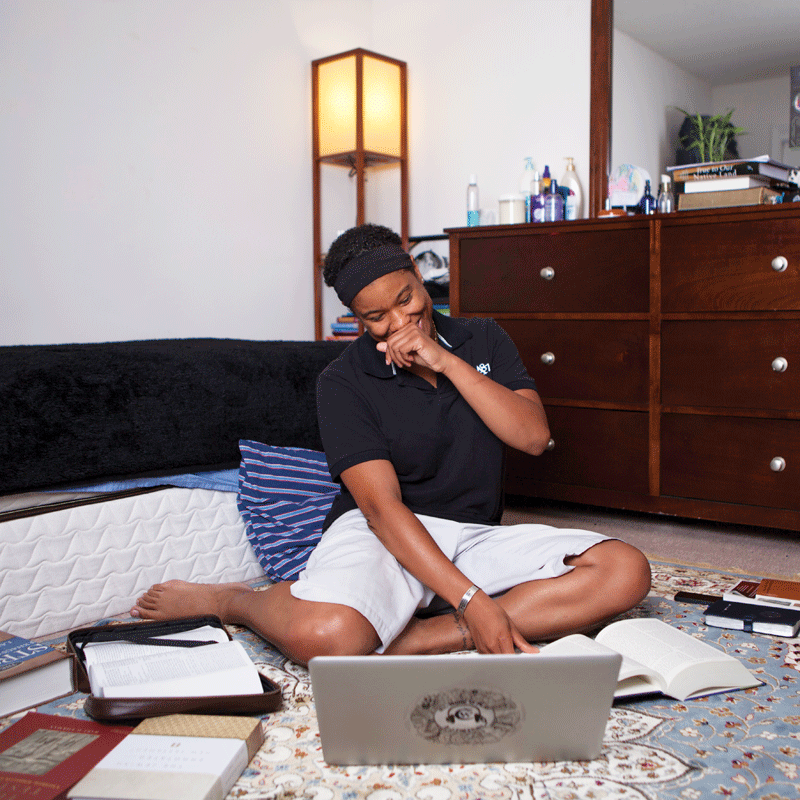 Matt Burke
Steven Harper takes time to enjoy the Gulf view from his family's Destin condo with Scott Aikins, his partner of 11 years.
Now 47 years old, Harper grew up in rural northwest Alabama, just one county over from the KKK headquarters. "As far as I knew, everyone was white, straight and Baptist," he said. He had his first crush on another boy when he was in kindergarten, and by the time he reached high school he knew that he was gay. He tried to live the same lifestyle as the other boys, dating girls and pretending to be straight, because he knew that if he chose to live authentically in his hometown he would be rejected and ridiculed.
Today Harper is just one person in the Emerald Coast's ever-growing, ever-changing gay community during a time when people everywhere are giving new thought to varying definitions of sexuality.
It's a trend that is likely to continue as the next generation of residents seems to be even more accepting. Guidance counselors at several area schools agreed that gay students here are not treated any differently by their peers.
"Students at Fort Walton Beach High School are accepting of all students and do not stereotype or judge a person by his or her looks," said Linda Dugan, a guidance counselor at the school. "Our kids do an amazing job of seeing the person for who he or she really is, not as a label."  
But the area as a whole is still grappling with change and, often as not, the change seems to come in stops and starts. Every year since the 1980s, Pensacola Beach has hosted one of the nation's largest LGBT (lesbian, gay, bisexual, transgender) gatherings, the Gay Memorial Day Weekend Party, which draws as many as 60,000 people over four days. However, though the event was mentioned on the website for the Pensacola Bay Area Convention and Visitor's Bureau, this year it was not listed with the other events. Inquirers had to search for it by name to find it on the site. To many in the gay community, this is an example of how the region still needs to change.
Life in the South has long been closely connected with religious beliefs, and in an area like the Emerald Coast, with many large military bases, the expectation is that socially conservative opinions will prevail. And yet …
This year Alicia Valen was named the Military Spouse of the Year for Pensacola Naval Air Station. It's an honor she wouldn't have even been eligible for three years earlier. As a woman legally married to a woman who serves on active duty in the Air Force, prior to the end of the military's Don't Ask Don't Tell policy in September 2011, Valen — a Marine Corps veteran herself — was not even considered part of the military community. That three short years later she is held up as an example for other military spouses shows that the military and the local community have been supportive. 
"I'm always amazed when people ask about my husband's job in the Air Force, and when I inform them that 'she is a navigator,' more times than not the response is, 'Congratulations, I have a gay uncle,' or 'It's about time'," Valen said.
Matt Burke
Candise Woods is an avid reader and a lifelong learner. Here she is pictured in her Fort Walton Beach home surrounded by her computer and various books on world religions — a topic she is exploring in hopes of fully understanding them all.
Likewise, Candise Woods is accustomed to doing things a bit differently. The 28-year-old African American woman majored in Asian Studies — and then joined the Air Force as a Korean Airborne Linguist. Now a Staff Sergeant who works in Intelligence and is stationed at Hurlburt Field, Woods was born in Montgomery, Alabama, but has lived all over the world.
She said she knew she was different when she was just 6 years old. While the other girls had their first crushes on the cutest boys in the class, Woods found herself attracted to the other girls. As she grew into puberty, she was afraid to talk to her family and friends, so she used the Internet to research and understand human sexuality. 
In time, Woods decided that she would simply live with quiet courage. She did not disguise her sexuality, nor did she choose to become an activist. She had an openly gay relationship at her high school during her junior year and recalls a heterosexual teacher telling her that her courage was an inspiration. 
When asked how she has been received as an openly gay woman in the military in this area, Woods said that once she mustered the courage to open herself to others and be vulnerable and honest, she found that others mostly responded in kind. "It still feels more like tolerance than acceptance, but it is moving in the right direction," she said. 
Perhaps the most evident sign of change is that for Harper, Valen, Woods and many in the local gay community, being gay is now just a part of who they are; it doesn't define them.
Harper works as the director of sales and marketing for SunQuest Cruises. He is not an activist. He's just a regular guy. He goes to work, has been in a relationship with the same partner for 11 years, goes to church and enjoys being a part of the entire Emerald Coast community.
He doesn't want special treatment for gay people, but he does want the same rights other Americans have. He wants the right to get married if he and his partner decide they want to be, and next of kin rights to make medical decisions for each other. He wants the same consideration straight couples have in matters of taxes and legislation. He doesn't believe that being gay should be celebrated — but he doesn't think it should be cursed, either. 
Asked to consider the shifting attitudes locally and nationally toward gay marriage, Harper said, "We haven't moved the mountain, but we have moved some piles of dirt."
Florida is one of 33 states that do not recognize gay marriages and one of 26 states that took the additional steps of banning gay marriage with a constitutional amendment and a state law. However, lawsuits have been filed in recent months to challenge Florida's stance, giving hope to many that the law will eventually change. Valen and her wife are legally recognized by the military because they were married in Massachusetts (which does recognize gay marriage) and because they are in Florida on military orders. 
"The South may not always look friendly in the news, but my South — the Emerald Coast — is like being at home with friends and family and barbecue," Valen, a Texas native, said. "Great food, nightlife and sugar sand beaches. What more could you want? Sweet tea, crawfish, sushi? Sure, we have it all — plus, some drag queens who will dance circles around you and welcome you to our shores with open arms!"