Prepare to Be Bamboo-zled
Meet the dearest darling of designers, architects and eco-conscious homeowners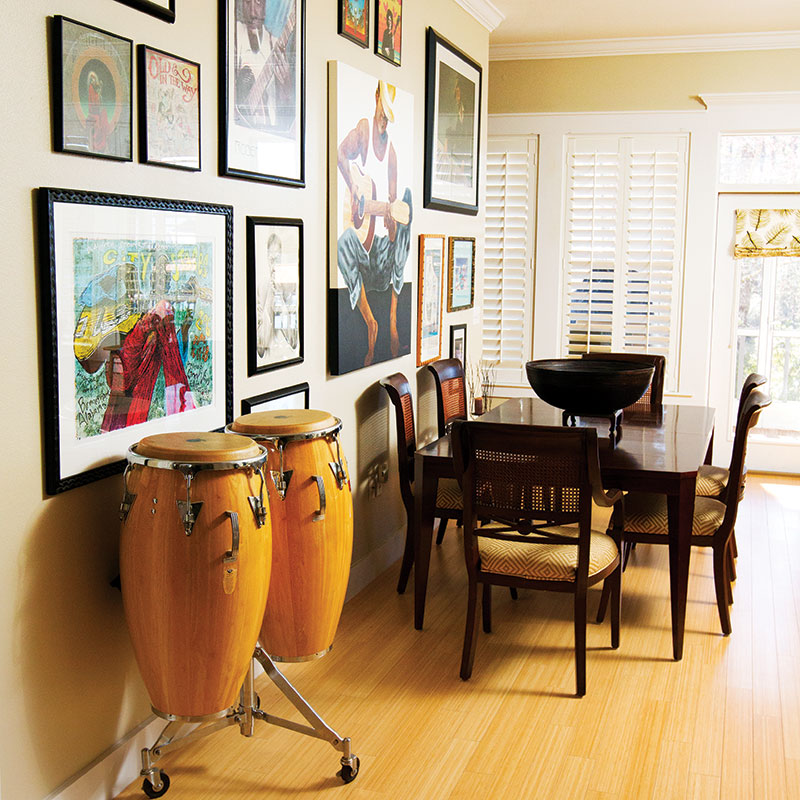 What plant material can become a floor, skyscraper, towel, bicycle, ball gown, vegetable, cabinet or skin moisturizer?
The answer is bamboo, as people of the Orient have known for forever. In the U.S., however, its use was largely limited to porch furniture and tiki torches until innovators decided to see what technology and ingenuity could do for this ancient plant. Plenty, as it turned out, and then environmentalism went mainstream, turning bamboo into the darling of designers, architects, homeowners and, of course, green believers.
Linda Holman of Lovelace Interiors, Destin, is one of many Emerald Coast designers singing the material's praises. "Bamboo products are inherently beautiful and a good 'green' investment," she says. "I like to specify it for clients' projects, and I have had bamboo flooring in my own house for 10 years. It creates a nice coastal look, perfect for beach houses, for example. It's very clean and contemporary, and all it needs is damp mopping. And let's face it: The more renewable sources we can use in our designs, the better for everyone."
Amy Stoyles of Archiscapes, a Freeport design firm, agrees. "It's a great material that creates an elegant, modern look. I recently used it in a very high-end project in Fort Walton. The kitchen has bamboo cabinets. The clients love them, not just for the way they look and function, but also for their eco-conscious attributes."
Building with Bamboo
Bamboo flooring and cabinets were among the first products to be accepted as an alternative to hardwood and can now be seen in many kitchen design showrooms and home improvement stores, including Home Depot and Lowe's. 
Chrissie Thompson of Better Homes by Design in Niceville is a huge fan of bamboo flooring. "It elevates room design to the next level," she says. "No matter how eclectic your decor and color scheme, it just seems to work. One of my medical office clients has bamboo throughout the facility. The client loves its wonderfully light appearance and finds it exceptionally hard-wearing. One of my other clients had a houseful of cats. Hardwood flooring would not have worked because of the finish. I suggested bamboo, and the homeowner is thrilled with it. The cats can't hurt it."
If all those tiki torches and kitschy island souvenirs you grew up with have made you nervous about choosing a bamboo floor, you should know that the material is 23 percent harder than oak and 13 percent harder than rock maple. In flooring, hardness translates to durability. 
These days, bamboo also shows up as moldings, window frames, paneling, stair treads, laminates, engineered lumber and even structural elements.
Architect Darrel DeBoer, one of the world's foremost experts on building with bamboo, says the material excels in high-density strength.
"In some ways it's stronger than steel and concrete," he tells. "It could even be used to build skyscrapers. They're already using it for important structures in Europe and South America. But don't expect to see bamboo used for homes in U.S. subdivisions any time soon. Our zoning laws wouldn't allow it."
All Through the House
Bamboo now comes in so many forms that you'll be able to find it in many rooms of the house and not just as building elements. In the kitchen, there could be an array of bamboo cooking utensils and serving pieces, plus cans of bamboo shoots in the pantry. In living and dining rooms, you could find furniture, lamps, upholstery, throws and pillows made of bamboo. And in the bathroom, the material could show up as shower curtain, rug and sink. In the bedroom, those soft sheets are probably bamboo, and in the dressing room you might see stacks of jeans and T-shirts. In the garage, you could come across a bamboo bicycle. The bamboo, say cycling aficionados, makes the bicycle light and reduces road vibrations that can cause rider fatigue.
Designers like Diane von Furstenberg and Oscar de la Renta use bamboo for their clothing, partly because of its softness, smooth hand and easy price. The big draw is its "green" image. That image, however, has become a bit tarnished lately. Critics say that manufacturing the textiles often involve heavy chemicals, some of them toxic. Admirers say it requires no more chemicals than cotton, a textile that — unlike bamboo — is grown with extensive use of pesticides and fertilizers, so much so that runoff from Southern cotton fields have left areas of the Gulf damaged. Fans of bamboo also cite the material's natural anti-bacterial properties. 
The Wonder Grass
Bamboo is actually a grass, explains David King of the American Bamboo Society. There are more than 1,000 varieties growing in the Far East, but it can grow anywhere, except the Arctic regions. 
It just might be the world's most sustainable resource. It's incredibly fast growing, with some varieties shooting up a yard a day. It can be harvested in four to seven years and needn't be replanted, because its roots keep sprouting new shoots, and it does so without fertilizers or pesticides. 
It generates 30 percent more oxygen than trees, prevents massive soil erosion, and because of its high nitrogen consumption, it helps mitigate water pollution from manufacturing, livestock farming and sewage treatment.
DeBoer calls bamboo's reproduction rate astounding. "It's better than trees," he notes. "Bamboo replaces 30 percent of its biomass in one year. The rate of a tree forest is from 3 to 5 percent." 
Wouldn't this make bamboo a great garden plant? The Florida chapter of the American Bamboo Society contends that only palms rival bamboos in their ability to bring tropical elegance to the landscape, yet it is the state's most underutilized category of landscaping plants. Floridians have heard the horror stories, it appears, how bamboo will take over an entire neighborhood. While it's true that some kinds spread aggressively, there's a whole category of bamboos that does not spread. They're known as "clumpers," because they only send up new canes inches from existing ones, forming a compact clump that makes them ideal landscaping plants.
All in all, bamboo appears to be the super material of the future, and word has it that even some legislators think so. A bill is underfoot to plant three experimental bamboo forests in the U.S. The goal, of course, is to take the plant from import to domestic growth, but as in all things political, the outcome of the legislation is unpredictable.