Pizza Maker Chris Sehman Honored by Secretary of the U.S. Air Force
From Pizza to the Pentagon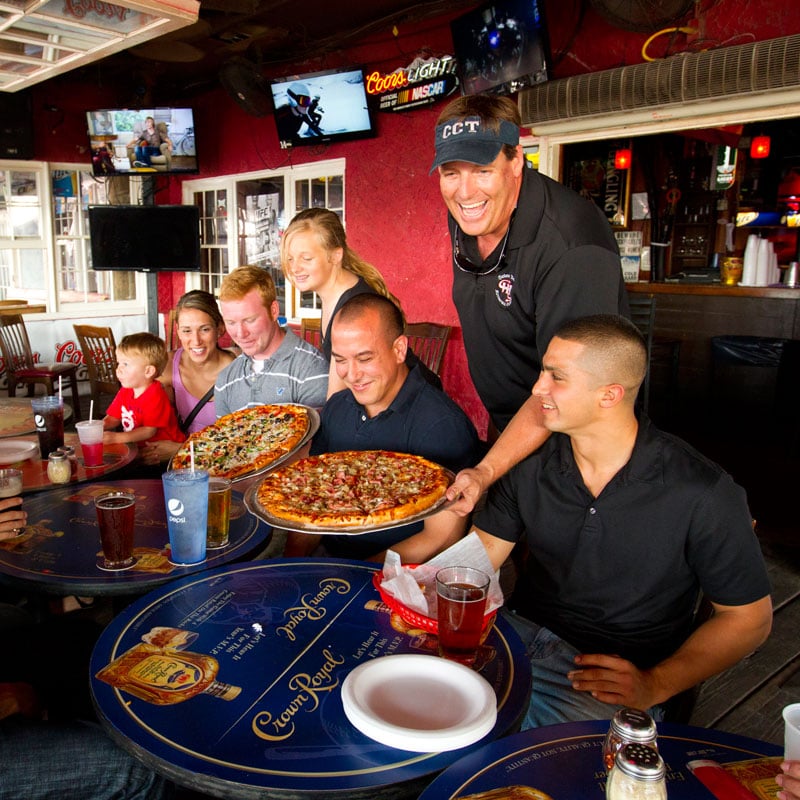 Sunburned, with $20 in his pocket and nearly all his possessions in a shared car, 21-year-old Chris Sehman decided to open his first bar while sitting on the beach behind the Back Porch in Destin.
Two years later, in May of 1993, he opened Woody's Local Safe Sex Bar across the street. "This began a seven year run of not making any money but learning a lot. It was my graduate studies," said Sehman, who grew up on the Eastern Shore of Maryland and graduated from Old Dominion College. "I was crazy in debt. My car had been repo'd. I was just miserable. It was just tough times."  
Determined to support his family, he closed Woody's in 2000, having brokered a deal to use his liquor license in a pub on Okaloosa Island. He mopped the floors in the morning and kept the drinks flowing until 2 a.m. the next day. Exhausted after 18 days of effort, he sat in his car-office reflecting. "I called my wife and said, 'I feel like I've been to hell and back,'" recounted Sehman. On the radio he heard Lance Armstrong talk about his recent win and how he felt surviving cancer. "Lance said, 'I feel like I've been to hell and back, and I'm going to be okay.' That was my light bulb moment." 
On Dec. 1, 2000, when his beer distributor called, he answered the phone, "Helen Back."
In January of 2013, the Secretary of the Air Force presented Sehman with the Zachary and Elizabeth Fisher 2012 Distinguished Civilian Humanitarian Award during a ceremony at the Pentagon. 
The easy-going entrepreneur recently talked to EC about his life, work and his appreciation of those who serve.
EC: Your business has come a long way in 13 years. Give us the run down. 
CS: My debts were paid off within nine months of opening Helen Back. I own the Okaloosa Island and Crestview Helen Back Café locations and franchised the locations in Navarre, Pensacola and the newest at the Northwest Florida Regional Airport. I also operate Stinky's Fish Camp in Navarre.  
EC: How did your famed free military pizza night begin?
CS: Other than my uncle, who was at the time a captain in the 33rd Fighter Wing, I had zero military knowledge. I got to know these two loadmasters for C-130 planes who were regulars at my bar. They started bringing in their friends and families. In 2003, we start going into Afghanistan. I thought what can I do to say, 'Hey, I appreciate what you guys are doing.' I decided I'm going to give free pizzas to the military on Monday nights. The military pizza night was born and it literally blew up.
EC: You really connect to our military community. Tell us about that. 
CS: I had the honor of being the honorary commander of Hurlburt's 1st SOW [Special Operations Wing]. It's not just about seeing cool planes, jets and guns and all that. It's really about getting to know the young lieutenants that are coming in, the lieutenant colonels that are about to take command of the squadron. I also got assigned to the 36th Electronics Warfare Squadron at Eglin. I have an appreciation for the people that serve in our military and for first responders. Not just what they do for our country and community, but what it means for their families. The dedication. The professionalism.
EC: How did it feel to receive such a distinguished award? 
CS: The ceremony was spectacular … generals walking up, shaking my hand and thanking me. At the end of the day, I'm just giving away pizza and trying to make people happy. It was unexpected.
EC: What's the secret to your popular pizzas?
CS: A buddy of mine, Jon Seeling, who used to own Fat Daddy's Pizza in Walton County, gave me the recipe and showed me how he made his sauce. I combined it with how I like my sauce. I use a very good dough product and the best cheese you can buy. I kept it simple, fresh and affordable.