Pitigliano and the Hill Towns of Italy
A long-ago history, yet not far away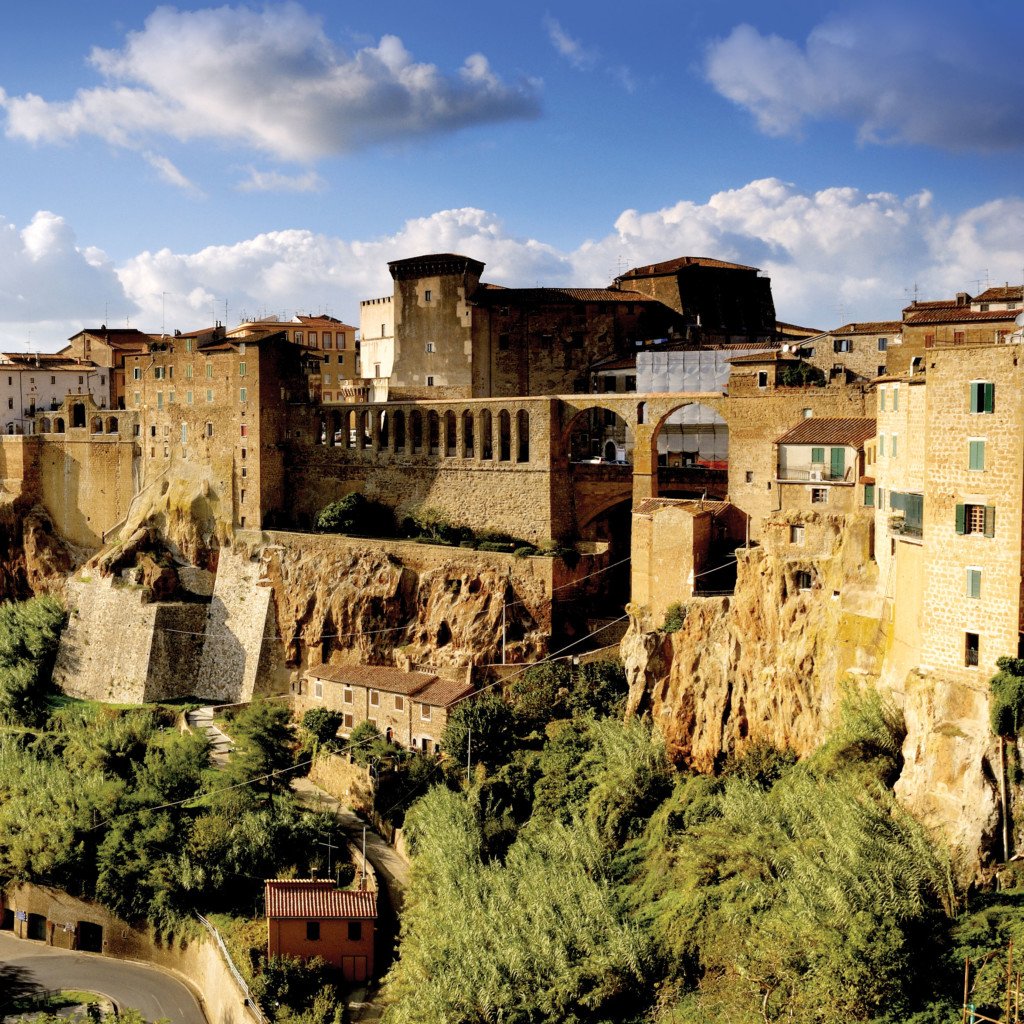 Time blurs and yesterday slides back and forth in Italy's enigmatic hill towns, where what is lost isn't easily found.
I hear myself sigh as I glance at the Italian words I've written while waxing poetic in my intermediate Italian. Mozzafiato … radiante … affascinante: breathtaking … glowing … spellbinding. Italy has a way of making even halting speakers of this lilting tongue wish to write poems and sonnets, comment on clouds that float in impossibly blue skies or rhapsodize about the sienna-roofed villages that, like Cubist paintings, seem to tumble along each of Toscana's colline or hills.
Despite the tragic earthquakes that have shaken Central Italy along a fault that divides the Umbrian region to the east from Tuscany to the west, the hilltop villages of Toscana … Tuscany … still conjure the romance that Byron and Shelley found so intoxicating.
Here, layers of civilization, from the enigmatic Etruscans to the Romans and their progeny, seem only a few generations removed. Yet in this part of what often still feels like medieval Italy, the particular drama, the passionate point of view, the life that in the past violently or enthusiastically erupted from young and old alike seems in flux. There remains, of course, an Italian optimism that still pulsates from the big cities of Florence and Milan; but from these perched villages' elderly inhabitants, it is mostly nostalgia that flows. Even from the ancient stones and iron gratings, the Gothic arches and faded frescoes, and the hundreds of empty churches that stand like hollow grottoes populated only by muscular saints in their drapings of red and blue, a new story seems to be emerging.
Over the years, I have begun to "accumulate" these hill towns, visiting one or two with each trip to Italy. Orvieto — actually in lower Umbria —  Montepulciano, Arezzo, Montalcino, Volterra, San Gimignano, Cortona, Sorano, Pitigliano … all of them lie in a kind of crescent to the south and southwest of Florence and about halfway to Rome. Here, rolling hills are populated by sheep whose oddly human "baaa's" sound like baritones and tenors rudely interrupted by their own clanging bells. This is the region where each ridgeline silhouettes a medieval walled city of spires and towers that, even as the parapets protect it, today seems vulnerable. In our century, these hill towns have slowly become underpopulated outposts of nervous dwellers clinging to their precipices, worrying now not so much about a siege from Siena or Firenze (Florence) as the economic blight that, as surely as a 13th century plague, is casting a pall over these bastions of fairy-tale beauty.
"If you are young, you do not stay in Arezzo," says Lorenzo Sobrini. "There are better jobs in Milano or Firenze. To make a living, you must leave." Sobrini and four other older men laugh, ruefully. But they aren't among the ones leaving. The crew is in the midst of hoisting and positioning an Etruscan urn weighing nearly 600 pounds onto a flat space in Arezzo's sprawling, mostly empty, central piazza. Sobrini and his team haul ancient pieces of sculpture and pottery all over Tuscany, visiting antiques fairs and shops where he hopes international buyers will pay prices he can't obtain here. "Etruscan art never goes out of style," he says hopefully.
Nearby, antiques seller Giovanni Romano says, "It makes me sad to see that this kind of work is dying here in Italy." He points to an immense table that glistens with bouquets and butterflies — a "picture" made from a mosaic of inset stones called pietre dure. "Have you been to the Pitti Palazzo in Firenze? Go there! Go there, please … It is the only place the work of geniuses, artisans making masterpieces of stones, can be found now."
And it seems true that the past's departure has quickened in the last 20 years. Elegant, painted pottery, exquisite Murano glass, handmade hats and gloves are now replaced with acres of cheap, wooden Pinocchios and fans made in China. Yet there are enclaves — places infrequently visited — where you can believe the caves carved by Etruscans from the soft tufa rock or the chisel marks on the stone in your living room were made only yesterday. Places where the past refuses to be silent.
One such holdout is Pitigliano, a towering walled town with everything in it: ancient history, recent history and, although aging, a population of cobblers, butchers, painters and poets that makes you want to stay.
And Pitigliano has a unique backstory. Known from the 16th century as La Piccola Gerusalemme, "Little Jerusalem," Pitigliano once was nearly 30 percent Jewish — a grand departure from the other medieval cities in which Jews were either restricted to ghettos or banned altogether. The noble Orsini family, whose palace sits just inside the city's main gate, had decided that Jewish tradesmen and bankers could revitalize their hilltop town where the majority of people were unschooled farmers and laborers who tended the surrounding fields. Jews were welcomed. A synagogue was built. Using a warren of Etruscan caves within the city's foundations, Jewish bakers cooked matzah in a kosher bakery, dispatched animals in a kosher butchery and created a mikveh, a women's ritual bath, from the soft volcanic stone. Catholicism and Judaism melded well. But one hundred years later, the new ruling Medici dynasty decided they didn't like that idea. Ghetto gates went up even as the Medici built a spectacular aqueduct whose arching wall still brings water to Pitigliano's faucets today.
But the pendulum for and against Jewish inclusion didn't stop swinging. In 1773, with an enlightened ruler and a new mentality in place, the ghetto's walls were torn down and Jews and Christians were allowed, once more, to marry one another and to celebrate each others' holidays, proving that differing beliefs could be respected. Until, that is, the Racial Laws enacted by the Fascists under Mussolini. Italy's unification in 1861 caused many Jews to move, gradually, to bigger cities; but by 1938, the ones left in Pitigliano were hunted. Twenty citizens were rounded up and taken to concentration camps; others fled to the surrounding countryside where Italian farmers hid and protected them. The last survivor of that time, 89-year-old Elena Servi, says that she and her family hid in caves for months while the newly arrived Germans searched for fugitive Jews. "The farmer would pretend to come to check his sheep … on a white horse if there was no danger or a black horse if there were. That is how he shielded us."
Today, although it is used only for special occasions, the synagogue is fully restored. Yet the Second World War still seems very recent, as it does in many European countries. Frederico Bronzini, one of the elderly men who makes his evening passeggiata through the tiny vicoli walkways of Pitigliano is eager to point out the corner of the central piazza, "where the American bombs were dropped. Right here. This whole square and part of the Orsini palace were destroyed. They had to do it, though," he says. "The Nazis had a headquarters in the palazzo!"
I wander to the parapet walls, nearly 1,000 feet above the valley, where chestnuts and jutting cedar trees are dark smudges in the evening's afterglow — a hazy pastel in pinks and grays. I think of Florence with its shoulder-to-shoulder Chinese tourists and of Milan where gentlemen are never seen without their briefcases and suits. Near Pitigliano's communal fountain, once used for washing clothes or watering a weary donkey, old folks in blacks and grays are quietly laughing together, sharing funny stories, reminding each other of a friend who is no longer here, perhaps remembering a good harvest or the war, yet communing in a way that seems so alien today. And I wonder if today's true loss is not a job, an antique urn or the art of an inlaid table; rather, we've lost what's still so apparent in this community: this neighborly way of looking into a friend's rheumy eyes and seeing one another  — seeing a shared history.
And then I am approached by a boy of about 12. He has a cell phone in one hand and a pastry in the other. He is excited enough that he wants to tell a stranger what he's found. It seems the boy and his family have just come from nearby Sorano, where he had walked along the Vie Cave  —  famous subterranean roads carved into stone by the long-forgotten Etruscans. He's found their history online and wants to show someone. Then I notice what he's eating. It's a sfratto dei Goym — one of the long, baton-shaped Jewish pastries that are still sold here — a pastry that is a symbolic and sweet representation of the sticks that were used to pound on the ghetto's gates when a Jew was to be arrested. Something bitter to something sweet. And the boy was holding it all in his hands — 2,700 years of history.
The bitterness of losses — of a civilization, of a tortured generation, of jobs, of a way of life — I wonder if this bitterness could be turned into the sweetness of knowledge, and then into a changing of the tides — a turning toward empathy and the sharing of feelings and the telling of stories that connect one person to another. This is what the old folks did around the fountain; it's what this child did with me, now … on an autumn evening … before a long winter, that, if we are not careful, may come to stay