Pirate Ships Set Sail from the Emerald Coast
Here There Be Pirates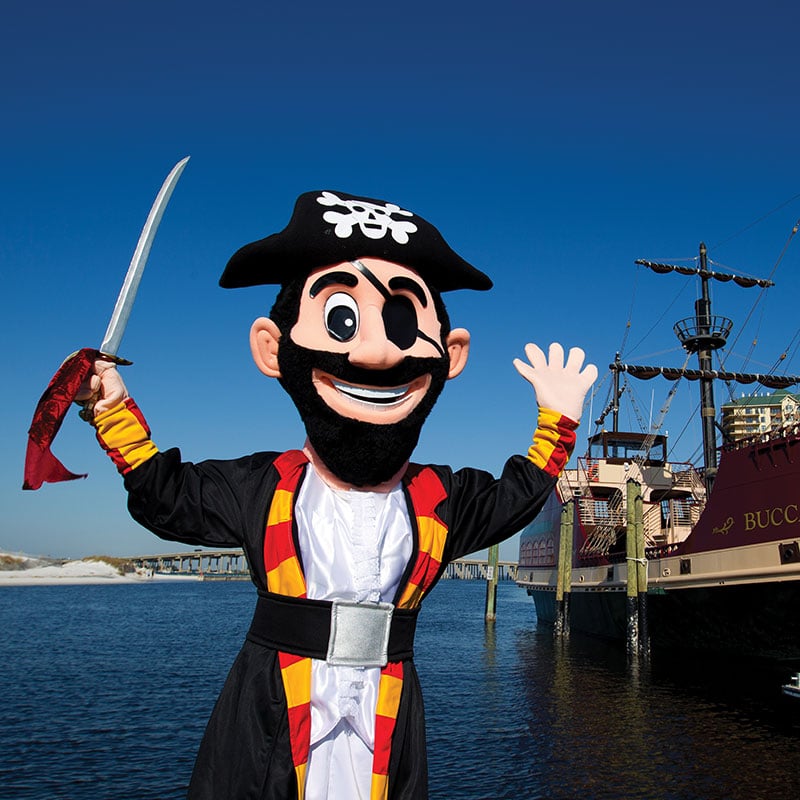 Ahoy, Matey!" For a swashbuckling adventure you can't miss, tour the Emerald Coast from the deck of an authentic pirate ship.
The Sea Dragon of Panama City Beach, an 85-foot-long vessel that braves the waves as an authentic replica of a vintage pirate ship, is operated out of Saint Andrew's Bay by Captain "Fearless" Phil and his motley crew, who take adventurers on a two-hour voyage through the Gulf.
Keep your eyes peeled for dolphins and landlubbers, but don't forget that there is fun to be had on the ship, too. Kids will hit the deck and engage in "sword" fights, learn about cannons and even find their own treasure! They'll love getting their faces painted, immersing themselves in pirate culture, learning about pirates on the high seas and having a blast with the crew. Meanwhile, adults can relax to some music and enjoy appetizers and a cool beverage on the deck.
Over in Destin, even more pirates ravage the seas! The Destin Harbor is home to the Buccaneer, a large craft that holds up to 149 passengers at a time. While a standard tour of the Gulf is available, this ship is also offered for private cruises, weddings and even field trips! You'll find your sea legs as the Buccaneer departs from the harbor and ventures into the waters of the Choctawhatchee Bay. Children and adults alike will get the opportunity to scour the sea for buried treasure while learning what it means to be a part of Captain Cannonball's crew.
You see, Captain Cannonball — longtime local Cliff Atwell — has been traversing the oceans since he was a young scallywag. He marks the advent of his career all the way back to 1677, when he joined a crew to capture an infamous commodore and decided a pirate's life was for him. Over the next few decades, Cannonball made his way from fledgling pirate all the way to captain of his very own ship. With command of his own crew, he has faced-off with renowned pirates, such as Billy Bowlegs and Captain William Morgan. Now in command of the Buccaneer, Captain Cannonball and his mates always sail victorious along the Gulf, happy to share their vast knowledge of the waters they plunder.
"Weigh anchor and hoist the mizzen, me hearties! Treasure awaits!"