Pinterest? Fad or Fabulous?
The Ladies are Flocking to Create and Share Virtual Scrapbooks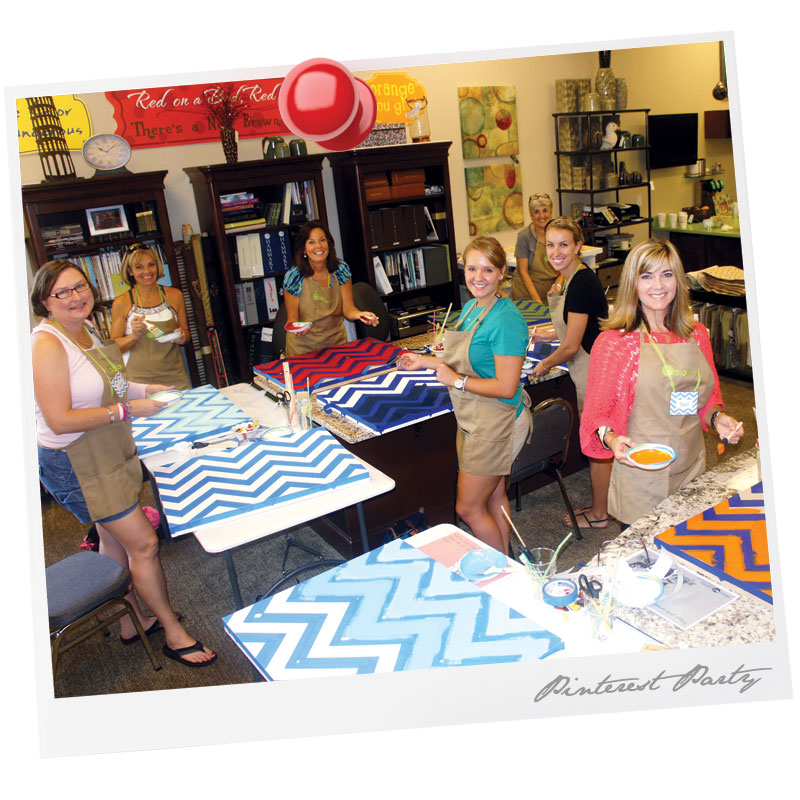 Pinterest is social media's newest sweetheart. The social network has skyrocketed onto center stage and has artfully attracted celebrities like the buttery Paula Deen, Yoko Ono, Martha Stewart, Ellen DeGeneres and Michael Kors. Oh, and there are more than 12 million users, the bulk of whom are active monthly.
Pinterested? This social network is designed like a social bulletin board. Users grab inspiring bits of media from the web and pin it to their page — creating a stunning virtual mosaic of everything you love.
Pinterest is a unique social network because it aims to connect the world through loves and likes. At Pinterest, the idea is that "a favorite book, toy or recipe can reveal a common link between two people." The startup has come up from zero to hero, "with millions of new pins added every week." According to ComScore, the Pinterest site reached 10 million unique visitors the quickest — beating out Facebook, Twitter and Google.
The high demand of Pinterest's stellar visual experience has spawned an app, FriendSheet, which transforms your Facebook Timeline into a Pinterest Pinboard.
Pinterest has been used to plan weddings and parties, design houses and inspire wardrobes, but that's all classic Pinterest; every day, users — and especially brands — are quickly coming up with interesting and engaging ways to use Pinterest.
Pinterest also is integrating with Vimeo and Netflix, so users will be seeing more Pinterest pages centered around video. Dollar General has a Pinterest devoted to easy meal videos hosted by the quirky, and virtually unknown, Chef Clay.
To pin or not to pin, that is the question …
With Pinterest basking in the ultraviolet social media spotlight, a lot of people want to know whether it is worth their time or if it's nothing more than a "phase."
Some social media "gurus" may be a little hasty in shooting down Pinterest as a fad because they are overlooking Pinterest's secret weapon: women.
Women make up the majority of Pinterest's user base — a whopping 90 percent. Women also make up the majority (55 percent) of Facebook's users and, according to a Nielsen Social Media Report, females are the most active users on the Web, engaging in both social networks and blogs.
Speaking of blogs, mommy bloggers rule the Internet, and they have brands in the palms of their hands. In other words, the ladies are essential to social media success.
There are social networks ruled by men. Maybe you've heard of Google's social network Google+, which arrived on a silver platter, dolled-up in an evangelical hype as if it were the second coming of Facebook. But since its launch about a year ago, Google+ has declined steadily from a social network to a social wasteland, with a few good men carrying on.
Pinterest, on the other hand, is driving more referral traffic than Google+, LinkedIn and YouTube … combined.
Girl power isn't the only thing driving Pinterest past the fad marker.
In order to start "pinning" you have to create an account that integrates with Facebook or Twitter. So, rather than competing with these unstoppable social media hogs, Pinterest is simply riding in the sidecar to success.
Speaking of success, Ashley Harkins, owner of Design Avenue, has plans to "pin" her company on the Destin design map with Pinterest parties. Customers who attend can choose a preselected craft project taken from Pinterest. Harkins will provide all of the supplies, serve refreshments made from Pinterest recipes and hand out Design Avenue-branded giveaways. "Pinterest is definitely popular right now and has huge buzz," Harkins says. "The type of women on it are my demographics for the store, so it's a chance for me to get some exposure and get people into the store."
The biggest challenge for Pinterest will be coercing a bunch of dudes into an overwhelming atmosphere of color palettes, table settings, kids' craft projects and doors. Although the male user base is small, it is growing. If women aren't enough to get boys moving, there are brands to follow as well. Guys are flocking to the pins of their favorite brands like Home Depot, The MLB (their best-known Pinterest is devoted to Majestic Mustaches) and Time magazine.
So, are you pinning yet?