Pinnacle Award Winners Shape Communities
Meet the women making a difference on the coast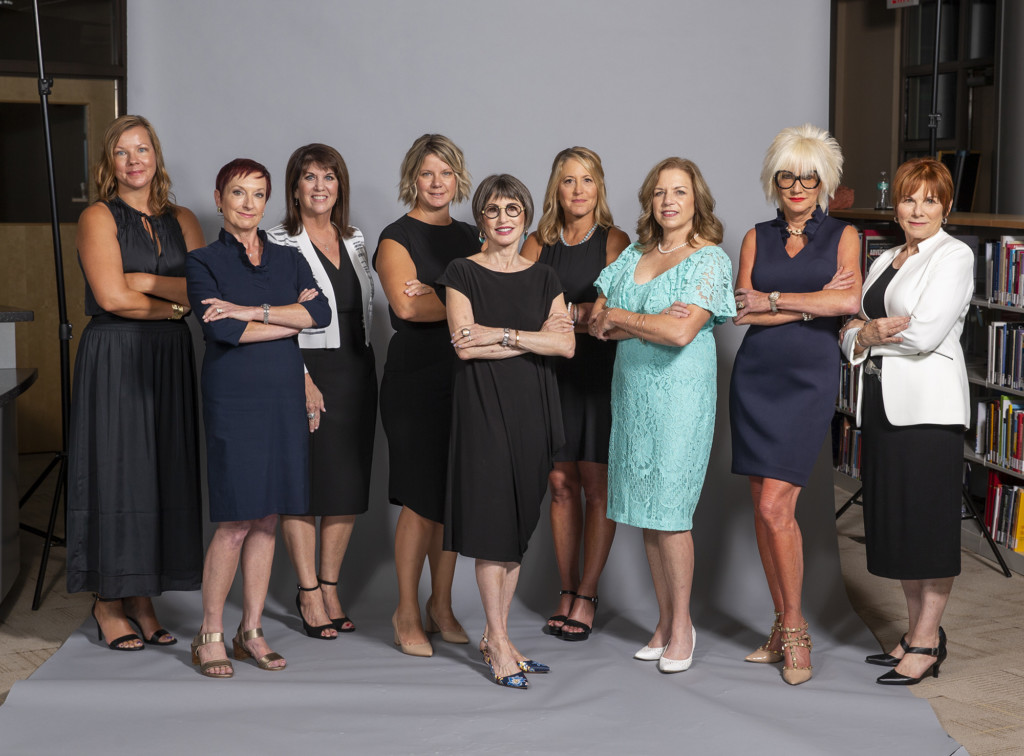 The Pinnacle Awards program, a project of Rowland Publishing and 850 Business Magazine, celebrates prominent, successful, formidable Northwest Florida women who have distinguished themselves professionally and in service to communities.
There is another common denominator among them: leadership.
Eleven leaders, including eight residents of the Emerald Coast, received Pinnacle Awards at a luncheon held Aug. 21 at Florida State University Panama City. The Class of 2019 was the sixth in the award program's history.
"Populate a chess board with pawns only, and there is no opportunity to think strategically, no opportunity to achieve goals," 850 Magazine's editor said in addressing the sold-out luncheon. "All you have is a scrum. Fill a room with brilliant minds and challenge them to fix the housing shortage created by Hurricane Michael in Bay and surrounding counties, and it's likely that no progress will be made until someone emerges as a leader.
"The history of the world is the history of leadership. The history of Northwest Florida is substantially the history of women in leadership roles."
Indeed, Pinnacle winners from 2019 and previous years plan to use their collective clout to benefit Northwest Florida. They departed the Holley Academic Center at FSU PC with plans to call for a greater focus at the state level on Hurricane Michael recovery.
As a group, they will be hard to ignore.
This year's honorees included three women from Tallahassee: Marsha Doll, owner of Marsha Doll Models; Michelle Ubben, president, Sachs Media Group; and posthumous honoree Kristine Knab, who served as executive director of Legal Services of North Florida for almost 40 years. Knab died in July 2018.
The honorees from Emerald Coast communities follow:
Mona A. Amodeo, Ph.D.
Pensacola; Founder/President, idgroup
⎥ As the leader of a branding agency, Mona Amodeo helps companies cut through the clutter of a busy marketplace and position them so that they "stand out and stand above."
"Today, people want to do business with, work for and contribute to companies and organizations that have something that they sta nd for and stand behind," Amodeo said.
She collaborates with businesses to clarify their identities, crystallize their narratives and ensure that their messages align with customer experiences.
Amodeo incorporates a strengths-based approach to her work.
"Study what's wrong ,and you are apt to get more of what's wrong," she said. "Study what's right and what's working and build on that, and you are likely to be better off."
She emphasizes that a company must demonstrate that it is a responsible global citizen.
"People who work to benefit people and the environment in addition to their balance sheet are the people who will win," Amodeo said. "Others will be left at the bus stop."
Cindi Bonner
Pensacola; Director, Rally Pensacola
⎥ Upon learning in 2013 that a 4-year-old neighbor boy had bone cancer, Cindi Bonner was inspired to do much more than deliver casseroles to a family dealing with a devastating diagnosis.
She helped the family establish and manage a Facebook page and a website designed to promote awareness of the boy's plight. And she soon discovered that his circumstances were far from unique.
Bonner proceeded to establish Rally Pensacola, an extension of the Rally Foundation for Childhood Cancer Research in Atlanta. In the last three years alone, she has raised more than $1 million for research and to defray extraordinary expenses incurred by families with children undergoing treatment for cancer.
"The work that Cindi is doing benefits so many children and their families," said Carol Carlan, president of the Sacred Heart Foundation in Pensacola. "She has an office on the Sacred Heart campus, and we see her interacting with families every day, identifying needs that might otherwise go unaddressed."
Stacey Brady
Miramar Beach; Marketing/Communications Director, Grand Boulevard
⎥ In 2006, the Howard Group had embarked on an ambitious project, Grand Boulevard at Sandestin. The developer was capable, certainly, of carrying out the design and construction phases of the job but needed someone to craft the story of the development and breathe life into its brand.
To fill that role, Myra Williams of the Howard Group hired a consultant, Stacey Brady, whose work in the community and on behalf of entities, including the Seaside Development Corp., had impressed her.
Thirteen years later, Brady, in her full-time role at Grand Boulevard, "continues to own and cultivate the brand," Williams said. "She has expanded the audience for the development with the many events she has created there. We build a charitable component into events at Grand Boulevard, and Stacy has kept that vision alive.
"She is constantly growing partnerships."
In so doing, Brady has turned a venue where people splurge on fine meals and shop for nonessentials into a place that helps feed the hungry.
Daryl Rose Davis
Seaside; Co-founder of Seaside, Florida
⎥ Daryl Davis met on the porch of a model home in the early days of Seaside with her husband Robert and two architecture professors from the University of Miami.
Together, they developed a one-page set of specifications for the nascent community.
The specs addressed street dimensions, building heights, public spaces and building materials. Without realizing it, Davis and the others were writing an outline for a movement that would be known as New Urbanism. Davis decorated and staged model homes at Seaside and, in so doing, defined a lifestyle.
Her development as a businesswoman paralleled the development of Seaside, itself. Her first enterprise was a roadside produce stand.
Today, she owns five businesses at Seaside and has owned many more. She is a celebrated philanthropist whose giving reflects her passion for the arts and compassion for people battling drug and alcohol addiction.
She is indebted to her mother Rose, who buried three husbands and taught her the value of self-reliance.
"She was an inspiration," Davis said.
Amy Hoyt
Panama City, Senior Evening News Co-Anchor, WMBB-TV
⎥ For 25 consecutive years, Amy Hoyt has been delivering the news to viewers of WMBB-TV in Panama City. In the industry she first entered in 1980, such stability is an oddity.
Hoyt's first TV job was at WMBB rival WJHG, where the iconic Joe Moore hired her as a weekend anchor and weekday reporter and served as her first news director.
These days, Hoyt is a mentor to reporters — now called "multi-media journalists" — who are younger than her own children.
"We give them challenges and they meet every one of them," Hoyt said. "And we give them a lot to do. In a small market, they do it all."
Hurricane Michael is the biggest story Hoyt has covered in her career.
She and fellow members of the WMBB news team covered developments, kept their cool and remained in professional character until Category 5 winds knocked them off the air.
Suddenly, they had become part of the shared storm experience.
Kimberly Krupa
Pensacola; Executive Director, Achieve Escambia
⎥ The serpent in George Bernard Shaw's collection of plays, Back to Methuselah, says to Eve, "You see things, and you say, 'Why?' But I dream things that never were, and I say 'Why not?'"
No one would liken Kimberly Krupa to a snake, but her outlook on her community involves looking at the familiar as a starting place, not a resting place.
As the executive director of Achieve Escambia, a partnership dedicated to bringing about optimal outcomes for students, Krupa effects transformational progress.
For example, she led Achieve Escambia partners to create a preschool program for 3-year-olds at a Pensacola school that is one of the most disadvantaged in Florida.
"We heard from the community that they needed a high-quality preschool program that would start earlier than voluntary pre-K and Head Start programs," Krupa said.
In response, the private sector funded what Krupa called an "intervention."
Today, fully 100 percent of children exiting the new program are ready for kindergarten.
Tiffany Nelson
Santa Rosa Beach; Founder/CEO, Food for Thought
⎥ Tiffany Nelson was unprepared for what she learned the day she enrolled her first-born child in kindergarten.
Never had she considered the various serious issues that might have deleterious effects on child development, all of them screened for as part of the enrollment process: homelessness, hunger, abuse and more.
"I looked at my son Avery, and I couldn't imagine sending him to school when he hadn't eaten for days," Nelson said. "I thought about the stress and fear and anxiety that would cause."
Nelson resolved to help. She started small.
"We started by helping out six kids," Nelson recalled. "Then it grew to 16, 36, 48. My table was covered with apples, bananas, bread, and peanut butter and jelly."
After a year, Nelson established Food for Thought as a 501(c)(3) organization.
Today, Food for Thought serves students in 33 schools in Walton and Okaloosa counties. In the 2018-19 school year, the program distributed more than a million food items.
Sandy Sims
Pensacola; Director of External Relations, Gulf Power Co.
⎥ In 35 years as an employee of Gulf Power Co., Sandy Sims has experienced just about every aspect of the business.
"I tell people I have done everything but climb a pole," Sims said, and then quickly added, "I have been to pole-climbing school; they just didn't have climbing hooks small enough for me."
Indeed, she may be better qualified than any other single employee of Gulf Power to start a utility from the ground up.
For decades, Sims has tirelessly devoted time, talent, energy and treasure to enhancing communities and leading nonprofits, all while doing her part to keep the lights on.
When Hurricane Michael rushed ashore, Sims was Gulf Power's district general manager in the Panama City area. She earned plaudits from local governments, businesses and individuals for her round-the-clock accessibility after the storm and her selfless attention to the priorities and needs of others.