Pets and Their People
How five out-of-the-ordinary animals found their owners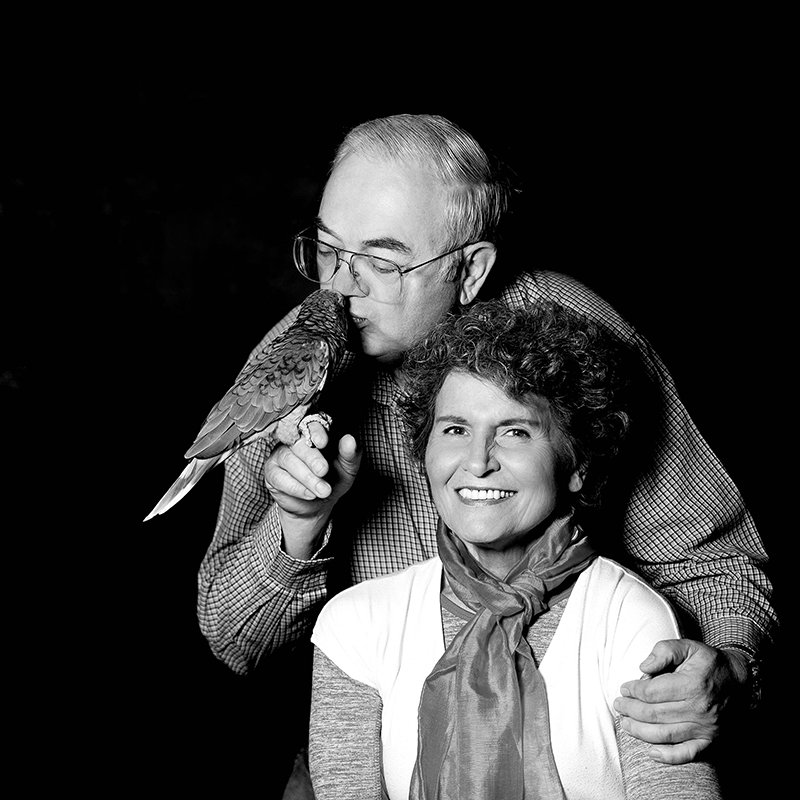 Finding a home is an important step for a pet. Just how far do our furry colleagues go to find their so-called masters? Is it possible that our pets choose us and we oblige? Animals add their point of view to our world — their peculiar wisdom stretches far beyond our paltry 10,000 years of civilization. There is nothing more uplifting to the human spirit than to have it adjusted by the ancient wisdom of an animal. You are the extension of your pet in all things that matter to it. What it likes to do, to eat, when and where to sleep, what job it wants to do in the family — your pet even chooses your friends for you, to its advantage. We have rounded up five heart-warming stories of loyalty and companionship about Emerald Coast animals that go above and beyond to demonstrate their love for their humans. Whether they hail from an animal shelter, a pet store, a foster home or the streets — it's not always you who rescues a pet — sometimes a pet rescues you.
Corina Zalace and Circi (Blue-Fronted Amazon Parrot)
Corina Zalace's first job was to put identification bands around the feet of baby birds. In the 1960s, her father had an aviary in their backyard. It was full of parakeets. He raised the birds to sell to local pet shops. Because the young Zalace showed an affinity for biology and animals, she was placed in charge of cleaning the aviary, feeding the birds and placing a small, round, numbered metal band on the newborn parakeets to identify the original breeder.
"In those days, all of the birds had to be banded," she recalls. "I was always afraid that I would hurt their little feet. So that was my first experience with birds."
Zalace, who lives in Niceville, went on to care for many types of animals through the years. In 2005, she spotted Circi, a blue-fronted Amazon parrot, sitting high on a perch in the window of a pet store in Fort Walton Beach. Zalace had a good feeling about Circi.
"She was already past maturity age, having been born in 1991," Zalace recounts. "She seemed shy, yet loving. So we bought her."
She was not taught to speak when she was young, so she does not communicate with words, but the blue-fronted parrot does emit a great wolf whistle.
"She will probably outlive us," Zalace says, noting that the birds can live for 70 years.
According to Zalace, a bird has the IQ of a 5-year-old. Most birds gather in flocks and prefer to be in others' company. Circi loves it when her owner is with her and thrives on being petted and cuddled.
"I feel a love for her," she says. "I don't know what she feels, but I think it's more that she feels that I am part of her flock."
Chloe Chick and Bekkr (Haflinger Quarter Horse)
Sonja Revells
Chloe Chick loves living on a farm where she can ride and play with horses whenever she likes.
"The first thing I think about when I wake up is feeding horses and how blessed I am to live out here on such a beautiful farm," the 11-year-old explains. Chloe lived along the beaches of Scenic Highway 30A until last year, when her parents purchased a farm near DeFuniak Springs that is home to five chickens, four cats, four horses, two dogs and four people.
Chloe's first pony — Bekkr — is also her favorite.
"He taught me to become a better rider," she says.
Bekkr once saved her life.
"I jumped a jump with him while I was on foot and I tripped over the jump," Chloe says. "Bekkr jumped off to the side to miss me and then stopped to check on me."
Chloe has been riding horses since she was 5. She first rode at a friend's birthday party. Soon after, she took riding lessons. The young "horse whisperer" began with Western riding, and then her instructor suggested that she try English riding. So far, she's been in more than a dozen competitions. Victory ribbons of red, blue and gold line her wall.
While she is fond of all four horses on the farm, including her beloved Beaux, a beautiful Belgian draft horse, it is Bekkr that remains special to Chloe. He's a palomino that sheens like gold.
"Bekkr can be a little bit stubborn sometimes, but he's the best pony ever," Chloe says.
Robbie Roberts and Allie (Chocolate Lab)
Before Allie lived with Robbie Roberts, the dog kept running away. "I rescued Allie because she kept getting off her leash and running free," Roberts says. Allie was frequently tied to a tree and would often break loose. Animal Rescue kept picking her up until Roberts claimed the now 10-year-old chocolate Lab as his own.
Even though Allie had been neglected for several years, she still has plenty of love and affection for people. She goes everywhere with Roberts, who is a sales and marketing associate for the Town of Alys Beach on 30A. He began bringing her to work while she recovered from surgery, and it wasn't long before she settled in and became known as a mascot.
Sonja Revells
Clients come in to see her, and homeowners stop by to take Allie for walks or for a swim in the Gulf. Allie knows how to break the ice in an otherwise intimidating environment. She greets every visitor with tender affection, especially when they offer her snacks. One of her favorite people is the UPS deliveryman.
"She'll be asleep and hear the rumble of his truck from far away and then runs straight for the door, waiting for treats," Roberts says.
Allie knew how to dream big. Neglected at her previous home near Freeport, she seemed to know that she deserved a better life. She found her true home with Roberts and now breathes life into the community that surrounds her.
"She was already named Allie when she was rescued, but clients and homeowners assume she was named for Alys Beach," Roberts says. "Some things are meant to be."
The McBrides and Zippy (Peruvian Tricolor Guinea Pig) 
The McBride family witnessed the birth of Zippy. They were looking into the storefront window of a pet store when they saw a guinea pig giving birth. The staff didn't know the mother guinea pig was in labor, so the family ran into the store and alerted the workers to what was happening.
The McBrides brought Zippy home to their residence in Santa Rosa Beach, where they already had another guinea pig named Snowball and a Pembroke Welsh corgi named Lili.
Geoff and Lisa McBride have four children: 14-year-old River, 12-year-old Zoe, 9-year-old Hunter and Zuri, who is 2. Lisa is earning a degree in aromatherapy while she manages the affairs of Geoff, a well-known singer-songwriter who has performed with famed musicians including Aretha Franklin, Sara McLachlan and Whitney Houston.
Lili likes to travel, and the McBrides had wanted an animal that could travel with them when Geoff is on the road and singing. Lili especially enjoys the Seaside Farmer's Market. She curls up in the bottom of Zuri's stroller and puts her head between the toddler's feet as she greets passersby. Generally, guinea pigs prefer to stay at home and out of the limelight. They make few public appearances.
Snowball is a silver agate, while Zippy is a Peruvian tricolor. Snowball is the bossy one. She is old enough to be Zippy's mom and tries to tell Zippy what do to do.
"But Zippy tells her get out of her face!" Zoe exclaims.
Mindy Norris and Judy (Jack Russell Terrier) 
It was an emotional time in Mindy Norris' life when Judy wandered into it. Norris' father and brother had both recently passed away when Norris encountered a little Jack Russell terrier standing in the middle of a Nashville, Tennessee, road in 2004. Norris stopped her car and called out to a pregnant woman who was working in a flower bed.
"Ma'am, is this your dog?" Norris hollered.
"No," replied the woman. Then, when Norris opened her car door, Judy jumped in the driver's seat — and they went home together.
Since finding Judy 11 years ago, the two have been inseparable, mostly compatible companions.
"Judy loves me, but we fight like sisters," Norris concedes, and the dog, which scarcely knows its own size, also can be an overzealous protector.
"She likes to keep it real and will sometimes bite my friends, but she can also be very, very loving," Norris says. "She is right underneath me all the time."
Norris and Judy left Nashville in 2007, moved to Santa Rosa Beach and ultimately settled in Point Washington. Norris is a stylist at JS Salon in Grayton Beach and a yoga instructor at the Rosemary Beach Fitness Center. She also teaches a Vinyasa yoga class called Brewmaste at the Grayton Brewery.
The day after Norris found Judy on the road, she took Judy to a vet and learned that the dog was deaf.
She named her new little dog after one of her favorite scenes from "The Andy Griffith Show." In that episode, Goober and Gomer imitate Cary Grant by saying, "Judy. Judy. Judy."
After finding Judy, Norris spent the next three weeks trying to find the dog's owner. She called the number on Judy's identification tag, but the woman who answered said Judy wasn't her dog. "They had abandoned Judy," says Norris. "So I kept her."