Performances Not To Miss This Holiday Season
'Every Christmas Story Ever Told,' a Jane Austen debut, and 'Miracles' on S. Jefferson Street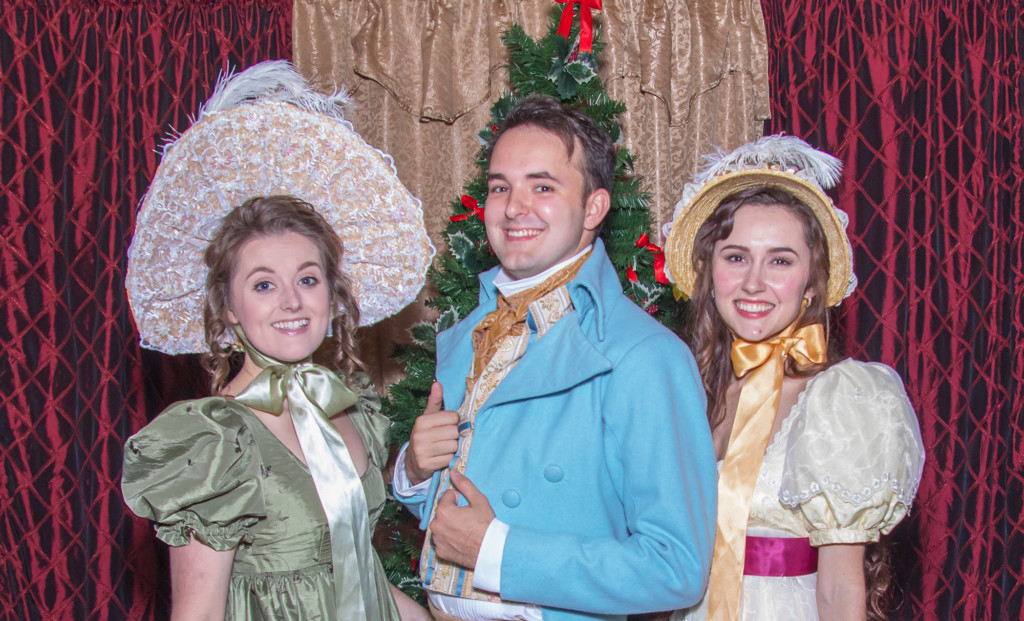 It's the holiday season. When it comes to spirited entertainment, this year we have more than a few "sugar plums" being staged all along the Emerald Coast.
From a zany madcap comedy stuffed with every holiday story we can imagine to a new staging of a nostalgic Jane Austen-inspired period romance, and, of course, a few miracles tucked in for good measure.
As the year comes to a close, we package a few family-friendly festive offerings on stage at a theater near you that are sure to put a lift in your stockinged step and ward off any holiday ghosts of Christmas past.
'Miss Bennet: Christmas at Pemberley' gives us a fresh, new holiday classic
The American Theatre was in search of a new holiday offering and they found it in 2017 in "Miss Bennet: Christmas at Pemberley," which makes its Northwest Florida debut on Emerald Coast Theatre Company's (ECTC) stage this December.
Though the play — adapted for stage by Lauren Gunderson and Margot Melcon — comes with a seal of approval from the Jane Austen Society of North America, you don't have to be a Janeite (Jane Austen fan) to enjoy this confection.
The luscious 19th century costumes, witty repartee, not to mention a live spruce tree with vintage ornaments (thanks to the thoughtful attention to detail by associate director Anna Fisher) stand on their own, and with costumes by Glenn Breed and set design by Becca Lake, this tasty holiday morsel practically gift wraps itself.
This holiday tale is a charming celebration of fan favorite characters from "Pride and Prejudice," honoring the legacy of Jane Austen's humor, playfulness and wit in a warm-spirited family holiday theatrical production.
The play is set in 1815, two years after the conclusion of "Pride & Prejudice." Mary Bennet, the bookish and oft-forgotten middle child, has her quest for independence sparked by an unlikely visitor. Will she be defeated or become the heroine of her own story? What lies ahead in Mary's future as she explores the complexities of family and love.
"Our story takes place during the Regency period. The furniture has a lot of squares and rectangles and is simpler and straightforward than the more ornate designs of the Victorian era," says ECTC co-founder and associate director Anna Fisher.
"In terms of costumes, during this period, women would wear a short corset to allow the natural hipline to show."
Fisher is especially excited about the creative challenge of the main set — the library. "We will be figuring out how to create the look of a family library filled with hundreds of vintage books," so look for that she says.
"Miss Bennet" is a period play with characters that are anything but dated. "When I read the script, I was drawn to it because of how charming and fleshed out the female characters are," Fisher says.
"A lot of times when you watch a period piece the story is told through the eyes of the men, because they were the major players. But this story centers on Mary Bennet who is this interesting, sassy character who lives on her own terms. That resonates with so many of us today."
Wassail anyone?
'Every Christmas Story Ever Told … and Then Some' is stuffed full of cheer
Back for its 10th year, The REP Theatre presents 19 performances of their smash-hit holiday comedy "Every Christmas Story Ever Told … and Then Some."
"I can't believe I've performed this show over 200 times, but it is a lot of fun," says Seaside REP executive director Brook Stetler, who also marks his 10th anniversary this year.
"It's a lot of fun to work with the rest of the cast and crew to create new bits and scenes every year to surprise the audience. The audience feedback and the energy they give to the performers on stage is exhilarating. And it's always fun to see the folks that come back year after year."
This whirlwind of a performance with at least 60 costume changes tackles all your favorite Christmas stories, while bringing in all the holiday traditions you share with your family such as watching the Macy's Thanksgiving Parade, caroling and re-gifting that fruit cake … again.
Imagine a mash up of George Bailey in "It's a Wonderful Life," Scrooge in "A Christmas Carol" and the Grinch in "The Grinch Who Stole Christmas;" toss in some "Star Wars" and your dad collared from the crowd to play Cindy Lou-Who and you get the idea.
This show is silly, but it takes serious work to pull off. "I like the different challenges that comedic roles provide," Stetler says.
"In this show, we each have to create a ton of very different characters with distinct voices and physicalities. The timing between the actors and their lines, props, and costume changes and the audience reactions are all carefully timed and rehearsed. So that all takes a great amount of mental and physical control and focus. But then, you've also got the freedom to really play within the scenes and a much broader world of characters and scenarios to deal with."
"Every Christmas Story" provides the laughs but never strays from the heart of the holiday season, as a time when families get to spend time together.
"The show is family-friendly and great for all ages, whether you're 4 or 104 years old," Stetler assures.
'Miracle on 34th Street' reminds of the true meaning of the season
Pensacola Little Theatre has been providing live theatrical events to Pensacola for more than 80 years. Enjoying a holiday show at the Pensacola Cultural Center is as much a tradition as the production itself.
"Miracle on 34th Street" is as classic an American holiday show as you can get. The story focuses on young Susan and her single mother, Doris, who is against all things fanciful — including belief in Santa Claus.
One fateful Christmas they meet a man who might just be the real Kris Kringle, and who impacts their lives and the lives of everyone around them in a very meaningful way.
Director Mark Core-Noel personally invites the community to come out to experience this classic show saying, "This year, I'm asking as you share this wonderful story with us that we remember the true meaning of Christmas and we remind ourselves that it's not about what comes in a package, but what comes from within. Christmas is a time of joy and mystery, and we here at Pensacola Little Theatre hope you have a very Merry Christmas and a Happy New Year. Sit back and enjoy the innocence of youth in our production of 'Miracle on 34th.'"
And to everyone headed to a holiday show on the Emerald Coast, as Tiny Tim said, "A Merry Christmas to us all; God bless us, every one!"