Pensacola Restaurant Dharma Blue Practices the Art of Simplicity
"I believe these places can and should be about more than just feeding people"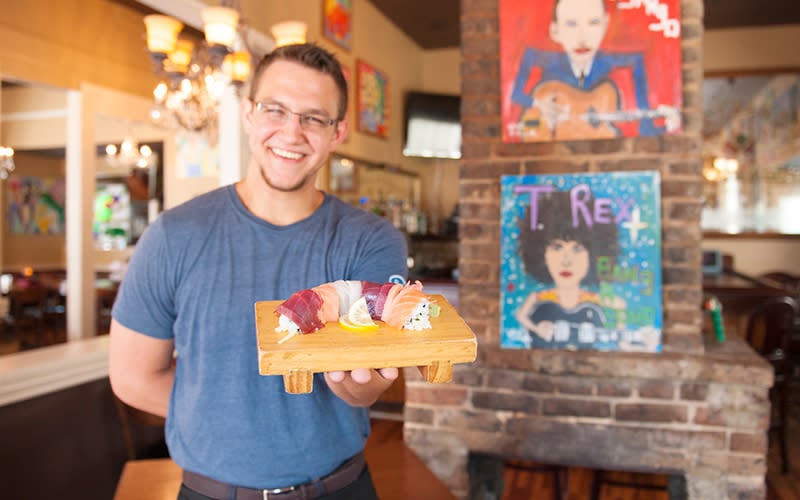 As a veteran angler, restaurant icon and renowned fishmonger, Capt. Charles Morgan is synonymous with fresh, local seafood.
When I reached him by phone, Morgan was making his weekly delivery to Chuck's Fish in Mobile, Alabama, one of his numerous canteens in the Southeast.
But on the Emerald Coast, he is known as the father of Destin's Harbor Docks and Camille's at Crystal Beach. Dharma Blue, Morgan's estranged, but no less prestigious, third child resides to the west and, while often overlooked by Destinites, has been revered in Pensacola for more than 22 years.
"We chose to open Dharma Blue in Pensacola simply because of what the area had to offer," Morgan said. "Back then, Destin just wasn't the city it is today. It was barely even a city. Pensacola promised consistency."
Nestled in a historic, downtown neighborhood on South Alcaniz Street, Dharma Blue is a pastel pink, antebellum estate turned sidewalk café.
Mortared, brick steps lead to a petite porch where Diana Mills, the eatery's general manager, welcomed me inside. Upon crossing the threshold, it was apparent that what the space lacked in size, it more than makes up for with a stylishly nuanced ambiance.
Were it not for the tables cloaked in linen, full-service bar and sushi nook, one might think he had waltzed into an art gallery.
"Most of these were painted by Lamar Sorrento," Mills motioned, as we stepped into the bar. Abstract rock 'n' roll portraits of the Rolling Stones and Creedence Clearwater Revival, as well as blues artists such as Freddie King and Elmore James, decorate the walls.
The dining room boasts an even more dynamic exhibit, featuring the effervescent, off-kilter creations of Jimmie Lee Sudduth, Theresa Disney, and Pensacola's late, great artist, Ann Frantic.
"Oh, I've been collecting outsider folk art for years," Morgan said. "Most of it tells a story, or as much of one as you can tell on canvas.
"A lot of those artists you see in there are southerners. There are pictures painted with mud, painted on the backs of plywood — simple stuff. That's who we are, too. We try to get the best ingredients and not do too much with them. Too many people get carried away with seafood. We've had our own market for 38 years, and I know that when you get away from that fresh, straight-out-of-the-Gulf taste, you're changing the story."
Dharma Blue executive chef Brian Culleton avidly adheres to Morgan's dogma, and satisfies appetites for traditional seafood and savory, Southern flavors.
Market-priced fish are delivered straight from Destin, grilled or blackened to perfection, and drizzled with the subtle zest of lemon beurre blanc.
Other patrons go for Culleton's famous, panko-battered fish fillet, served with sweet, sundried tomatoes and a dollop of homemade caper cream.
Of course, there's a little turf in the middle of the surf.
"I have to say my favorite thing here is our beef fillet," Mills remarked. "If only for the veal demi glace. We make the demi in house from scratch, which is about a three to four-day process. It's well worth it."
Morgan, while hesitant to call it Dharma Blue's main draw, said the menu's 37 varieties of special rolls and sashimi-style nigiri certainly aren't overlooked.
"Like any of my restaurants that serve sushi, everyone has been trained by Yoshi Eddings," Morgan says. "She's this magnificent, beautiful Japanese lady that's been with me for 30 years. When she started with me at Harbor Docks, many of us down here weren't really educated in what sushi was. She's definitely responsible for converting many southerners."
Eddings, who personally rolls sushi at Dharma Blue every Monday night, has attracted the attention of more than locals. As evidenced by numerous photographs that adorn her workspace, Eddings' rolls have been devoured by the likes of Woody Harrelson, Richard Gere, Laura Dern and Billy Bob Thornton, all of whom she catered to on various film sets.
Fortunately, a diner can get the red-carpet treatment here by simply popping one of her generously stuffed signature rolls into his mouth. Exclusive to this location is the exotic Dharma roll, which includes fresh conch, shrimp, krab stick, cucumber and smelt roe, sprinkled with a kickin' spicy sauce.
"We're very fortunate to have had her with us for this long," Mills said of Eddings. "I've only been here for 10 years, which doesn't seem like much compared to most of our staff. There's a reason why we have one of the lowest rates of staff turnover. It's because Charles is wonderful to work for. It sounds cheesy, but we really are a big family."
The Dharma Blue crew grew even more closely knit when they began dedicating their Wednesday and Friday afternoons to feeding the homeless in Pensacola.
"It's not giving back to the community, that's such a cliché line," Morgan said. "We are the community. For over 40 years, we've been very fortunate to run profitable restaurants, so giving away food a couple of times a week is no big deal. Just yesterday, Dharma Blue served 104 folks, and that's a good number of people. We just want to find places where, for whatever reason, people are hungry, and we ask no questions."
One of the three jewels of Buddhism, Dharma encompasses the eightfold path to nirvana: instilling the right understanding, thought, speech, action, livelihood, effort, mindfulness and concentration in one's life.
"In my approach to Dharma Blue, and all my restaurants, I believe these places can and should be about more than just feeding people," Morgan said. "They're places to gather, places to celebrate and even places to mourn. They can be very vital parts of a community, and if they weren't, I think I would have lost interest a long time ago."