Pensacola Archaeology Organizations Help Preserve and Share Region's Priceless History
Digging Deep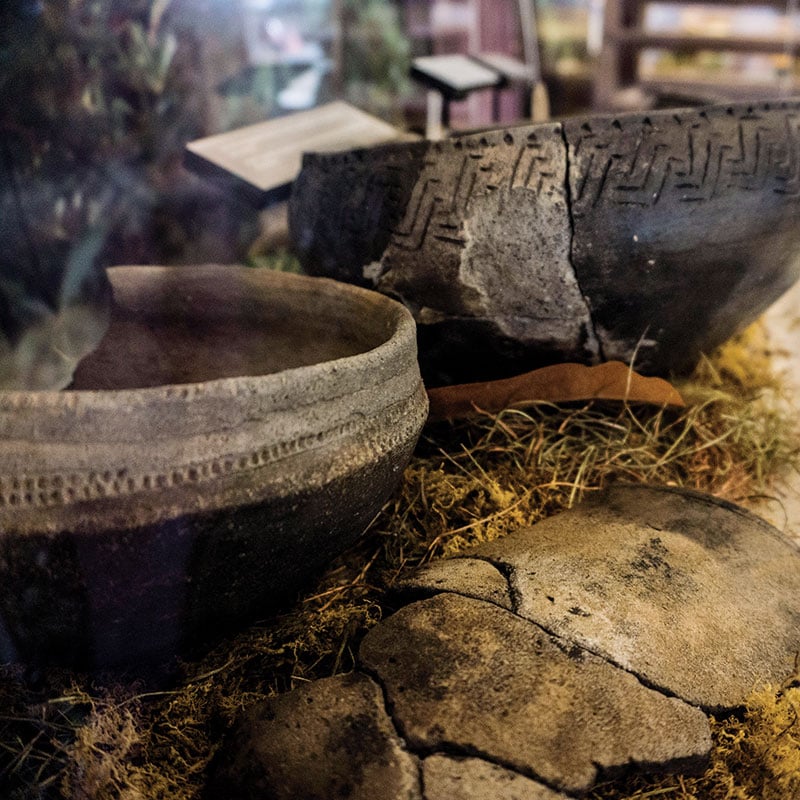 With history richly steeped in the cultures of the Native American, Spanish, French and English people who once called the area home, Northwest Florida is a treasure trove of artifacts that have been lost and buried through centuries of development and progress, neglected and forgotten as time moves on. Where, though, would we be without the people who preceded us here, who built lives and tamed the lands to give us room to grow?
It was with that desire and drive to know and learn more that the University of West Florida began the Florida Public Archaeology Network (FPAN). The same motivations lead educational centers such as the Destination Archaeology Resource Center (DARC) to work diligently to find those pieces of history and teach the public about the cultures who left those treasures behind.
"Florida's archaeology includes some of the oldest history in the United States," says Michael Thomin, who serves as manager of DARC. "Pensacola is one of the oldest settlement attempts by Europeans, and St. Augustine is the oldest continuously occupied city by people of European descent. They're actually both older than Jamestown," he added, highlighting a fact that not many people realize.
"Even preceding that, though, are the 15,000-year-old settlements of Native Americans, but we don't have written records for our state until the Europeans arrived 500 years ago," Thomin points out. "While written records tell us a lot about the past, many groups of people are largely left out of that narrative, including both women and the African-American slaves. Archaeology can really help recover all of that."
There's an amazingly wide variety of archaeological sites in Northwest Florida, covering a huge span of time and many different cultural groups.
"They include everything from ancient Native American mound sites to Revolutionary War battlegrounds, which means that the cultural heritage here is extremely diverse, especially during the Colonial period," Thomin says. "We have artifacts from the African, Spanish, French and British people who settled here, and it's crucial to recover these pieces of our history, because all of that diversity helped shaped the cultural landscape we see today."
In an effort to more easily connect locals with other members of the community and make them more passionate about preserving their own history, FPAN offers many programs throughout the year –– field trips, tours, social activities and even labs where students and other volunteers can work side by side with archaeologists as they clean up artifacts that have been recovered from dig sites.
"Our main focus in all of this is to promote and facilitate the conservation, study and public understanding of Florida's archaeological heritage by providing them with centers that can be visited all throughout the different regions of Florida," Thomin explains.
Key to that goal is the Destination Archaeology Resource Center, FPAN's museum and a central hub for generating community interest. The museum's main exhibit, aptly called "A Road Trip Through Florida Archaeology," allows visitors a visual, up-close and personal experience as they wander through displays showcasing artifacts from archaeological sites all across the state, including Pensacola's Colonial Archaeological Trail; the Florida Panhandle Shipwreck Trail, which is actually underwater and requires scuba dives; Milton's Arcadia Mill Archaeological Site; and the Heritage Park and Cultural Center in Fort Walton Beach.
DARC keeps things fresh with a parade of short-term exhibits as well, providing a glimpse of UWF's Anthropology and Archaeology Department's latest projects, the most recent of which is excavation of the caves in Marianna.
Tour de Fort participants cycle down the long, flat roads near Fort Pickens in Gulf Islands National Seashore.
Courtesy of Florida Public Archaeology Network
But there's far more to DARC than simply the static displays of its museum.
"We recently started a program with FPAN called Archaeology Works, which offers the public a hands-on way to understand how archaeology actually works and what it can tell us about the past," Thomin says.
When it comes to generating cultural interest, hands-on definitely seems to be the way to go, and for anyone really wanting to dig in, the DARC has become the host location for FPAN's Public Archaeology Lab, where volunteers are given the unique opportunity to sort through genuine artifacts that have recently been recovered from archaeological dig sites.
"It's a great way to have fun, learn about history and gain experience in archaeological processes," Thomin says.
Other regular off-site partnership programs between FPAN and the DARC include the Tour de Fort program, which works in partnership with the National Park Service to explore the archaeological sites at Gulf Islands National Seashore around Fort Pickens. Reflective of its whimsical name, the program is actually a bike tour of the area that integrates many aspects of history and science, marrying nature and culture in a fun and interesting way that appeals to a wide range of ages.
"The Tour is a great teaching tool, a way for people to learn about the history, archaeology, ecology and biology of the area, and why and how we should protect it. It's a fantastic way to meet new people, get some exercise, see some beautiful landscapes and soak in some of Florida's sun," says Thomin.
Not a bicyclist? According to Thomin, FPAN and the DARC are currently working on plans to begin working with a local paddle-sport rental company in order to offer paddling tours to archaeological sites.
FPAN and the DARC strive to connect with the community in ways that are fun, relevant and prove that archaeology is about much more than just digging up dusty bits of history.
"We've begun a really great event that we call Archaeology Café, where local restaurants open their doors to us to gather and listen to an informal talk given by an archaeologist," Thomin explains. "Everyone has the chance to enjoy some wonderful food and drinks, engage in some really great conversation and learn about archaeology, all in the relaxed atmosphere of some of our local eateries."
In support of FPAN's diligent work in public education, the city of Fort Walton Beach's Heritage Park and Cultural Center often partners with them to host events and programs, such as walking tours of downtown Fort Walton Beach, where participants can view artifacts from prehistoric Native American archeological sites and walk past temple mounds.
"Our relationship with DARC is extremely valuable, because we have similar missions to share local and Florida history in a public manner and promote historical preservation and awareness," says Michael Weech, program coordinator for the Heritage Park and Cultural Center. "Both work to make the historical resources of our area a more visible, accessible and desirable destination for local and out-of-state visitors. DARC has a tremendous value, not only to the local community in Pensacola but also to the Panhandle area as a whole. Pensacola is a city that values its history, and DARC helps preserve that."
As more programs are added, FPAN will become an even more important component in preserving a part of history that so often goes undervalued, lost among the dust and rubble. But like the artifacts it uncovers, Florida's archaeological initiatives bring history back to life, proving just how much our future is shaped by our past, reminding us that lessons can still be learned, if we only open our minds.
---
Florida Public Archaeology Network Destination Archaeology Resource Center
207 E. Main St., Pensacola
(850) 595-0050
fpan.us
destinationarchaeology.org
Museum admission is free and open to the public.
Monday though Saturday, 10 a.m.–4 p.m.