Pearls of the Bay
With cool weather comes the season for shucking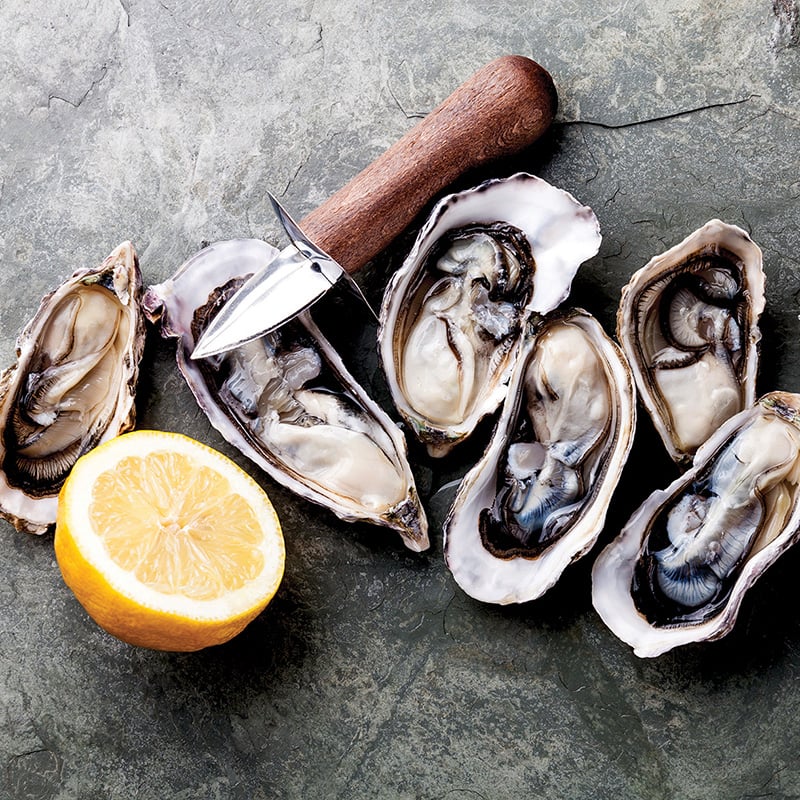 If you hear someone say the "R Rule" is done, know in your heart that they are wrong.
When it comes to eating oysters, the fall and winter months with an "r" in the name are the perfect time to eat oysters. Plucked from Gulf waters during these cooler months, oysters are at their peak in taste — the perfect intersection of briny and sweet.
The Eastern oyster (Crassostrea virginica) reproduces naturally in Apalachicola Bay and is consistently ranked at the top of oyster aficionado lists worldwide.
These oysters are shielded from Gulf waves and currents by a chain of barrier islands, making the area one of the most productive, pristine estuaries in the United States.
In other areas of the world, farmed oysters are mechanically culled, but tradition holds sway in these parts. Apalachicola Bay oysters are still harvested the way they were over a century ago — with long-handled tongs wielded by men on small, flat-topped oyster boats. In fact, the upper northeast Gulf of Mexico is the last place in the U.S. where oysters are harvested from the wild.
When talking oyster, it's polite to use the terms "briny," (instead of "salty"), and "liquor" (instead of "juice"). In addition to linguistic aesthetic, it's important to evaluate an oyster based on look and smell.
The harvested oyster is sold live or shucked (as meat), but in either case it should have a fresh, mildly sea breeze aroma. Acceptable shells have no cracks and close tightly when tapped. If not, the oyster is dead and is not worth the shucking effort.
There are two main ways to shuck an oyster (side-entry and hinge-entry), but both involve using a quality oyster knife with a blunt, rounded tip. Always wear thick garden-type gloves to protect your hands from cuts and abrasions caused by both from the knife and the oyster shell, itself.
Live oysters can be stored in the refrigerator (dry) at 41-degrees Fahrenheit in an open-lid container covered with a towel for up to seven days. They will continue to make liquid, which should be drained daily.
Shucked oysters may be safely stored on ice or in the coldest part of the refrigerator for up to five days.
Oysters are a low-calorie, low-cholesterol protein, an exceptional source of zinc and a prime source of Omega-3 fatty acids. They are delicious cooked — steamed, boiled, roasted, baked, grilled or fried — and when done, they are plump, opaque and have slightly curled edges.
Of course, many people prefer to eat oysters raw, on the half-shell or on a cracker. This is the ultimate way to consume the oyster — preferably in one gulp with no chewing — to best taste the sweet meat and the briny liquor in fantastic combination.
However, raw oysters are not safe for everyone. The risk of illness via the naturally occurring marine bacteria, "vibro vulnificus," is a real danger, although most healthy adults will have no problem. For those who are especially young or old, or who have compromised immune systems, the bacteria can produce a life-threatening infection.
Whether you try them cooked as an appetizer or main course (FreshFromFlorida.com has many great local recipes) or in the purist fashion on the half-shell with just a squeeze of lemon, the Eastern oyster from Apalachicola will have you hooked at the first whiff of that briny Gulf liquor.
---
Ingredients:Lemon Garlic Oysters (Courtesy FreshFromFlorida.com)
36 oysters in the shell
6 oz. butter, melted
¼ cup lemon juice
1 tsp salt
1 tbsp. chopped garlic
| | |
| --- | --- |
| | Directions: Preheat oven to 350 degrees Fahrenheit. Wash oysters thoroughly. Shuck and place oyster meat on the deep half of the shell; remove any stray shell particles. Arrange on baking sheet; cover and refrigerate. Combine next four ingredients in a sauce pan and simmer over low heat for 10 minutes; allow to cool. Top each oyster with ½ tsp of butter mixture and bake in oven for 10 minutes or until edges begin to curl.​ |