Pearl Harbor Veteran Finds Final Resting Spot In Tallahassee
Family gets closure in the extraordinary story of Earl Paul Baum, killed on the USS Oklahoma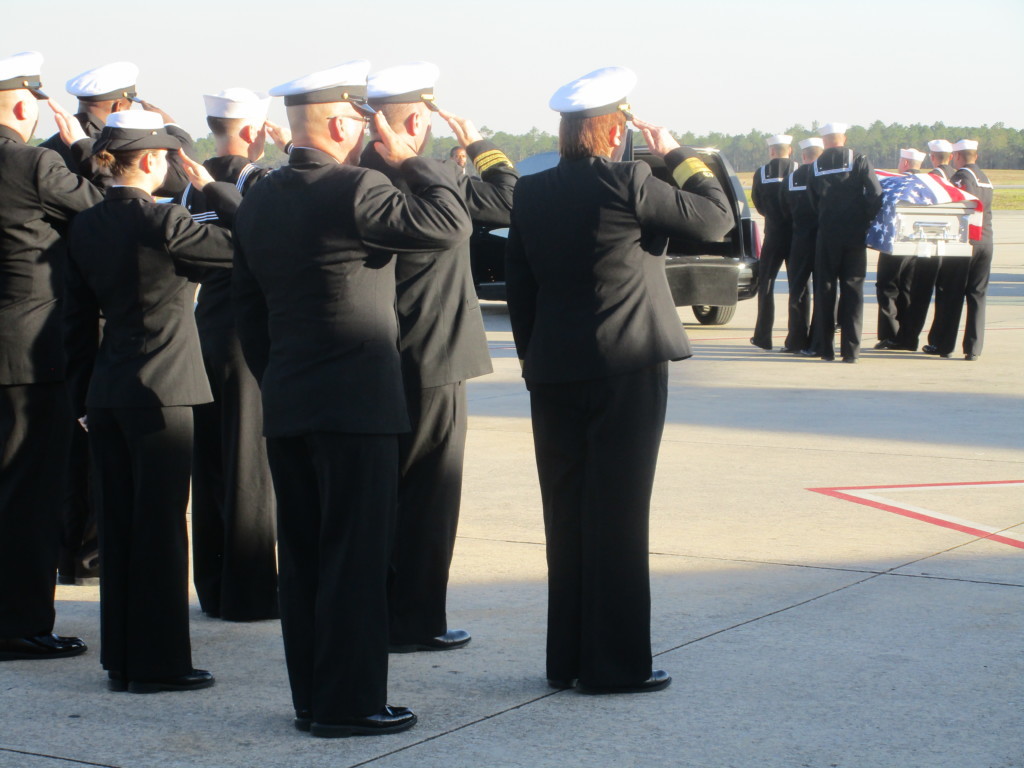 Nineteen-year-old Seaman First Class Earl Paul Baum was among 429 service members who died on the USS Oklahoma when the Japanese torpedoed the American fleet at Pearl Harbor.
On Friday, almost 78 years later, Baum found a final resting place in Tallahassee.
Four generations of family members gathered along with state and local officials at Tallahassee National Cemetery, where officials said no other service member killed in action had been laid to rest.
"I have worked all these years for this moment," Tallahassee resident Emily Golz, 92, Baum's youngest sister, said Thursday.
Friday's ceremony culminated an extraordinary story in which Baum's remains were identified only last year, through DNA tests involving his three sisters — Golz, May Gresh of Seminole and Gloria Yauch, the latter of whom has since passed away.
Baum was from Chicago but was buried in Tallahassee because Golz lives here, as does her daughter, Sandy DeLopez, a niece of Baum.
DeLopez said her father and uncle grew up as best friends near Chicago's Wrigley Field. She said her father, a Navy veteran, is buried in Tallahassee National Cemetery.
"Since Earl never had any descendants, it was a perfect place," she said of her uncle's final resting spot. "Tallahassee's National Cemetery is like a family cemetery. My mother will be buried here, and my husband, who served in the Army, and I will both rest nearby. He is surrounded with loved ones."
Baum was among 400 sailors whose bodies remained entombed in the Oklahoma until the ship was righted in 1944, three years after the attack that killed 2,335 U.S. service members. The bodies couldn't be identified, and their remains eventually were buried in the National Memorial Cemetery of the Pacific in Honolulu.
In 1996, Baum's family members were present as he received full military honors, including a 21-gun salute, at Arlington National Cemetery. His name graced a marker headstone in the MIA section there, as it still does, even though his body remained buried about 5,000 miles away and never had been identified.
As part of its "Keeping the Promise" mission, the Defense Department in 2012 reached out to families of the unidentified service members to gather DNA, and three years later, officials exhumed — once again — the remains of Baum and the others.
Using DNA from Baum's sisters, scientists used mitochondrial DNA analysis to identify his remains — ending 77 years of searching and wondering for the family.
"I'm sure I'm going to cry at the service," April Bruckmann, daughter of Gresh, Baum's oldest sister, said at a family gathering Thursday. "He had been lost, MIA for so many years. I knew he was dead, but you never really know until you know. It's sad he died so young. My mom was robbed of her brother. I was robbed of my uncle. We will never know what life he could have had."
On Friday, about two dozen of Baum's relatives observed the presentation of a tri-folded flag, just as some of them had done at Arlington National Cemetery. Now, they finally know where Earl Paul Baum will rest in peace.
On Wednesday afternoon, Baum's youngest sister joined family members and dignitaries at Tallahassee International Airport to greet the flight that carried Earl Paul Baum's remains.
"When I put my hand on his casket at the airport, I was happy," Golz said. "I said to myself, 'you are home, in the United States, on our soil.' "
NOTE: This article has been updated to reflect that the ceremony at Tallahassee National Cemetery took place.