Patriot Poet
Italian immigrant fought for his new homeland at Battle of the Bulge, now leads with words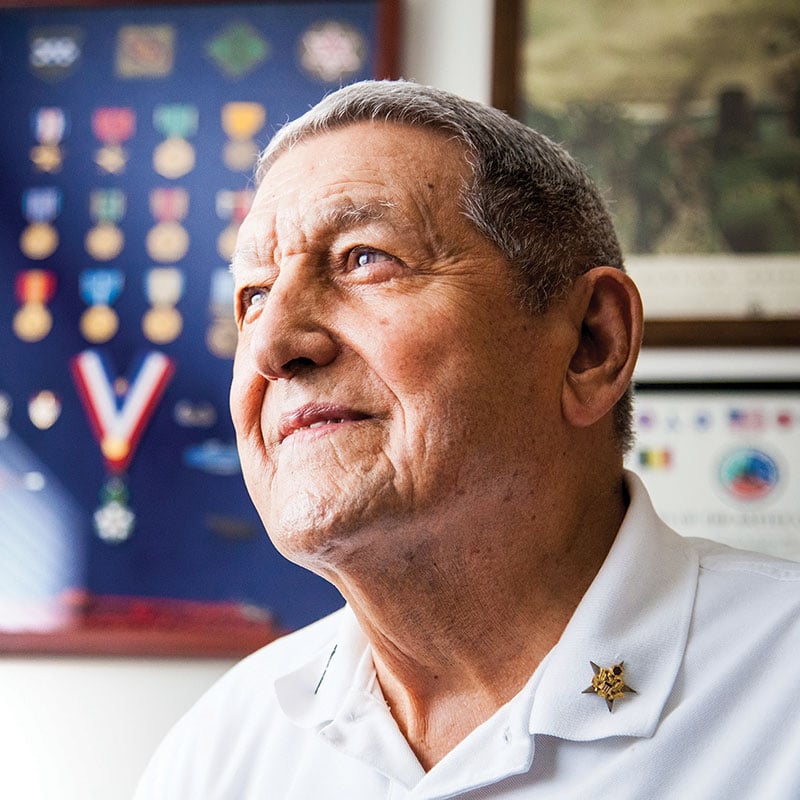 Surrounded by medals, awards, newspaper clippings and other military memorabilia, retired
Lt. Col. Samuel Lombardo of Destin can still recall the amazement he felt in 1929 when, perched high on a ship's intake valve, he first laid eyes on the Statue of Liberty.
"We were on the ship for seven or eight days (coming to Ellis Island from Calabria, Italy)," says Lombardo, who was born in 1919. "I remember, I wanted to be the first to see the Statue of Liberty, so I left my stateroom quietly at about five in the morning and went upstairs to the bow. There were already 10 to 15 teenagers up there, waiting, in the fog, as we approached New York Harbor. Finally, the fog cleared out, and I saw it. I saw the Statue of Liberty. I knew we were free, then."
As a child, Lombardo and his family were stifled by oppression in Italy, which was under the rule of fascist leader Benito Mussolini. Although he was only 10 years old when he and his family left Italy, Lombardo clearly remembers his life there, particularly how frightening it was. He recalls a time when, during a parade, he stood next to an older gentleman in poor health who was unable to raise his arm to salute the fascists as they marched by. The old man was noticed and was immediately removed from the crowd — taken, everyone knew, to jail.
Lombardo's father, who had traveled to the United States as a teenager before returning to Italy, worked two jobs just to fund his family's journey to America — and ultimately, to their new home in Altoona, Pennsylvania.
"My dad would remind us, 'America is now your home, so be sure to be a good citizen and obey the laws,'" Lombardo said. At the age of 19, he joined the National Guard with a friend, and then he attended Officer Candidate School at Fort Benning, Georgia, where he graduated as a second lieutenant. Lombardo's military career took him to Europe, where he served as a rifle platoon leader with the 99th Infantry Division from the beginning of the Battle of the Bulge to the end of World War II.
It was during the Battle of the Bulge that Lombardo and his men found themselves positioned on a snowy hill near the Belgian and German border. This was to be their last operation before they would advance toward the Cologne Plains and the Rhine River.
"The lines were cut," Lombardo recalls. "We had to go and repair the cables so we could re-establish communications."
The problem was, the soldiers had to cross a mine field that had already done damage to two men. With calmness in his voice, Lombardo, after saying a prayer to God, led the men across the field without incident. He knows he was lucky that day.
Nowadays, Lombardo, who is already planning for his 100th birthday (in two years), reflects on his life and uses his stories to inspire those around him. He is known to attend speaking engagements along the Emerald Coast, where he shares war stories, life lessons and his love of America. His passion for country and life can be found on the pages of "Poems for the Young at Heart: Love, Infatuation, Patriotism, Inspiration and Friendship," a collection of poetry Lombardo penned over the years and published in 2014.
For Lombardo, poetry offers a platform to express himself and his views, all while keeping his mind sharp. Recently, he penned a piece and sent it to President Donald Trump.
"It's about making America great again," the 98-year-old says.
And if anyone understands the great opportunities America provides, it's Lombardo. From Italy, to Ellis Island, to Pennsylvania, to the battlefields of World War II, the 20-plus-year military veteran says he wouldn't change a thing about the life he's lived. It was the American Dream, he'll tell you.
"I've been blessed," he said. "I've lived a great, long life so far."
---
My America
By Samuel Lombardo
​I arrived in America
In nineteen hundred and twenty-nine
I saw first, the Statue of Liberty
And knew that Freedom was mine
I lived through the Great Depression
And fought in World War II
I could not have loved America more
Because all I heard was true
Our forefathers were dreamers
And thought of trying something new
So America became the greatest nation
That the world ever knew
I now felt an obligation
Because of all the freedom we have
To dedicate my life
And defend our country to my grave
If all Americans carry out their duties
And follow our forefathers' way
Our freedoms will be protected
And America will be here to stay