Patio Kitchens Are Becoming a Hot Item
Create the perfect atmosphere for al fresco dining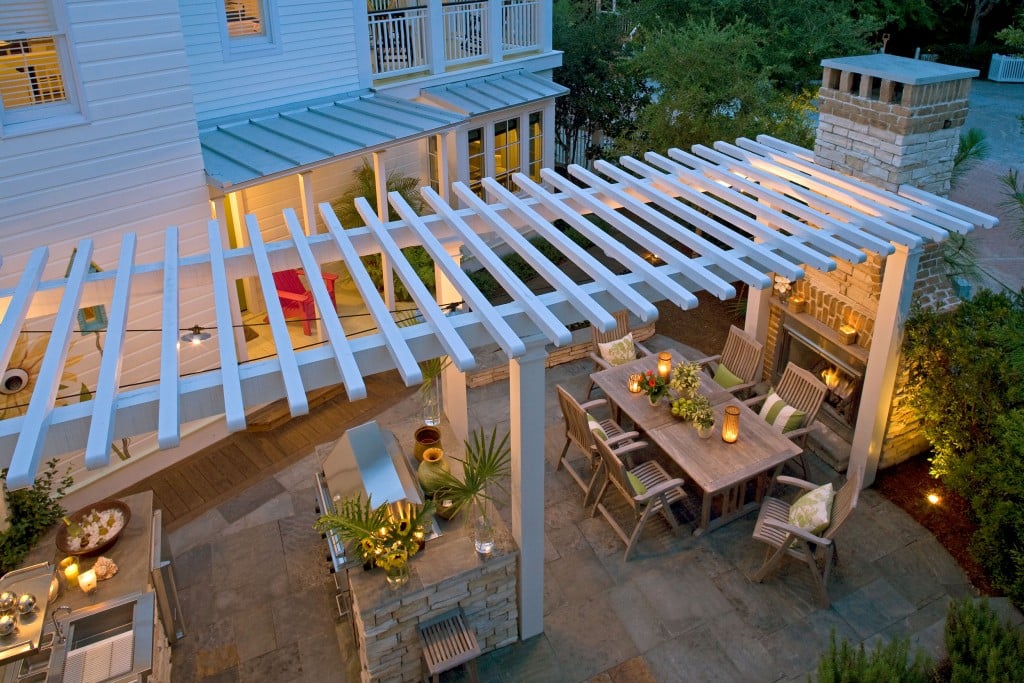 Outdoor living spaces have become increasingly popular over the past few years, and as the trend grows, so do the options available in products and materials.
The idea of taking an interior room and creating an outside version is not only feasible and functional, but it's also a factor in increasing the resale value of your home. One of the most popular features in outdoor living is a kitchen space, and over the past few years, outdoor kitchen designs have become far more detailed — and much more user-friendly.
Thanks to all of the ways that technology has evolved, there are a wide variety of great outdoor kitchen concepts with every appliance imaginable, all of them engineered to weather the weather. The plans can be as simple as a small area with a great grill and some refrigeration or as complicated as a fully equipped kitchen with outdoor lighting. Naturally, your choices will differ according to your personal needs and your budget.
So what makes for the ultimate outdoor kitchen?
Depending on your own cooking skills, there are a variety of appliances available that can be the stuff of a chef's dream. In fact, if you're working with a significant amount of space, you can actually have more at your fingertips than you would inside, simply because some of these accouterments require ventilation not generally found indoors.
"The top pieces recommended for a great outdoor kitchen are, of course, a grill — which range from the most simplistic in design to high-tech editions with Wi-Fi for control and monitoring from your cell phone — a fridge, ice chest, beer tap, wine cooler and believe it or not, a dishwasher," said Rene L. West, president of Executive Landscaping, Inc., in Pensacola. With more than 30 years of experience, West's business has installed a great many outdoor kitchens.
"The best don't just stop at the appliances," West said. "Think about bar seating and outdoor entertainment with Wi-Fi, Bluetooth, speakers and a big screen TV."
"Shade is also important," added Kevin Trussell of Grill Island, Inc., in Pensacola. Focused solely on outdoor kitchens, the company boasts nearly 20 years of serving the Gulf Coast. "You also need space for prep and a serving area as well as storage. Besides the obvious appliances, a sink is a must. Interestingly, griddles have also become very popular."
There are, of course, important considerations that will impact the size and approach to your outdoor kitchen design. The actual footprint and layout are largely dependent on the available space in your yard, but it also needs to reflect what you hope to achieve with your outdoor kitchen. And, while it may be tempting to tackle the installation of an outdoor kitchen as a DIY project, it's best left to the professionals.
"We have access to better components and construction techniques," West explained. "Professionals also have an understanding of which materials are best. Also, be very wary about buying online, even if the price seems attractive, as warranties and returns become a nightmare."
"It's critical to use non-combustible materials and materials that will not rot, rust or deteriorate over time, and I recommend that the equipment be 304 stainless steel," Trussell said.
Naturally, getting the most bang for your buck is a priority, and West recommends intensive planning to keep expenses within your budget.
"Be selective in the equipment you choose," Trussell advises. "There are high-quality grills that don't require excessive spending. Researching materials can allow you to have the same kitchen design with materials that cost less."