Pat Day Marks 30 Years as Postmistress
Seaside is Her Stamping Grounds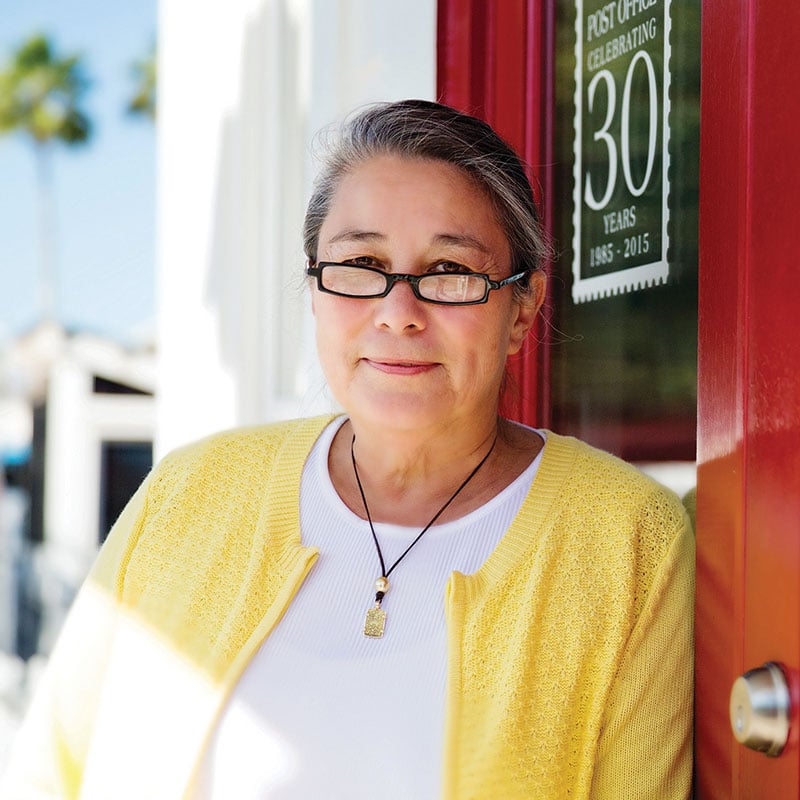 In June 2015, Pat Day celebrated 30 years at the Seaside Post Office. Twenty-nine of those years, she has been postmistress. She moved to Seaside to "get out of the rat race" in South Carolina. Her family had land in the north end of Walton County, and she knew this area well.
When she first came to Seaside, she wore many different hats, holding a variety of part-time jobs. In fact, she started at the Seaside Post Office part time. In those days, the other worker in the tiny, quaint post office brought her baby to work because she could, and Seaside even in its infancy had family at its heart. In 1986, Day became postmistress. At that time, one end of the counter was a community book swap, inviting locals and guests to share stories, information and books.
Centrally located in the heart of Seaside, the post office, built in 1985, is a gathering place, a photo backdrop and an information center. In the early days, the iconic building was surrounded by sand, with nothing around it but a growing sense of community.
EC: What was it like in the early days of Seaside?
PD: There was so little mail then that I could carry all mail for Seaside in a basket on my arm, delivering business mail to the Seaside office on Tupelo in the morning and picking it up in the afternoon.
EC: How many times per day do people take pictures in front of the post office?
PD: While I'm at the counter on any given day, I see 20 to 50 photos taken at the post office. It's pretty iconic in the sense that it was the first public building. Originally, it stood on a pit of sand. People have always gone there to have pictures made. At times, there is a constant stream of picture takers, making it difficult for customers to get in and out.
EC: In what ways have Seaside founders Robert and Daryl Davis been a part of the Seaside Post Office's fame?
PD: Robert wanted to give it that nice hometown feeling. His good vision has come to fruition. All in all, it's a wonderful place. It's been a wonderful place for me to enjoy people from the U.S. and all over, and slow enough to talk with them.
EC: What do you like about your job?
PD: I love meeting people and talking to them, learning about them and giving them all the help I can.
EC: What do you think of when you reflect on 30 years in Seaside?
PD: Year after year, those who have invested and bought into the Seaside experience bring their children, creating a feeling of closeness. After 30 years, we have come to know one another. The Seaside lifestyle can be described as an easygoing, whimsical, special flavor. It's a fun place to be. Families come here. Children can run around free.
EC: What's the single most important attribute in differentiating good businesses from great ones?
PD: Your people who meet the public because they provide your first impression. It is essential that we all are very open, very friendly and welcome them to the area. So many of us share great Southern hospitality. Consider how different the Seaside Post Office and its parent office in Santa Rosa Beach on Highway 98 are when it comes to that hometown feel.