Panama City Bids Adieu to Its Most Famous Palm Tree
The rare and mysterious four-headed palm tree will be missed by many.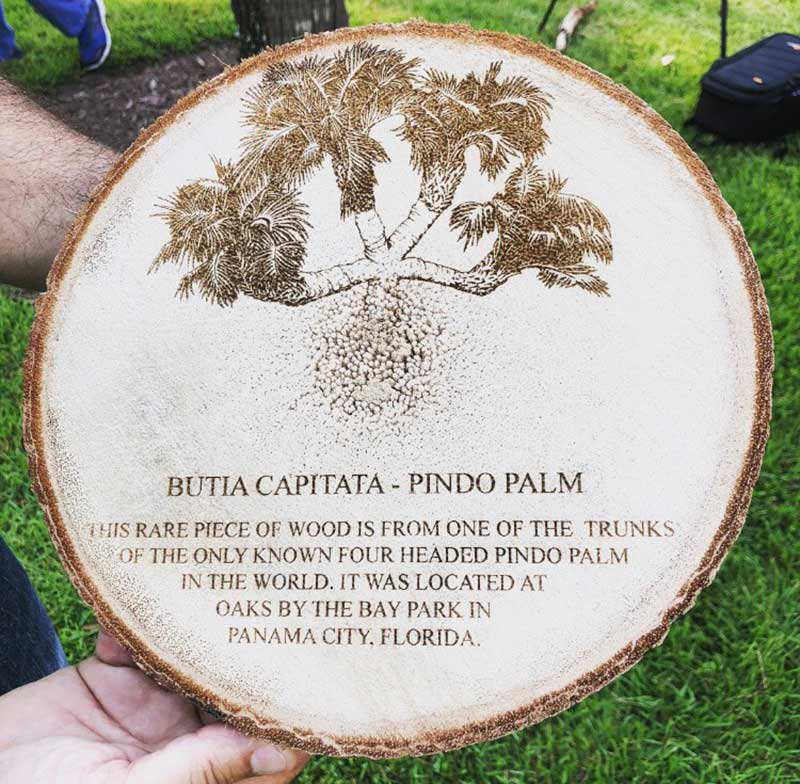 Dozens assembled at Oaks by the Bay Park in Panama City on Thursday to bid farewell to an iconic, four-headed Pindo palm tree.
Familiarly known as "Four-toed Pete," the singular tree was found to be in "irreversible decline" two years ago when arborists discovered evidence of decayed roots, transplant stress, natural aging and a lightning strike.
Keith Baker, the Department of Leisure Services director for the City of Panama City, said palm tree specialists with Bartlett Tree Experts of Tallahassee "pulled several samples and realized that the north end of the tree was dead. We could have removed that and made it a three-headed palm, but we knew in a year's time, more of the tree would fail."
The origin of Pete and his "four-head" remains a subject of conjecture. Some believe he resulted from physical trauma, not genetic mutation. Through his early years, Pete lived at the Millville Wastewater Treatment Plant where he presumably was mowed over time and again by unwitting groundskeepers.
The result, so the theory goes, was a vegetative split end.
The experts' prognosis notwithstanding, Panama City attempted to rally its tree. Thousands were spent on nutrient shots. Locals left love letters and sang and whispered sweet nothings to its withering fronds as if believing that they would somehow serve Pete as a tonic.
While some favored prolonging fertilizer-fueled life support, others endorsed the adage, "If you love something, let it go."
According to Baker, the best decision was to preserve Pete's legacy while there was still time.
"We knew that if we were going to properly memorialize this palm, we needed to maintain its structural integrity," Baker explained. "That's why we've taken it now."
Gulf Coast Tree Service and Gulf Coast State College are combining to ensure that disc-shaped slices of Pete are preserved as souvenirs. They are being laser-engraved with an image of Pete, its scientific name, Butia capitata, and a brief eulogy.
"I would definitely buy one," said Rachael Fillingame, who had stopped by the park to pay Pete her last respects. "I moved here about six months ago and this was one of the first places I came to investigate. When I saw this unique tree and learned about its history, it made me realize what a cool place Panama City is to live."
"It's sad to see it go, but it's dead," Genevieve Smith exhaled. "You don't want it to suffer. I grew up here, so I've been seeing this tree since I was little. Whenever someone came to visit, I was always sure to point out this interesting landmark."
In its stead, Smith suggested that a sculpture of Pete might be commissioned. Others tossed around the idea of a four-headed fountain.
Aida Peel placed wildflowers on the spot where Pete had been. Behind wisps of long, silver hair, tears streaked her cheeks.
"Rather than seeing a blessing of nature, our children are going to come to this park and see something made of metal in the ground," Peel lamented. "This tree meant history. I just hope people somehow remember that we're part of nature, and we need to respect it. Especially elderly trees that are a hundred years old."
"We want everyone to know that this has been a carefully planned process; we didn't just wake up yesterday and decide to tear the tree down," Baker explained. "Sometimes you're danged if you do, danged if you're don't, but at the end of the day, I think we did the right thing."