Painting a Path to Inner Peace
Biggs Deal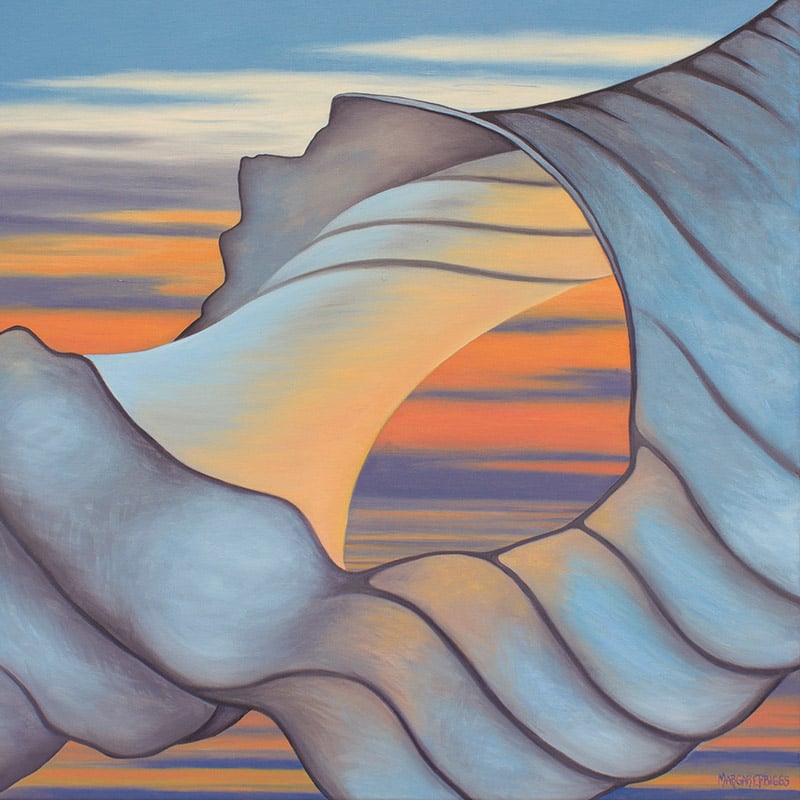 Margaret Biggs has always had a deep appreciation of and love for visual expressions of creativity, but it wasn't until her early 30s that she began to earnestly explore her own talent for painting. Since then, she has developed an artistic process that involves meditation and tapping into her deep spiritual connection with nature. 
"All of my work is extremely testimonial to my own journey … toward inner peace," Biggs says. "I find that sense of peace in nature, where I feel a true communion with the divine. That natural beauty and strength and sense of peacefulness is what inspires my work, and people see that and feel it when they look at my pieces."
More than anything else, Biggs seems to find fulfillment in disseminating that peacefulness and in fostering and facilitating the emotional healing of others through her art. As a longtime student of meditation, she's well aware of the powerful ways that visual images can affect the soul. Her paintings of rocks and shells and her landscapes and seascapes visually echo her life and the lives of those around her.
"My broken seashells (paintings) have become metaphors for … life," Biggs says. "We can all get a bit beaten up and broken during our lives; but if we maintain a spiritual connection to the divine, then we can grow in beauty on the inside. For me, shells represent that so clearly."
Biggs' style is extremely distinct, with a feminine quality that is recognizable in each of her pieces, regardless of subject matter. That, in itself, is highly important to any successful artist, as it sets the artist apart from all others. But Biggs' distinctive style isn't intentional; it's intuitive and inherent. She follows many of the processes that other artists have for centuries, taking photographs and then transferring the images onto paper before sketching them out on canvas; but somewhere along the way, imagination takes over and guides the brush and the flow of paint to unlock images and evoke emotions that could never be captured by strict interpretation. 
"There's got to be a passion and a deep feeling of connection to what I'm seeing for the inspiration to come," Biggs explains. "My paintings have a very ethereal quality … yet they kind of have an abstract feel to them, as well — even though the reference is based in reality. My imagination plays a very large part (in) what I do, and about halfway through the process, I put the photograph away and allow my imagination to take off. Somehow, in (doing) that, the painting takes on a life of its own."
phillip makselan
Whether it's due to the vitality of Biggs' artwork or to the sensations of peace and healing that viewing her paintings evokes, several state hospitals, doctors' offices and medical facilities across the country have purchased her pieces in their efforts to incorporate natural and alternative methods of healing into their traditional medical practices. Contributing to the well-being of others has been one of Biggs' greatest achievements as an artist. 
"There's something so fulfilling about (it)," she says. "(It's) one of the things that gives my work (the) most meaning." There is no doubt that Biggs' paintings reach far beyond the canvas to influence and inspire others. She's leaving a legacy, touching life after life, one painting of a rock, seashell or tree at a time.