Nue Blue Hues Is Every Mermaid Lovers Dream
Pensacola artist brings sea magic to mere mortals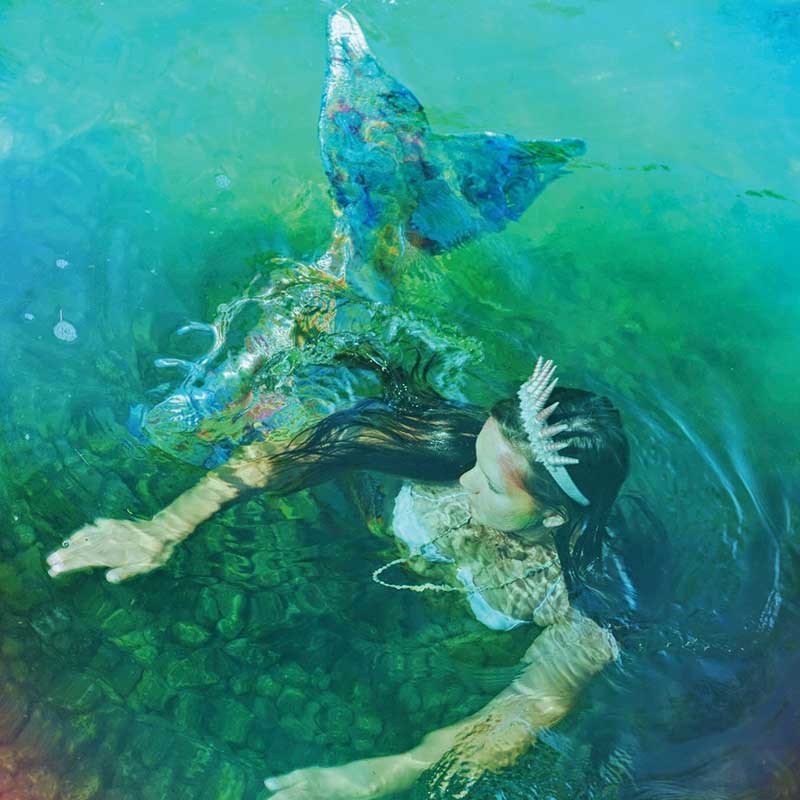 When Serena Woody was a child, she was convinced that her aunt, Daniella, was a mermaid.
Daniella had red hair and wore seashells and pearls, and she gave her niece similar adornments. Woody's father encouraged her belief that there was a mermaid in the family.
"When I was 6 or 7 years old, I found a stingray egg case while walking on the beach with my dad," Woody says. "I didn't know what it was, so I picked it up and brought it to him. He told me it was a mermaid's purse and that it probably had coins from Atlantis in it. I was so excited. I wanted to open it and take the mermaid money, but Dad said that was stealing. He told me to throw it back in the ocean and tell Aunt Dani what I'd done, and she would get it and return it to its owner. So that's exactly what I did."
While Woody's father nurtured her love of the sea, her mother nurtured her artistic skills.
As Woody got older, she began to believe that mermaids represented beauty and elegance and freedom, and she decided that she wanted to help other people — humans — feel beautiful and elegant and free, too.
She developed Nue Blue Hues, a mermaid-themed business through which she sells original fine artwork, including watercolor paintings and pencil drawings, under-the-sea accessories, and mermaid tops and tails.
"Now anyone can feel magical and beautiful and strong, just like a mermaid," Woody says. "I believe that those are characteristics all women strive for. The smiles that my creations put on people's faces, the wonderment they see in my art … that's my inspiration now, and the mermaid is my muse."
Woody also creates swim-with-a-mermaid and meet-a-mermaid experiences for the Pensacola community and its visitors.
Once a month, she and her pod of 15 mermaids swim in the Gulf with the public.
The Nue Blue Hues mermaids can also be seen at local events, where they delight in talking with humans — especially little girls.
"The people in this community love the sea as much as I do," Woody says. "They are entranced by it, and I give them the opportunity to be a part of it. Artwork should be shared. It's not about the price, how hard you worked on it or the materials you used; it's about how it makes others feel. I have found that my seashell tiaras and experiences with my mermaids are what people love most about what I do. Little girls love interacting with my real-life mermaids. You should see the wonder in their eyes when their fantasy is within their grasp. They look forward to every event we are at."
Woody tells of an experience she witnessed when one of the mermaids, who goes by the name of Ondina, and a little girl talked together at a community event for a solid five minutes about Ondina's life under the sea.
"I was just listening and smiling," Woody says. "The little girl's mother came over and was getting her daughter to go home. I watched Ondina take the tiara off her head and give it to the little girl. She lit up and gave Ondina a hug and walked off with her mom. Ondina turned to me and said she would pay for the tiara. I told her not to worry about it, and I was glad that she gave it to the child. That child will be inspired by that memory, and that's all I want my art to do. To inspire people to love, to give and to feel beautiful."
"My art is inspired by others — how they see the ocean, how they love each other. The smile of a child makes me want to make more tiaras. A woman puts on a crown and feels magical, and I want to make a perfect one for her. I draw my mermaids to share the personalities of the people who inspire me daily. I'm blessed with creativity and imagination, but our community is my inspiration. I want people to follow my art and see a part of themselves in it."