Northwest Florida Ballet Presents "The New Works Project"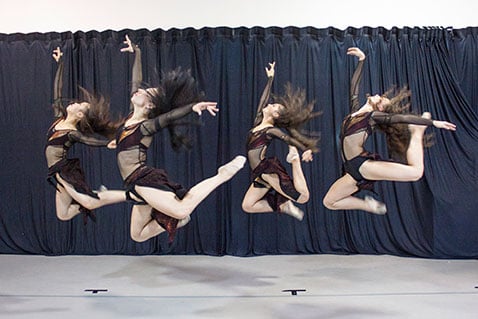 Northwest Florida Ballet (NFB) Artistic Director Todd Eric Allen told audience members who attended a reception and panel discussion yesterday that it takes 10 years to train a classical ballet dancer. But in just a matter of weeks Allen connected local dancers, choreographers and artists who collaborated together. The result: a multi-media program celebrating dance, art and music called The New Works Project.
The works will be performed four times in a specially designed black box theater at the Ballet's downtown Fort Walton Beach studios from February 21–23.
The three choreographers for the "Project" were chosen from the local Northwest Florida community, and are all highly talented dancers in their own rights.
Jazz Rozer is the founder and Artistic Director of jazzybluedance, inc., and has been dancing both as a student and a teacher for more than 30 years. Her style has been greatly influenced by East Coast modernism. She currently teaches jazz and hip-hop at NFB. Her piece called "Hi-er-ar-chy," is inspired by psycho-sociologists Maslow and Erikson. It tells the story of human aspiration from birth and maturation, leading towards awareness, self-actualization and potential.
Kelly Murdock, formerly of the Dayton Ballet, is a veteran dance instructor with the NFB. She also draws heavily from the contemporary dance movement, especially the style of Martha Graham. Her piece is entitled "Super Mario MG." Her humorous piece explores what happens when you combine Shigeru Miyamoto's Super Mario Brothers with Graham's trademark technique. The set and sculptures of Isamu Noguchi (longtime Martha Graham set designer) are very loosely interpreted by dancers inside "body bags," representing obstacles and background pieces in a dynamic, ever-changing world. 

Sharon Allen is the associate director of NFB and a member of the Lightwire Theater touring company. She has an extensive background in classical ballet, as well as jazz and modern dance, spanning a career of more than 20 years. She will be premiering two works during the "Project." The meanings of her works are inextricably linked with the music to which they are set. Peter Gabriel's "Mercy Street" and "Red Rain" are the basis for her first composition, "Life's Rich Experience." This piece explores the emotions and lyrical expressions of dance movement with the human connection to earth, wind and water. Her second piece, "Atomic Trio," is choreographed to the music of "Atoms for Peace" by Radiohead's Thom Yorke. This piece explores the repetitive, monotonous cycles of life and the variance of those changes that occur over a lifetime.
While the female stage presence is arguably the foundation of classical ballet, Allen says, "there is an epidemic of under-representation among female choreographers in the wider world of dance." A large number of prominent dance companies in the United States were founded by women, but have since been taken over by men. The Northwest Florida Ballet itself falls into this category (its founder and dance pioneer, Bernadette Clements Sims, was replaced by Allen, when she retired in 1995). Allen says that too many talented women in the field of dance are overlooked for positions such as choreographers and directors. It was his recognition of this unequal distribution of talent that inspired the idea for a women's choreography project.
NFB students dance in the production, which is an obvious departure from the ballet's regular season offerings. "It demands a lot of them and makes them think," Todd Eric Allen says, "and there is tremendous value to that." Trying different dance techniques is a challenge for dancers at any level. "Different movements are like learning a different language," the veteran dancer explains.
Accompanying the dance performance is an art exhibit curated by Okaloosa Public Arts, which feature works in a wide range of mediums, from traditional paint on canvas to high-resolution photography. All of the artists in the exhibit were invited behind the scenes to watch rehearsals and performances of "A Midsummer Night's Dream" and "Afterglow." The exhibit is a showcase of the work inspired by their "ballet experience." It will be on exhibit during the run of "New Works Project." Art sold from the exhibit will benefit the NFB Académie.
---
Tickets to "The New Works Project" are $14 for children and $28 for adults, and are available via the Ballet's website, www.nfballet.org or by phone at (850) 664-7787. Only 110 tickets will be available for each performance.