Northwest Florida Ballet Celebrates 50 Years
Bernadette Clements Sims reflects on the school and her legacy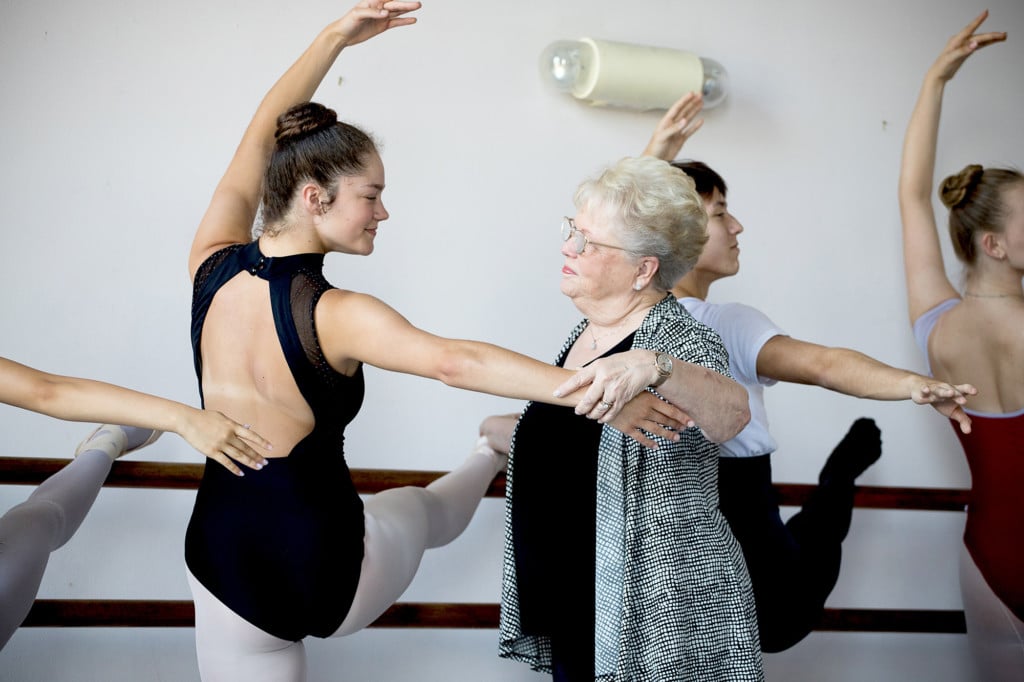 At first glance, 75-year-old Bernadette Clements Sims could be anyone's grandmother.
But she is also a former ballerina and longtime ballet teacher who has been involved with the art of ballet for 50 years.
Sims won't readily admit it, but she is often regarded as the face behind ballet in Northwest Florida.
"I have been called a pioneer," Sims says with a laugh. "Those are nice labels, but I am not totally responsible for all that has been accomplished here.
There are thousands of people through the years that have had an active role in its success. I give a tremendous amount of credit to Todd Allen, my former student, who took over as creative director after I retired."
This year, the Northwest Florida Ballet will celebrate its golden anniversary, quite a feat for a town with no arts venues five decades ago.
In 1963, Sims, then known as Bernadette Clements, started her own ballet school and then founded the Fort Walton Beach Ballet Association (FWBBA) six years later.
"People told me that it couldn't be done," Sims said. "I was just stubborn enough to try to prove them wrong."
Sims grew up in Mobile, Alabama, and began ballet lessons at age 4. It wasn't until she was 11 that ballet became her true passion.
As she progressed, her teachers took note, routinely encouraging and prodding her to excel. Even Robert Joffrey of the iconic Joffrey Ballet in New York came calling to ask her to join his company.
By age 20, Sims had a decision to make: Either take the offer from Joffrey or marry her high school sweetheart, Bill Clements. Sims chose love, got married and moved to Fort Walton Beach.
"When we got to Fort Walton, I thought I had moved to the end of the world," Sims said.
"It was so different from anything I had known. I traveled back to Mobile twice a week by bus to dance in the Mobile Ballet Company. But after a year, I just couldn't do the travel anymore. That's when I decided to start my own school and ultimately the ballet company."
The FWBBA started small, and the audience was sparse, mostly comprised of the young dancer's own families.
But support came from Peggy May, a local newspaper reporter who wrote rave reviews and called out readers who had not shown up for performances.
"We would bring in professional dancers to supplement performances," Sims noted.
"I also brought in well-known professional ballet companies who might have been traveling through this area. I wanted the community to experience real ballet and not just student recitals.
"The first time I realized that anyone cared about our company was when we changed the name to the Northwest Florida Ballet in 1987," she said.
"People were puzzled when we did that. But it was more inclusive for Panama City and Pensacola audiences, and they were quite supportive after that."
Sims' ballet school had several locations over time, but in 2002, the ballet academy found a permanent home on Perry Avenue in Fort Walton Beach amid great support from the community.
A public school adjoins the academy for dancers in grades 3 through 8.
Fifty years later and Sims, who remarried after her first husband died, still teaches public pointe classes and character dance.
Her legacy with the NWFB stands strong as the company has evolved into a critically acclaimed contributor to the arts in the community.
Northwest Florida Ballet conducts community classes from August through May. They require a 10-month financial commitment plus registration and costume fees. Family and military discounts are available. Classes are held at NFB studios in the Sybil Lebherz Center for Dance Education in downtown Fort Walton Beach.