No Vacancy
Lily Hall houses new restaurant and speakeasy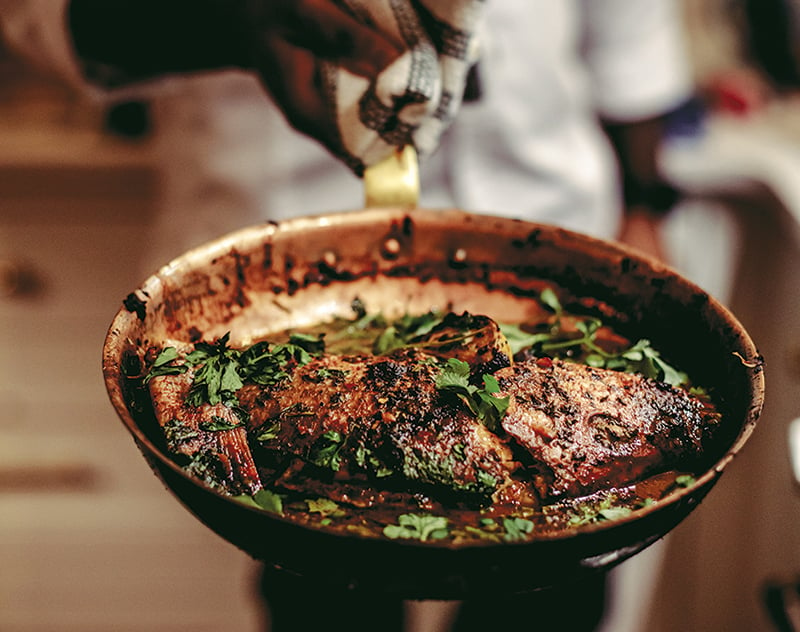 Repurposing relics of the Old East Hill neighborhood wasn't a project Nathan Weinberg and his partners at Stahlman Hospitality Group expected they'd walk into.
That is until they saw the Old Mount Baptist Church on Alcaniz Street.
"We ended up in front of this church, and it was pretty hard to deny what a cool building it was," recalled Weinberg, who heads marketing and operations for Stahlman Hospitality. "We saw it as an unequaled opportunity."
The church, heavily damaged by Hurricane Ivan in 2004, was on the city's "Seven to Save" list of endangered buildings. With the 1930s building sitting vacant, Weinberg and his crew decided to walk right into their new frame of opportunity.
"It really is a beautiful building, and we are fans and practitioners of adaptive reuse," Weinberg said. "And so the idea of being able to preserve something is always appealing to us."
In the past two years, the Stahlman Group has blended the past, present and future to not only preserve the soul of the old building but transform its sturdy bones into a quirky-yet-elegant 15-room boutique lodging house, called Lily Hall.
"The lodging house is a self-directed experience," Weinberg said, "people check in digitally."
Those guest rooms — which are described by their creators as "delightfully peculiar" — feature bold textures, exuberant colors and playful patterns, as well as record players and curated album collections. Other fun amenities include a signature property scent that blends notes of bergamot and ginger, vintage typewriters displayed around the property for guest use, bike rentals and a virtual concierge.
Flanking Lily Hall are the restaurant Brother Fox and attached speakeasy Sister Hen — both developed by award-winning restaurateur Terry Raley in partnership with Stahlman Hospitality.
"Brother Fox has many different looks, indoor and outdoor, and has this destination quality about it that is very appealing," he said. "I have been told on more than one occasion from locals that they plan to use the lodging house as a staycation venue, where they can relax, have awesome food and wine, take walks and imbibe in style at Sister Hen."
Raley sees Brother Fox's target patron as anyone who appreciates wood-fired fish, seafood and perfectly cooked steaks in a comfortable environment.
"At its heart, it is representative of what I would cook in my backyard for friends, so there are some classic French and Spanish elements, wood-fired steaks and fish, charbroiled oysters and inspired vegetable dishes that are meant to be shared," he said. "I'm looking forward to plating the Carne Asada for two with fresh tortillas just as much as a whole flounder cooked on a plancha with almond meunière sauce."
Raley's goal is for an evening at Brother Fox — encompassing food, decor and ambiance — to feel as exciting as it is approachable.
"The vibe that we get from design is very much modern Spanish colonial, so there is a rustic elegance and soft curves that lend to a sexy environment, but it doesn't cross the line of tastefulness," he added. "Music-wise, again, tastefulness is key, but we like music around that 80–120 bpm range because it keeps you alive in your seat."
At Sister Hen, which has a password-protected entrance, guests enjoy an intimate space reminiscent of the finer side of some Prohibition-era establishments.
"Imagine walnut-paneled walls, lots of candles, bookshelves, minimal lighting, a lone chandelier and the smell of lavender and citrus everywhere, and there you have it," Raley said. "No membership required, but it will have two entrances, both of which are surprising. We have a secret door from the Brother Fox dining room into the Hen that is very cool."
What makes the speakeasy unique, aside from being located inside an old church, is its commitment to elevate the senses and provide service that goes above and beyond.
"Sister Hen is all about the cocktail and should be the reason for every visit," Raley said, adding that the speakeasy will serve the classics as well as proprietary and inspired cocktails. "Our staff behind the stick will have all the tools, including a dress code, that will make you believe that you have stepped into a time capsule. We don't shy away at all from being a true speakeasy. We are proud of it."
Weinberg agreed, noting that Sister Hen is serious about delivering an authentic speakeasy experience — right down to making sure every patron has a seat.
"There's no standing," he said. "We wanted to make sure that this feels special to people, and it isn't special if you're standing behind someone peering over their shoulder, hoping to get the bartender's attention."
History is written, but buildings like Lily Hall display a repurposed potential for a finer present experience.
---