Niceville Artist Angela Stevenson Turns Trash Into Treasure
The owner of Create with Big Orange House Designs relies on found object for inspiration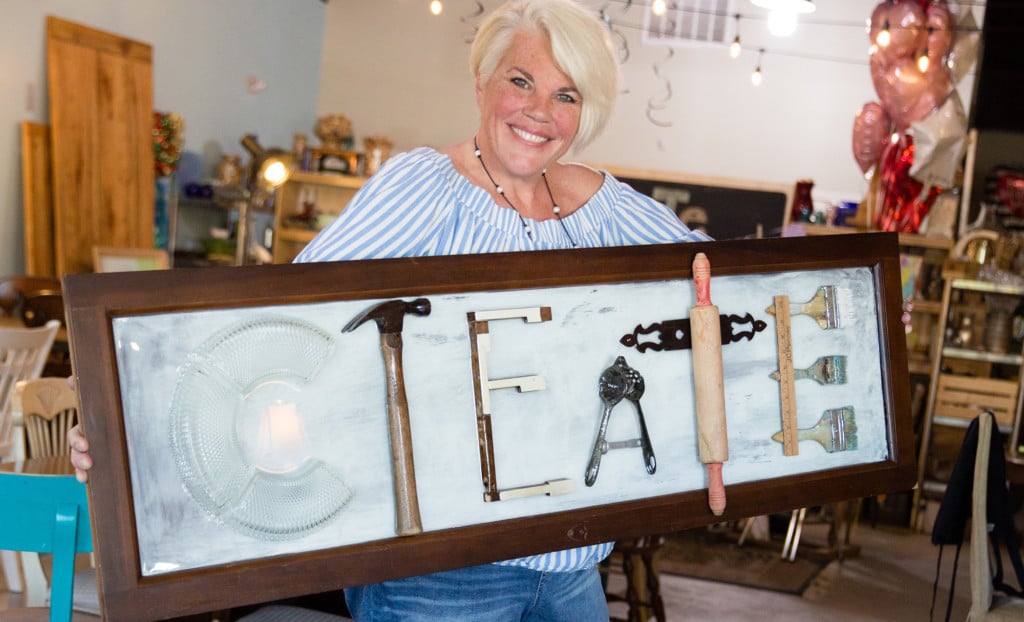 Most people see used wine bottles, old shower doors, buttons, scrap wood and discarded jewelry as trash.
But Niceville artist Angela Stevenson, owner of Create with Big Orange House Designs, sees in those items sea turtles, fish and mermaids.
Colorful shattered safety glass and shells adorn ships, beach scenes and more. Stevenson's imaginative art breathes new life into items that would usually wind up in a recycle bin or landfill.
"I've always had a love for recycled materials," Stevenson said.
"And the fact that I live near the Gulf of Mexico is very inspiring as an artist. I call it my coastal flavored art because I use shells in almost everything.
"I am an artist," she laughed, "but I have no background in art at all."
Koszuta left college early to get married but soon realized that she had a knack for understanding how to put colors and textures together.
She started decorating homes and went on to fix up and flip houses for fun and profit.
"The real art started when I began as a parent volunteer teaching OVAL (Okaloosa Volunteer Art Liaison) art at my son's elementary school," Stevenson said.
"There was a very lean budget for supplies, so the parent volunteers had to get creative. We used everything from aluminum cans to pallet boards, and it was a huge success. It was then that I realized that there might be something to this art thing for me."
Stevenson's husband bought her a bicycle with a basket and she regularly toured her neighborhood, pausing to do recycle-bin scrounging.
"I was looking for things that may not have much value to anyone else, but were a gold mine to me."
She began melting recycled bottles in her kiln and making them into cheeseboards and glassware.
She put them in a few shops and people loved them. They quickly sold out.
Gone are the days when Stevenson used her bike to forage for recycled materials.
"I don't need to do that anymore because people literally leave bins of stuff at my door every day," she said.
"I get old corks, driftwood, picture frames, loads of dock wood from rebuilds or storms, lots of shells and even unwanted crystal. It has taken on a life of its own. I get calls from various glass shops when they have shatterproof tempered glass from shower doors that they want to get rid of."
Always, Stevenson wants her art to be fun, eclectic and bordering on humorous. Her art seems to speak to people.
At the Emerald Coast Autism Center (ECAC) at Northwest Florida State College in Niceville, Stevenson's art is the first thing visitors see as they enter the building.
What started out as a small fish project for the school quickly turned into a huge 200-piece collection with an underwater theme. Schools of fish, colorful corals, seaweed, a large sea turtle and a large mermaid adorn the lobby while a different sea creature is displayed at the door to each classroom.
Students are met by a shark, seahorse, electric eel, lobster, anemones and more. Each piece of art was carefully cut from recycled wood, then painted, adorned with recycled glass pieces and coated with a special resin.
To date, the ECAC project is the largest Stevenson has undertaken.
Interest in her art has increased so much that Stevenson moved her studio into a larger space in a Bluewater shopping plaza last summer.
She needed more space to display art for sale and to offer classes. She currently partners with four other artists who use the studio to teach classes.
Stevenson is a woman constantly in motion, always eyeing new project ideas and thinking of ways to give back to the community.
She is currently working with an art therapist in hopes of offering classes to servicemen with PTSD.
"I love that I can use my talent to bring joy to people," she said. "It is a gift that keeps on giving."