New Latitude
Kami Giroux trades mountains for sand dunes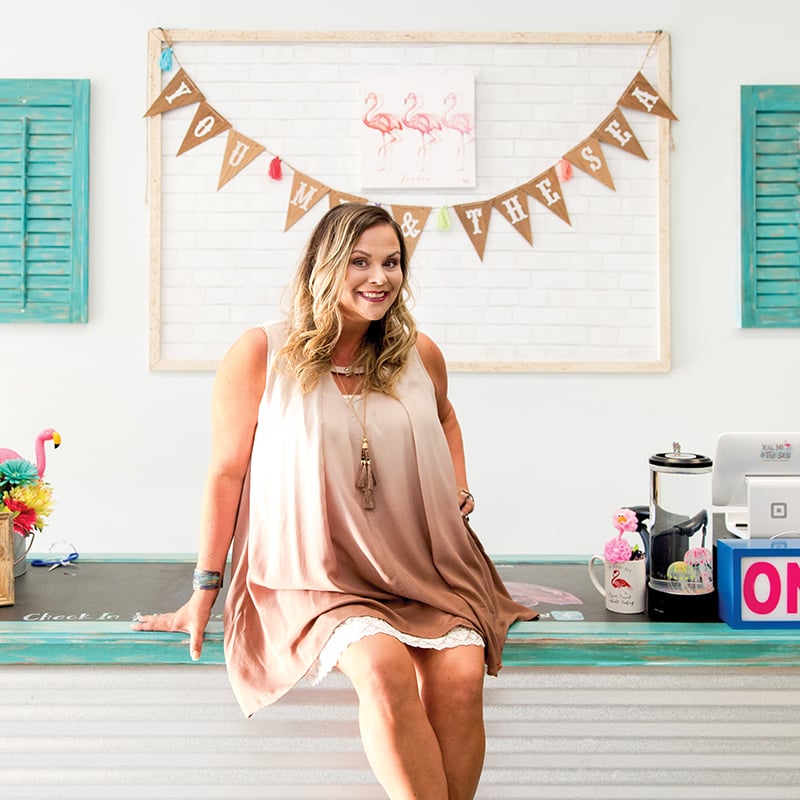 When Kami Giroux moved to Destin from Murfreesboro, Tennessee, in 2014, everything about her life changed. A mother of four, Giroux quit her job in sales and marketing to start her own business and dive headfirst into beach life.
"Living at the beach has made me realize that fashion is less about how I look, and more about how I feel in it," Giroux said. "I stopped trying to do my hair perfectly and embraced everything flowy, fun and comfortable. The clothes you find here are coastal comfort."
Let's face it: Many women have issues with their bodies. We are constantly on the prowl for fabrics that hug us just right and come in complimentary colors. Giroux knows the struggle and has tailor-made her You, Me & The Sea boutique to feature fashion made of favorite materials such as bamboo, rayon and cozy cotton.
The store first launched online, where Giroux would host fashion shows over Facebook, a la Home Shopping Network. Encouraged by a friend in Tennessee who had her own boutique, Giroux decided she wanted to bring a physical shopping experience to Destin where women of all shapes and sizes could feel satisfied.
Satisfaction in shopping doesn't come only from finding the right dress, but also from the experience had while searching. Giroux has crafted You, Me & The Sea in such a way that guests feel like they are entering her home. While customers spend plenty of time perusing racks of garments and home goods at the front of the store, many meander to the back gathering area to nurse a glass of wine and lounge on the leather sofa. This space was essential for Giroux, who doesn't mind if visitors don't buy anything, so long as they leave feeling better than they did upon walking in.
Giroux's generous spirit doesn't stop there. Before You, Me & The Sea even opened its doors to the public in May of this year, Giroux encountered Amy McHugh, who would go on to serve as the entrepreneur's incessant inspiration.
"I was scrolling through Facebook in February and came across a GoFundMe for this beautiful 28-year-old woman from Niceville who was diagnosed with cancer," Giroux recalled. "I had an impulsive need to give her what I had that day, but even after I did, I couldn't stop thinking about her. After that, I launched a campaign where we sold special coffee mugs and all proceeds went to her. But when that ended, I still felt an obligation to her that I couldn't quite explain."
Giroux still can't find the words to describe the bond she's created with McHugh, whom she describes as a person you feel you've known your whole life upon first meeting. Giroux made many trips over the Mid Bay Bridge to visit McHugh, where the pair picked out paint colors for the store and collaborated on many other design elements.
"I feel like this has become her store," Giroux said, taking a good look around. "I'm still in awe of this store and I don't ever want to lose that feeling — or forget how I got here. I think that love comes out when people are in here, and that's what's keeping me going."
People say that blessing is in giving. For Giroux, that couldn't be more true.  
---
Kami Giroux's closet 'must-haves'
Kami Giroux doesn't just go to the beach, she brings it into her wardrobe. Whether dressing up for a seaside party, a day on the boat or a trip to the grocer, these are her waterside wardrobe essentials.
Ombre or tie-dye kimonos with fringe, pom-poms or tassels

Flouncy dresses with pockets

Royal Standard microfiber beach towels

Colorful organizer beach totes

Embroidered baseball hats

Stretchy tops by Hearts & Hips and Easel