Never Forgotten Coast Aims to Help Mexico Beach Rebound
The fundraising website profiles victims in order to raise awareness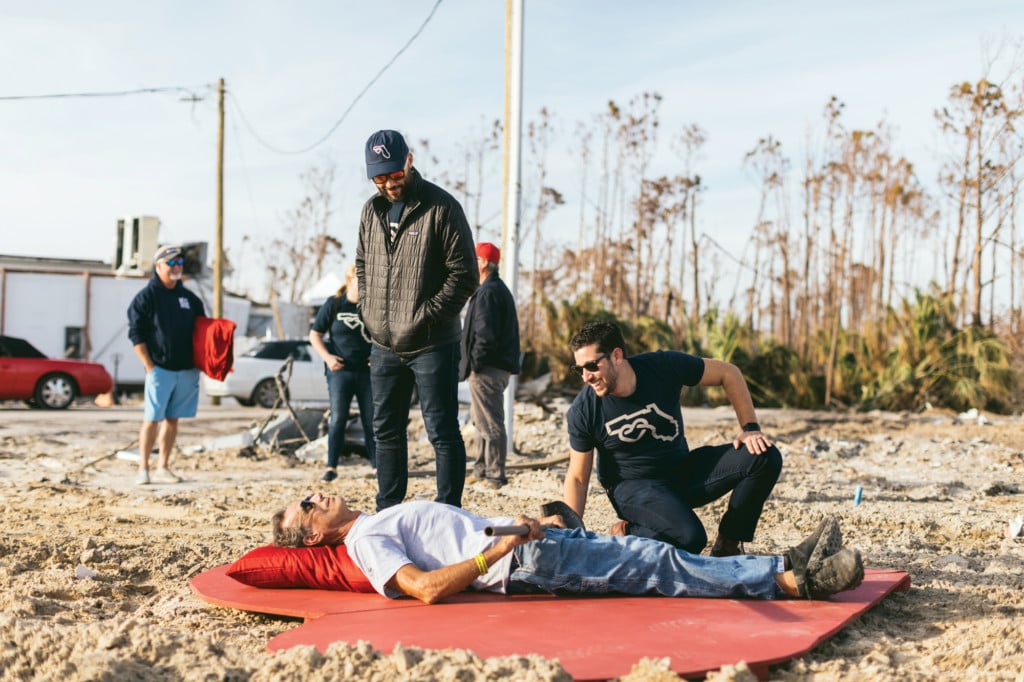 Two years ago, overtaken by the irresistible lure of family, Kevin Lanier moved from the Seattle area, where he had concluded his career as an air traffic controller, to Mexico Beach.
Mexico Beach appealed to him for two reasons. It was within a day's drive of family members scattered from Atlanta to South Florida. And it was on the water.
Lanier, who grew up in Douglasville, Georgia, has been a sport fisherman all his life. He vacationed as a child in Panama City Beach and recalls with fondness his first saltwater fishing trip in 1969 aboard a party boat out of Capt. Anderson's Marina.
His retirement in 2013 afforded him an opportunity to go into the business of fishing. He ran charters out of Westport, Washington, trolling for salmon and albacore tuna, and bottom fishing for halibut.
When he moved to Florida, his boat, a 34-foot Luhrs built for big water, came with him, and he joined five other charter boat captains who operate from Mexico Beach's canal.
Today, Lanier's vessel is on blocks at a Panama City boatyard where it rode out Hurricane Michael, and the Mexico Beach canal is impassable, filled with sediment and storm debris.
Will Lanier be back in business in time for the spring run of Spanish mackerel?
"I'm anxiously optimistic," he said. "I expect to be fishing, but it may be from Panama City for a while."
Lanier was lucky, he will tell you. His business, unlike most others in Mexico Beach, was portable. His boat sustained only minor damage to bow rails and the tuna tower. His home, six miles inland, was undamaged. The trees that surround it served to buffer the storm without becoming projectiles.
Recently, Lanier was among a number of Mexico Beach business owners whose post-Michael circumstances were documented by his daughter and son-in-law, Chelsea and Alex Workman of Tallahassee, and by Jeremy Cowart of Nashville. The Workmans are aerial photographers and storytellers. Cowart is a still photographer.
In 2016, Alex Workman and Cowart combined to capture the stories of victims of the Great Smoky Mountains wildfires in Gatlinburg, Tennessee. The stories were posted to a fundraising website (voicesofgburg.com) that generated more than $100,000 in contributions.
"My father-in-law is very much a part of the Mexico Beach community and when we saw photos of the devastation, we felt that we had to use our skills and resources to help the city recover," Workman said. "We learned in Gatlinburg that creative individuals can bring about significant change without investing a lot of money."
Workman figured that that the best way to promote Mexico Beach's recovery was to speed its economic recovery by helping businesses reopen their doors.
"That was our big idea," he said.
It was refined by friends including a policy director with the Florida Department of Economic Opportunity who is familiar with the effectiveness of "micro-grants" awarded to businesses in Houston following Hurricane Harvey.
"By extending businesses money so that they can do things like replenish inventory while they are dealing with insurance companies, adjustors and attorneys, we believe that will help," Workman said. "We want to get the local economy moving so that visitation will come back."
In Gatlinburg, Cowart photographed fire victims lying on mattresses that were placed where their bedrooms used to be. Topped in white sheets, the mattresses provided a sharp contrast to the surrounding ash. But a white sheet provides little contrast to white sand, so Workman photographed storm victims lying on a big red heart — 8 feet tall and made by volunteers — and surrounded by rubble.
"We got some great images, and it was a way for people to show their love for their community," Workman said. "It may seem weird and quirky, but that can be what attracts notice."
Those images may be found at neverforgottencoast.com. At this writing, a micro-grant application is also located on the website.
On Dec. 31, Workman announced via news release that the grant program would be conducted in partnership with the Mexico Beach Artificial Reef Association, a nonprofit that has managed millions of dollars in federal funds. The association amended its mission statement after the hurricane and began receiving donations to a variety of hurricane recovery initiatives that were not set up to receive contributions.
On Jan. 17, Workman reported that an initial round of $1,000 grants had been awarded.
The recipients were: Forgotten Coast Realty, KC Sportfishing, Killer Seafood, Lookout Lounge, Mexico Beach Development Council, Mexico Beach Marina, Pristine Properties Vacation Rentals, Sharon's Café, and Splendiferous MB (a women's clothing store).
Jesse Taylor, a Tallahassee graphic artist, created a Never Forgotten Coast logo — an outline of Florida intersected by a heart that encloses much of the Hurricane Michael devastation zone.
"We want the logo to have a life of its own and not be tied to a single event," Taylor said. "In the future, we believe it can be used in association with the rebuilding effort or causes for celebration."
Taylor said the logo was embraced rapidly and is, by design, "easily comprehended and immediately recognized. It's quick."
Cowart said the devastation in and beyond Mexico Beach was far greater than he anticipated.
"I was so moved by meeting the business owners," he said. "They all had a smile on their face despite the heavy concern for what's ahead. There's a unifying element to these disasters that reminds me of how much more alike we are than different. And we all need each other. As the saying goes, 'It takes a village.' And in these situations, it takes a village to come together and rebuild."
"We want to help make sure that the Mexico Beach that was isn't completely forgotten," Workman said. "An infusion of corporate dollars will be required to bring Mexico Beach back, and people understand that there are things that will never be the same, but we hope that the essential character of the city and its charm will endure."
Added Cowart, "If the people we photographed eventually say our project helped them in tangible ways, we will have succeeded."