Navy Retirees Instrumental to Success of School Music Programs
You could say that music has become their mission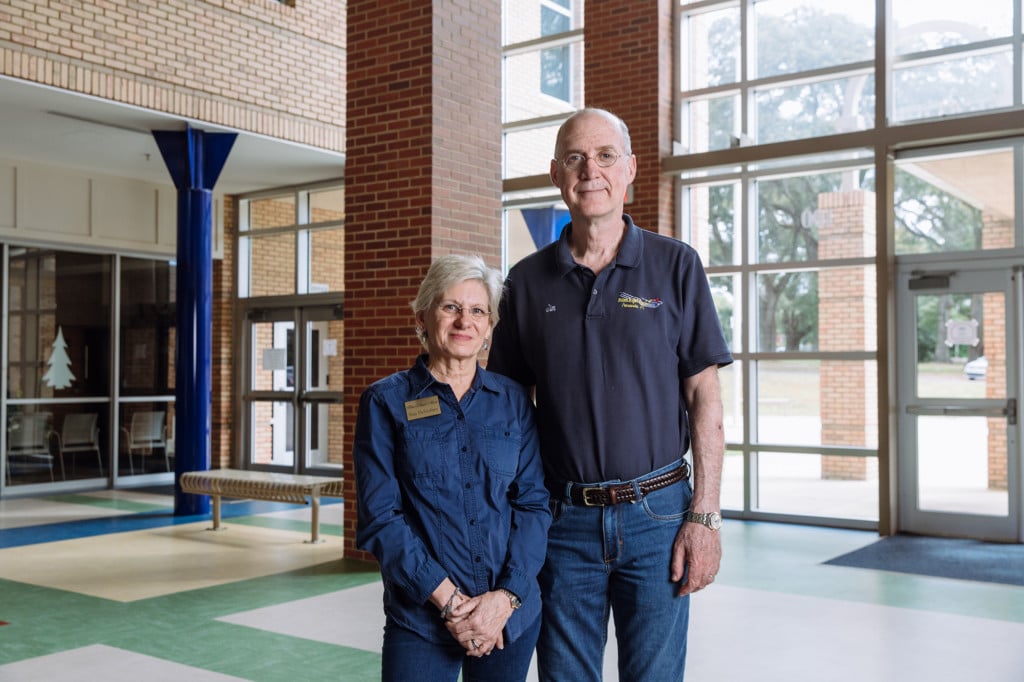 Soon after Jim and Nan DeStafney opened their Blues Angel Music store in August 1997, they realized there was another mission they needed to embrace.
Both are retired from the U.S. Navy. Jim served as a fighter pilot and Nan as a forensics officer. And both are lifelong musicians.
"It's an issue of need, and there's always been a need for music," Nan DeStafney said. "It might be students or organizations that need instruments."
People started seeking help from the music store named after the world-famous aviators who call NAS Pensacola home and also sought to help.
'It just started out small," DeStafney said. "People would give us instruments that we could rehab, or they would give us a dollar here and a dollar there."
Then Capt. Mike Denkler donated $200 by check, and the nonprofit Blues Angel Music Foundation was born in 2014.
Soon afterward, the family of Aaron Clark asked that donations be made in the name of the young violin player who had passed away.
"That changed everything," DeStafney said. "All of a sudden, instead of having hundreds of dollars, we had thousands of dollars and were able to put ukulele programs and violin programs in schools."
That wasn't all.
"We were able to donate strings in his (Clark's) name," DeStafney said, "and since then it's just grown by word of mouth. The foundation covers all the administrative costs, and when it comes to donated instruments, we can take stuff that's been under the bed and fix all that, turn it around and put it right back out into the community."
Dan Fugate, a salaried employee with Blues Angel Music, became the administrative director of the foundation on a volunteer basis, with no extra compensation.
"I know what music does to and for me and the way it makes me feel," Fugate said. "Helping to bring that to other people feels just as good."
This summer, the foundation will hold its fifth annual free concert series, known as Blues on the Bay, at the Community Maritime Park.
Funds are generated there through the raffle tickets, hot dogs and lemonade.
Those totaled about $1,000 the first year to about $7,000 in 2018, according to DeStafney.
And the BAM Foundation has broadened its involvement to include school systems in Santa Rosa County and Baldwin County in Alabama.
Angela Barberi, the fine arts specialist for Escambia County Public Schools, knows the foundation well.
"Two years ago, the orchestra room at Workman Middle School burned to the ground (after being struck by lightning) and
they were a key partner in helping us rebuild that program," Barberi said.
"They help us with our Music Teacher of the Year program," Barberi said, "and they're passionate about bringing the music and instruments to especially the underserved students. They will help us find a way to get those children into our music program."
Another grateful beneficiary is Asher Kelly, the director of the Community Music School. It has 59 students who meet on Saturday mornings for piano, guitar and percussion classes at the Global Academy in Pensacola.
Community Music School provides free music education and access to instruments to anyone who wants to come.
"The foundation has provided us with sheet music and instruments for our students," Kelley said. "They have helped supplement a lot of the holes in our inventory of instruments."
Michelle Salzman, a volunteer for the Escambia County Public Schools and PTA, has had extensive dealings with the foundation.
"We don't have a lot of funding and a lot of resources, so the foundation supplements that by providing resources for parents and families," Salzman said.
And these are not always monetary.
"They also give free music lessons when needed, and they loan out instruments," Salman said. She also noted an annual national arts program known locally as "Reflections."
Every year, several local musicians rise to the statewide level of this competition.
"It directly touches 75 or more people a year," Salzman said. "They judge the music composition portion for us, but they also pay for all of the food and awards at the art gallery reception."
Salzman added, "We wouldn't be able to celebrate the kids without the support of the Blues Angel Foundation. They are such huge partners for all of the parents in the community.
"They also provide intellectual support. If we're trying to figure out how to do a program or make something work, we know we can call them and they'll be great resources for that, too."
Nan DeStafney did not hesitate when asked about why so many people from different generations are involved with the foundation, in one way or another.
"I think people realize that there are still people who believe in peace and love, and music as the tie that binds us all together," she said.
The Blues Angel Music Foundation has donated instruments — cellos, clarinets, double basses, drumsticks, flutes, guitars, a piano, saxophones, trombones, trumpets, ukuleles, violas and violins — to a host of schools and organizations. For more information visit bluesangelmusic.com