More than $46,000 raised from community helps make a difference in lives of many in India, South Africa and Costa Rica
Going to the Mat for Change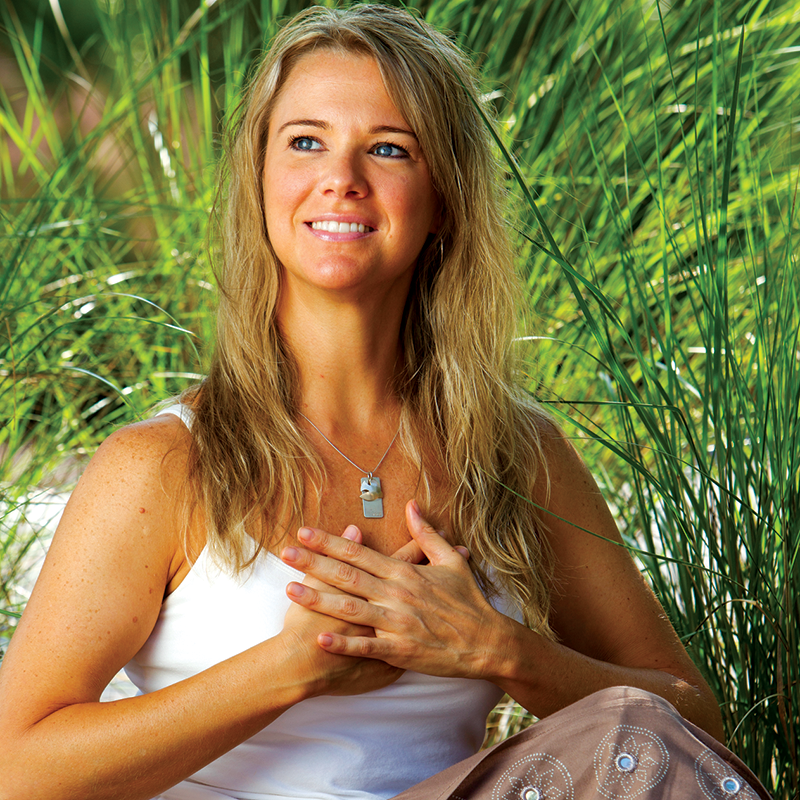 Tammy Binkley wanted to run, to escape the rows of attractively dressed young women lining Kolkata's red light district sidewalks waiting for work. In a busy and bustling part of town, the narrow, foul smelling road was lined with soot-covered buildings. Binkley, accompanied by a dozen yoga practitioners, hurried after their guide. Passing through a center square, they merged deep inside a gloomy alley to visit a drop-in center for children of sex workers. Instructed to leave before evening, little time remained before dusk turned to darkness that Friday night.
Binkley, 39, is a yoga instructor for Balance Health Studio on 30A. Over the past year, she has raised $20,000 to meet Off the Mat and Into the World's (OTM) Global Seva Challenge India. The effort was directed toward the country's victims of sex trafficking — people who are forced into the commercial sex trade against their will.
OTM, a California based not-for-profit which bridges yoga and sustainable activism to ignite grassroots social change, flew Binkley and 39 other yogis — who also met the individual financial goal — to India for two weeks in March 2013. They spent full days in trafficking shelters and community centers with women and children, providing them training in new skills, teaching them yoga and visiting the sustainable structures and organizations that have benefitted from the group's combined $1 million dollar donation.
Former Secretary of State Hillary Clinton called for change following her July 2012 visit to a trafficking shelter in Kolkata similar to the one Binkley witnessed. "This is a moment for people to ask themselves not just what the government can do to end modern slavery, but what can I do, what can we do together," Clinton said, reported TelegraphIndia.com.
"Everything became real very quickly," said Binkley of her India mission to make an impact on slavery. "I had watched movies about it … heard the tales of horror on TV … but walking down the dark, dank alley and seeing rows of women dressed in beautiful saris and brothel women standing large and in charge, there was a sense for me of, 'What do I do? Do I look at these people in the eye and smile and wave? Or do I look at them with pity and don't look them in the eye?' "
Binkley chose to smile and wave. Many girls waved back. Binkley enjoyed working with the girls every day, teaching yoga, swapping hair-styling tips, helping them make jewelry and learn to sew — skills they could eventually use to support themselves in a new lifestyle, one of dignity and respect.
While among the survivors, returning to interact with them for full days over the two weeks, Binkley felt welcomed by these women who had survived difficult, abusive experiences. Binkley shared a lot of hugs, exchanged smiles and painted a lot of fingernails. "The places we went rarely saw white people," she said. "We were the white people rock stars."
Binkley took action and found charitable support from the community to help combat slavery through her passion for yoga. "It never occurred to me to use my talents and what I have learned from yoga to impact the world," she said of her choice to join OTM in 2009.
She signed up for two OTM Seva Challenges. The first, in 2011, was a mission to raise $20,000 to support orphaned children with HIV in South Africa. "I did workshops, yoga retreats, yard sales, boat cruises, poker games," she said. "Being in a small town, I knew that's the way [fundraising] would go. I figured if I could do 20 events at $1,000 dollars each … it's doable."
Tommy, her husband, tirelessly supported her goals and fundraising challenges, pulling in more than $46,000 for events during the last three years. Helping out wherever needed, he solicited suppliers he worked for to donate mountain bikes, grills and coolers for the poker tournament prizes. "She's the idea, and I'm most of the time the muscle," he said.
Raising money for India was Binkley's second OTM challenge. "What I found out as I was doing the fundraising was people wanted to support me because they believed in what I was doing. They believed in the yoga. They believed in someone wanting to make a change, do good and inspire others."
Partnering with Emerald Coast yogis Amy Likins, owner of All One Yoga in Fort Walton Beach, and Stephanie and Matt Penhollow of Destin Hot Yoga, the team independently raised $6,600 to build a playground in Costa Rica, traveling there in 2012. "We got to see the playground, play with the kids in school and have a little party," said Binkley. The remaining funds they raised provided two needy families with an abundance of groceries.
"For us, it's not just about being on the mat, breathing and the poses and walking away with those few moments of clarity and peace. It has changed our lives. It helps us to see things not just for what they are, but helps us realize we can change things."
— Tommy Binkley, husband
Amy Likins has known Binkley for 11 years and traveled to Costa Rica with her. "It has all been very selfless," Likins said. "She hasn't been funded by a big not-for-profit organization where she's getting a paycheck … She's done it because she believes that the world can be a better place."
Binkley first stepped on her mat in search of happiness and health after a 1998 diagnosis of chronic fatigue syndrome — a condition that does not improve with rest. A year later, she was teaching yoga, inspired by the balance, contentment and awareness the poses brought to her life.
Yoga has helped shape her 20-year marriage. "For us, it's not just about being on the mat, breathing and the poses and walking away with those few moments of clarity and peace. It has changed our lives. It helps us to see things not just for what they are, but helps us realize we can change things," said Tommy.
Yoga has given Binkley a sense of self-awareness and deepened her desire to help others. "What I tell people is that yoga believes we are all connected. When we start to separate and divide countries, religions, politics that's where the suffering happens," said Binkley. "So with my yoga background, believing everything is one, to me, it's all going to create a positive change."
Yoga originated in India. Binkley used the teachings of the ancient art — known for physical, mental and spiritual disciplines — to form a connection with the abused girls and herself.
The morning following the visit to the red light district, Binkley dedicated the daily yoga practice to the girls she encountered. She led the group with prayers and song, tears flowed, energy emanated as she sang, "OM mani pad me hum. May all beings be free from suffering. May the women and children be free … now."
For Binkley, India is a land of great beauty, heartache and inspiration. A plump, dark-eyed and black-haired 15-year-old named Sumaiya, who wore glasses and a shiny blue plastic headband, embodied this realization with kindness for Binkley over days spent together in the shelter. Unlike the other girls, she was unnecessarily concerned about Binkley's safety in the workshop, insisting Binkley wear safety goggles.
When it was time for Binkley to return to Florida, Sumaiya started giving more — chocolates, a "Switzerland" tiepin, a letter and drawing. "She didn't have much, but she was going to give to me what she could and what she had," said Binkley. "That day she was my teacher, and I learned about generosity."
Binkley said Sumaiya and the other girls are no different from American girls. They want a family, love and happiness. Yet, Binkley learned something more. "The girls taught me that no matter what has happened to you in the past — and no matter how uncertain the future — to keep smiling, never lose hope and never give up," said Binkley.
Binkley will pay forward what she has learned by mentoring fellow yogi Angela Ragsdale with her OTM challenge — helping to protect the Ecuadorian Amazon from deforestation and devastation. She will also start a seven-week local collaboration called "Yoga in Action," part of OTM's grassroots movement. "I want people to realize that one person can make a difference," she said. "You should find your passion and your purpose and follow it whatever it might be."
Photo Courtesy Tammy Binkley
For Binkley, India is a land of great beauty, heartache and inspiration.