Minutes of Thunder
A Run 'Round the Racetrack and Other Moments of Sheer Terror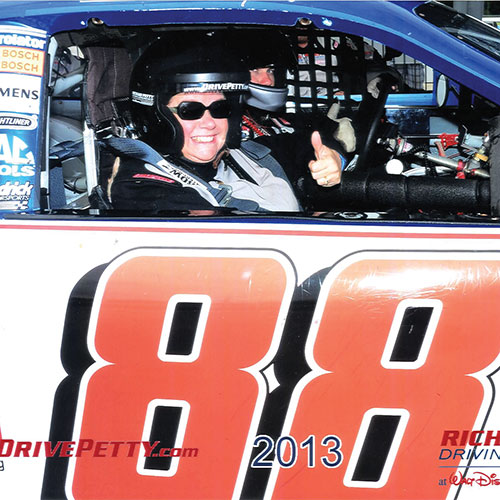 I'm not a thrill-seeker by nature, but somehow the thrills just seem to find me.
I was reading a Facebook post from a guy who asked his friends to name all the bones they had broken in their lives. It was a short list for me.
One.
My pinky.
When I was 16.
Playing tetherball.
I do not attribute this to luck (well, maybe a little bit). I make it my business to stay away from activities that have a high likelihood of trauma, injury or death. I tend to drive the speed limit, only drink too much at home and be tucked into my bed before midnight. I'm not up for extreme sports and, in fact, tend to avoid the not-so-extreme ones too. I never tug on Superman's cape, spit into the wind or mess with Jim.
So why was I, on a sunny Friday morning in July, preparing to take a 145-mile-per-hour joyride in a 600-horsepower NASCAR vehicle at the Walt Disney World Speedway? Why, indeed?
Don't get me wrong; driving around a racetrack sounds fun and exciting and I'm all for it. Hitting a concrete wall at top speed? Not so much. Never skydived (never will), but the principle is pretty much the same. I'd be happy to soar though the air all day; it's that reconnection with Planet Earth I find alarming.
As I was jump-suiting up for my three turns around the mile-long tri-oval, memories welled up about a similar daredevil adventure I had a couple months earlier — along with their concomitant feelings of abject terror.
After I finished the Adventures Unlimited zipling course, my perky, college aged guide admitted he only gave me a "50-50" shot at finishing. Remembering back to that tree-top trauma kinda got my dander up. So when the racing opportunity presented itself, I had something to prove. That's how I ended up at the Richard Petty Driving Experience in Orlando, suited, helmeted and neck-braced, doing my level best to cram myself through the passenger's-side window of the 88 National Guard car for the $99 Ride Along. One could do the driving oneself in "experiences" lasting from eight ($449) to 50 ($2,500) laps, but I had never mastered the stick shift, so my lot was to ride shotgun with Dustin in the driver's seat.
I had just about time enough to get my souvenir photo taken and notice Dustin's exceptional blue eyes before he dropped his visor, and we were off in a loud and rumbling burst of speed.
It was all over in a flash. My most vivid memory is that my butt continued vibrating even after I had crammed it back out the window. But I didn't have to remember, because I could actually watch the dash-cam video back inside the gift shop. I did a lot of grinning and "wheee"ing throughout the minute-and-a-half long video and, at the end, exhorted Dustin to pass the slowpoke self-driver ahead of us (he didn't).
My group — mostly ladies — insisted that Dustin get out of the car and pose for a photo with us. Off came the helmet and there he stood — a kid! An 18-year-old kid! I was in equal parts horrified that this guy was younger than my husband's car, and amazed by his skills.
What's next? Who knows? Perhaps a little tetherball redemption.