Meet the 2014 Pinnacle Award Winners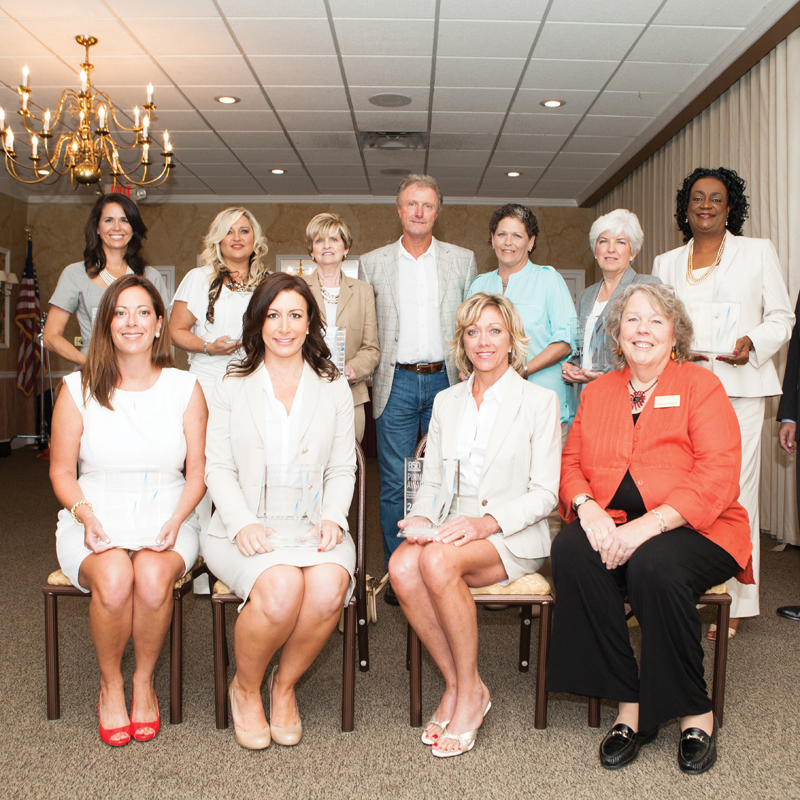 Meet the 2014 Pinnacle Award Winners
By: Linda Kleindienst 
---
EC Magazine is proud to introduce readers to four local winners of the 2014 Pinnacle Award, an honor designed to shine the spotlight on women in Northwest Florida who have set high standards for themselves and exceeded them, who are a moving force in private business and non-profit organizations that help the needy in our society or promote community interests.
All 10 honorees represent a range of professions, from a vice president of Gulf Power Company to a farmer to an HIV/AIDS advocate. They live in 18 different counties throughout Northwest Florida, representing urban, suburban and rural areas. Yet when asked to describe themselves in one word, nearly every one said she was either "determined" or "dedicated."
Of the Pinnacle Award winners for 2014, four of them are Emerald Coast-area women who have shown their mettle in life, business and their community
They're moving forces in business and community, A-listers with A-plus personalities who face challenges head-on and are determined to make their world a better place. 
Readers of our sister publication, 850 Business Magazine, were asked to nominate women they felt deserved the honor. Please meet the winners who live, work and play on the Emerald Coast.
Honorees not pictured are: Jennifer Jenkins, Alice Collins, Betsy Couch, Melanie Lee, Angie Hill and Cindy Eade.
KITTY WHITNEY
After turning around the Walton Area Chamber of Commerce, Whitney was courted to become the executive director of Sandestin Real Estate, the exclusive brokerage for the world-renowned Sandestin Golf and Beach Resort and a market-leading real estate company.
---
Whitney, who turns 50 in November, started her working life as an intensive care unit nurse, a stint that helped plant the seed for a business venture she later started with her husband, Todd. Having seen patients sent home only to become homebound and tied to an intravenous tube for medication or nutrition, they invented the idea of an ambulatory infusion that lets the patient administer his or her own doses while being active. "It changed the face of medicine," she says. "From that moment on, we knew anything was possible." Within three years they sold the company to a larger medical firm. To bypass Louisiana's state income tax, the couple moved to Florida and loved it. While pregnant with her son Max, now 10 years old, she got bored and decided to take a real estate class, thinking it would be helpful to have a license. As Whitney works with her sales team at Sandestin, her husband operates two new businesses — Blast Arcade and MooLaLa Ice Cream and Desserts — where she helps after hours and on weekends.
BENTINA TERRY
As Gulf Power's vice president of customer service and sales, Bentina Terry is responsible for bringing in new customers, promoting regional economic development and marketing the utility. She's worked for the company seven years.
---
While electric utilities are still a male-dominated industry, Bentina Terry long ago learned to be herself and "just work through it." She started out wanting to be a high school English teacher, but after a stint of student teaching she realized it wasn't what she wanted to do for the rest of her life. So she headed off to law school and later practiced for an Atlanta firm whose biggest clients were Georgia Power and Southern Company, the parent company of Georgia Power and Gulf Power. Part of her job now is to help bring in new customers. "Gulf Power has been here for 88 years, and our success is tied to the success of our communities," she says. "We need to create the climate that allows us to be successful together." Terry, 44, admitted she was terrified when she went to law school in Michigan because she knew only two people there. "But I said I was going to do it — and it taught me I could conquer any fear." 
LISA BARNES
The special projects manager at Eastern Shipbuilding in Panama City, Lisa Barnes admits a shipyard is an unusual place for a woman. But most of her job involves working with elected officials on the company's behalf and organizing events.
---
A native of bay county, Lisa Barnes was working as a paralegal in Colorado when she decided to come home eight years ago to help her aging parents. She says it's ironic that she now works at a shipyard, because during World War II her mother worked in a shipyard for the Maritime Administration. When she first started at Eastern, Barnes was in charge of the program that brought in Guatemalan workers to help build the ships. She wanted to learn more about what the workers did, so she signed up for welding classes to understand the job. "The instructor had been a welding teacher forever, and I was the only woman there," she remembers. "He said, 'I can teach anybody to weld.' He will never say that again. But he did give it his best shot." Barnes, 55, believes that it is especially important for women to collaborate and cooperate. But the best advice she ever got was, "You can't change anyone's behavior but your own."
VALERIE MINCEY
​President and CEO of BASIC NWFL Inc. in her hometown of Panama City, the 55-year-old Mincey has found her life's passion in helping HIV/AIDS victims in a six-county area of Northwest Florida.
---
Following a stint with the U.S. Post Office up North, Mincey moved back home in 1996 and became an outreach advocate for BASIC, which had just won a grant to serve Bay County's African-American community. "I didn't know a lot about HIV/AIDS, but I did know my community," she says. Because of the stigma of the disease, it was hard to make those first inroads, and money was tight. But under her leadership new and diverse funding sources were found, and today BASIC serves six counties — Bay, Calhoun, Gulf, Holmes, Jackson and Washington — and about 300 patients who need help for a variety of needs, from getting medication to finding housing. The agency runs education programs and does testing for the disease. "As I moved up in the administration, I questioned if I was qualified. A friend told me that God would put no more on me than I could bear."