Meet The Gulf Coast's Very Own Santa Clauses
For the dedicated, playing the part is a year-round job.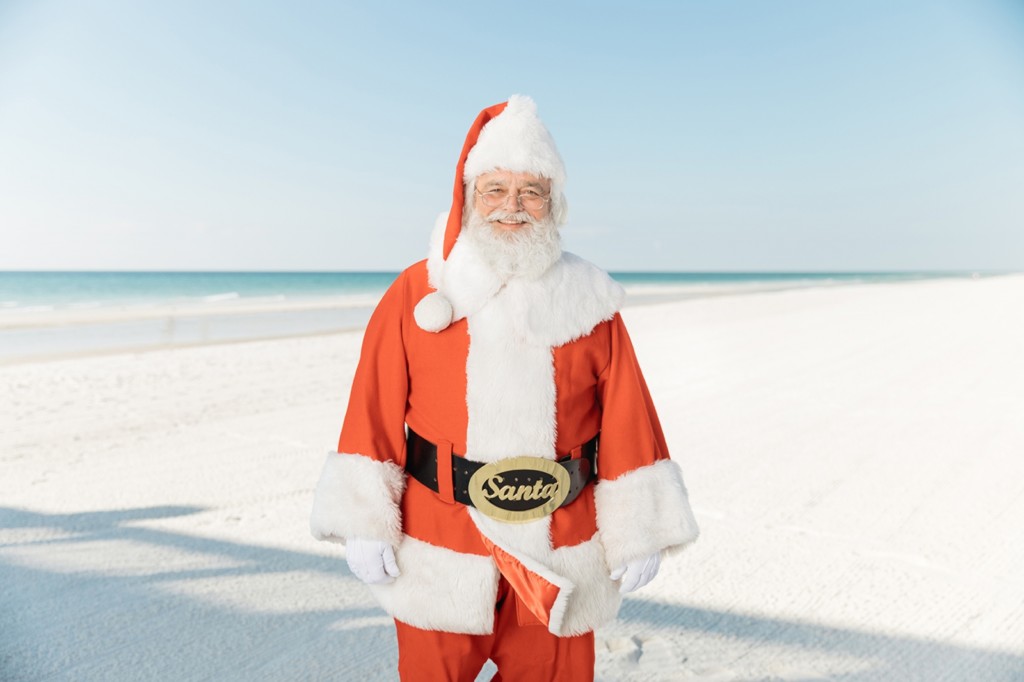 Mike Caldwell has a theory that we never stop believing in Santa Claus — we just spend a few years thinking we're too cool for him.
But once you have children of your own, Jolly Ol' Saint Nick finds his way back into your heart and home.
For little ones, Santa is far more than just a tradition.
He is a moral compass. (If I do this, will I still be on the nice list?)
He is a superhero. (The Batmobile is pretty fly, but can it fly like Santa's sleigh?)
He is pure magic, and nothing beats the first time you sit on his velvet lap and share your wish list — even if the encounter all goes down at the rear of a Sears store or a Walmart garden center.
Caldwell, who has been doing his Santa thing in the Panama City Beach area since 2015, knows he has big boots to fill. The secret to doing so isn't pulling off the look but embodying his spirit.
"If you don't believe in yourself," Caldwell says, "kids won't believe you."
He greets me with a hearty "Ho, Ho, Ho" and confirms that I am, in fact, on the 2018 nice list.
It helps that, as a Santa with real whiskers, Caldwell consistently looks every bit the part.
"You get used to hearing, 'Hey, Santa, what are you doing here?' everywhere you go," he said. "I like to tell people that I'm getting a little fishing in."
Fishing, along with Christmas music and eggnog, is listed as a personal interest on Santa at PCB's Facebook page.
There, you will discover that holiday cheer never leaves Caldwell, who posts weekly countdowns 'til Christmas and shares his favorite festive photos — with the help of his IT elves, of course.
"I like to tell kids about my IT elves, or specific stories about my reindeer because you do get a lot of skeptics," Caldwell allowed.
"I think of 'Elf,' when Buddy confronts a mall Santa, snaps his beard off and tells him he sits on a throne of lies. So, when kids ask me if I'm real, I let them touch my beard. I'll say, 'See, I'm real, and you're real. We're here together, so what do you think?'"
Along with appearances at parades, parties and trips to local businesses, Santa Mike offers home visits.
If you have a special gift for your child that you'd like to have hand-delivered by the big man himself, Caldwell is happy to oblige. Even, or perhaps especially, on Christmas Day.
"I enjoy those because they're a lot more personal," Caldwell enthused. "You can have me come in on Christmas Eve, when your kids can catch me putting their gifts beneath the tree. Their eyes just light up."
But there are those children whose eyes well with tears of fear upon spotting Santa.
When Santa Ronnie Antone, also known as "Gulf Coast Santa," senses uneasiness, he has a few go-to tactics up his sleeve.
"I'll usually pull out a candy cane and ask them if they can help me open it," Antone said.
"Or, if they're wearing a 'Frozen' shirt or superhero clothes, I'll comment about the movie and get them talking. That's actually a big part of the job. You have to study up on all the new fads and toys so you're not at a loss for words when the kids ask about them."
This is just one of many tips Antone picked up when, in 2014, he attended a Santa School in Gatlinburg, Tennessee.
About 800 Santas attend cosmetics classes and learn how to pose for photos and obtain liability insurance.
For the most part, there is genuine fellowship among Santas, who regularly join in online forums and exchange job opportunities.
But, according to Antone, there is a schism in the Kringle community between real and fake bearded Santas. Like Caldwell, Antone proudly boasts authentic bristles.
He's even a part of the International Brotherhood of Real Bearded Santas (IBRBS).
Antone is part of Nationwide Santas and Santas on Facebook and is a graduate of Santa Tim Cunningham's school, where he achieved his "master's degree" in Clausology.
But before he went to the top of his Claus class, Antone said, he was just "an average guy with a corporate look."
Upon retiring from Gulf Power in 2013, the Pensacola native decided to let his hair grow.
When people started calling him Santa, Antone studied himself in a mirror and thought, "Huh, there really is a resemblance."
He recalled his holidays as a child when his great uncle would dress up as Santa and pass out gifts to the family.
Reminded of the joy those moments inspired, something clicked for Antone.
"Post-retirement, I knew I wanted to do something that would help others and make them happy," he said. "I went out, bought a suit, landed a few gigs and it all snowballed from there."
As of August, Santa Ronnie was already booked for most of December. If it were up to him, he wouldn't charge a thing for his services, but costs add up.
When Mrs. Claus isn't around to mend his signature suit, a new one can run anywhere from $800 to $1,000. And, since the reindeer aren't a fan of the subtropics, Santa travels by car.
"It's less about running a business, and more about making a difference," Antone said. "Sure, when you first arrive, and everyone cheers and gathers around like you're a rock star, it feels good. But, when you hear some of the things that kids are telling you, you realize that Santa — you — are a figure they trust. I've had them tell me their parents are getting a divorce, or that they just found out their sibling has cancer. That's when it gets real."