McKenzie Burleigh Speaks about the Bright Future of Publishing 
FPRA Speaker Series Featured Rowland Publishing Associate Publisher in Live Interview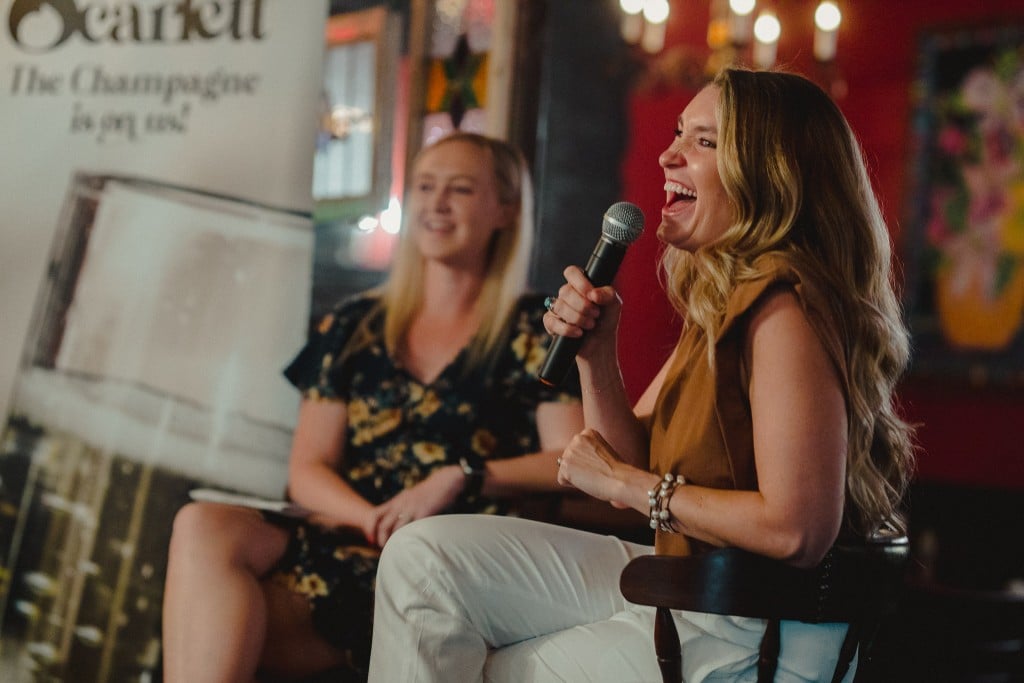 Rowland Publishing Inc. associate publisher McKenzie Burleigh was the featured guest speaker for the Northwest Florida Coast Chapter of Florida Public Relations Association (FPRA) June speaker series: "Publishing in 2022, An Afternoon with Magazine Mogul, McKenzie Burleigh," at La Paz restaurant in Destin on June 22.
Maggie Weaver, director of marketing at the Hilton Sandestin Beach Golf Resort & Spa, who is vice president of professional development for the chapter, led the discussion. From the one-on-one interview, we learned about Burleigh's publishing journey, her typical work day, the magazine and its story idea submission process, COVID-19 trials, and what the future holds for the publishing industry.
"I'm fascinated with people and their stories, so having the ability to work with an organization where I have endless access to meeting new people is such a blessing," said Burleigh.
We learned Burleigh studied finance and marketing at Florida State University and had big dreams to work at Vogue in New York City after graduation.
But life had other plans.
Rowland Publishing sales manager Lori Yeaton invited her to the company's Best of Tallahassee event, where she met publisher Brian Rowland. Burleigh researched the company and was immediately impressed by the quality of its products.
"Growing up in Salt Lake City, I didn't realize a small city like Tallahassee could develop such incredible content and was impressed with the team and the event itself," the Utah-native said. "I saw this whole orchestra of community activation and branding and I was like, where do I apply?"
The up-and-comer landed a job as a bookkeeper in the accounting department and over the past 15 years, has risen in the ranks working in nearly every department of the publishing company. Now, 36, Burleigh relishes her dynamic job and the challenges each day brings, but her main goal is to ensure the Rowland team has everything it needs to be successful.
"As associate publisher, I hold this title because of my involvement with Rowland throughout the years. When we condensed our staff during the pandemic, I took on a few extra roles. Some days I could be on a conference call about an issue in our magazine lineup, presenting a new story idea with one of our team leads, or reorganizing boxes in 120-degree weather at our storage unit in Miramar Beach for an event, so every day can be different," Burleigh said.
Adjusting to COVID was a learning experience Rowland Publishing had to undergo, as other media companies across America had to face the same trials as well. Having witnessed Rowland Publishing lose significant advertising revenue overnight, Burleigh, and the Rowland team immediately launched a COVID campaign that included outreach to each advertiser with a goal to address their fears but also maintain unwavering support by offering complimentary fulfillment. In addition, Rowland became a "content factory" living its mission to "educate, inform and inspire" by sharing localized COVID news and stories.
The result? Its online website traffic, subscriptions and readership increased.
The pandemic, coupled with the downturn in the economy, created challenging issues for the publishing industry. "Those that relied on mass distribution and bookstore sales weren't getting the distribution orthe revenue, and the increase of costs was going up. Because we direct mail to targeted homes, we did not rely on people leaving their homes to get our products," Burleigh explained.
"And now one of the most significant transitions happening today is print houses that have been around for hundreds of years are transitioning to Amazon distribution centers. Fortunately, because we strategized to build a diverse product portfolio, which comprises nearly 30 proprietary and custom publications, we have significant volume, so we haven't had to worry about not having paper," said Burleigh.
To conclude the afternoon, this "media mogul" highlighted the future of publishing in a positive light.
"Though we are embracing digital technology, I believe the quality of a message is strongest with print because it has the least amount of distraction. I'm a big lover of tangible things. I like records. I like books. I like magazines. I find the next generation is disconnecting from digital and are very into magazines, books and records. So, I personally don't think magazines are going anywhere," said Burleigh.
Gallery Images by Mayeska Sand