Maxine Orange Addresses ADSO
Guest Artist Speaker Shares 'How to Live a Creative Life'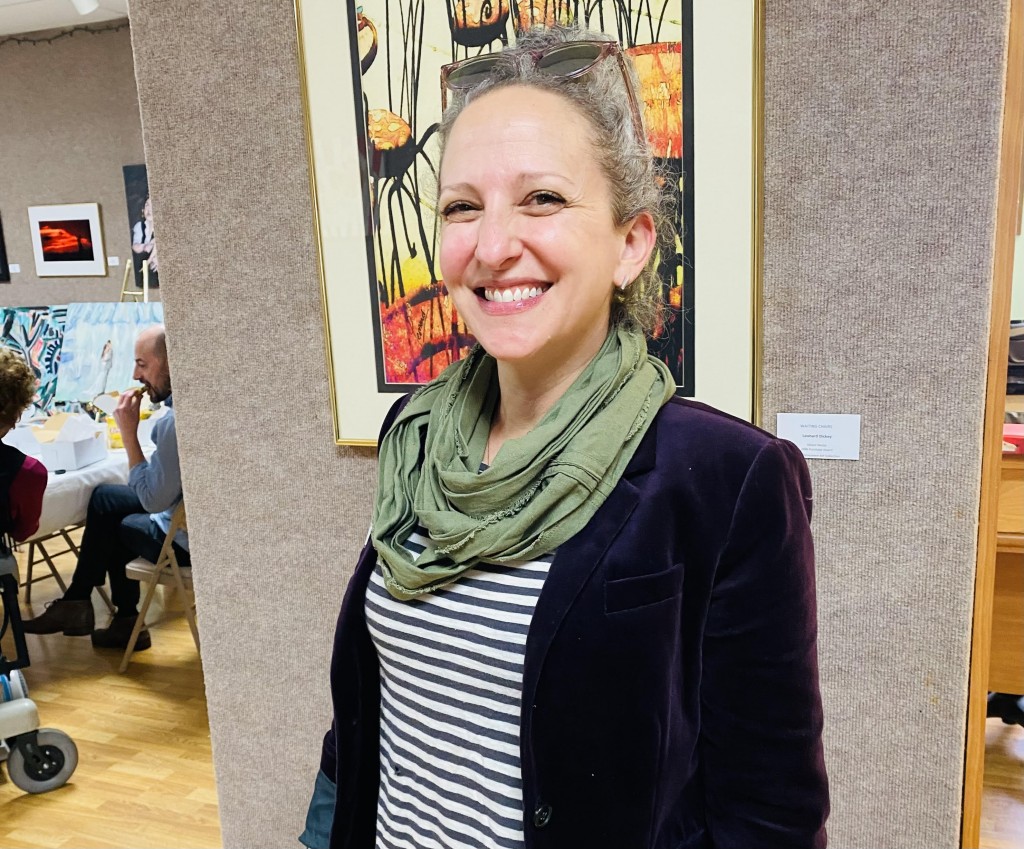 Maxine Orange looked plucky in her petite plum velvet blazer, but she was nervous.
"This is a first," she said.
Though the 42-year-old artist has done many things — design an underwater art sculpture, paint portraits of blushing brides live, open an art gallery in an art arid area — even sell insurance. She took a breath, steadied her nerves, and smiled before doing something she never had: share her personal story.
The gallery in the Arts and Design Society of Fort Walton Beach (ADSO) was converted into a casual lunch room. This happens every month. A smattering of artists and ADSO members gathered around 6-foot folding tables and tucked into box lunches. Longtime member Helen Harris raffled off a couple of art prizes, president Jennifer Dennis shared some remarks, and then it was the guest speaker's turn.
Maxine Orange started at the beginning … of her professional art career anyway.
"The first time I had my art on display was at Gulf Place on 30A," she began. That was 2011. For the next four years, she sold her art in rotation with a half dozen other artists. Her day was Saturday. Not ideal for a tourist town. Orange explained with chagrin that they were largely visitors focused on checking in or out, not buying art.
But this entrepreneur wasn't deterred. She had experience. A secret weapon, in fact. Her husband, Neal Bern, owns an insurance business and for many years Orange helped him with sales and marketing.
"Being in insurance means you are selling something intangible," she explained. "It taught me to touch someone's heart. That correlates to art. As an artist, you have to touch someone's heart."
For the past four years, you could say Orange has been a creative cupid of sorts. She paints abstract mixed media bridal portraits on commission. She completes 90 percent of the project in acrylic on site at the wedding and finishes the portrait in her studio. Sometimes she adds grout into the paint for texture. She charges a set fee of about $1,200. More if the wedding requires travel, or a little less if she paints it solely from a photograph.
Orange says her wedding portraits are a "labor of love." Still, it's a business. And a steady one at that.
"One thing I've learned is the balance between what you want to make and what the market wants to buy. I want to do what they want, but in my own way," she said. Several heads bobbed in agreement.
Last year, when her husband relocated his insurance business, she had an opportunity to take over a space in the plaza at Hollywood and Eglin Boulevards. In December, she opened a self-named gallery. Her curation includes work by both local artists and creatives she's met while in New York and California.
Orange hopes to pique interest with "pop up" parties. She showcases a guest artist and serves refreshments. On Saturday, March 12, just in time for the spring season, she will host an online pop-up boutique with Erika Akerley owner of Malala Lux. The two have created a collaborative collection of painted hats, which will be presented along with the latest spring capsule collection from Malala Lux. This one-day-only retail event is from 11 a.m. to 3 p.m.
"Shop super cute clothing and accessories in a brunchy girly vibe with munchies and mimosa bar from Picnic30a," Orange writes on her event invite.
Sounds like this artist's story is just beginning … creative life indeed.