Mattie Kelly Arts Foundation Comes of Age
The 18-year-old Destin art organization unveils a new brand image, expanded art programs and a new performing arts space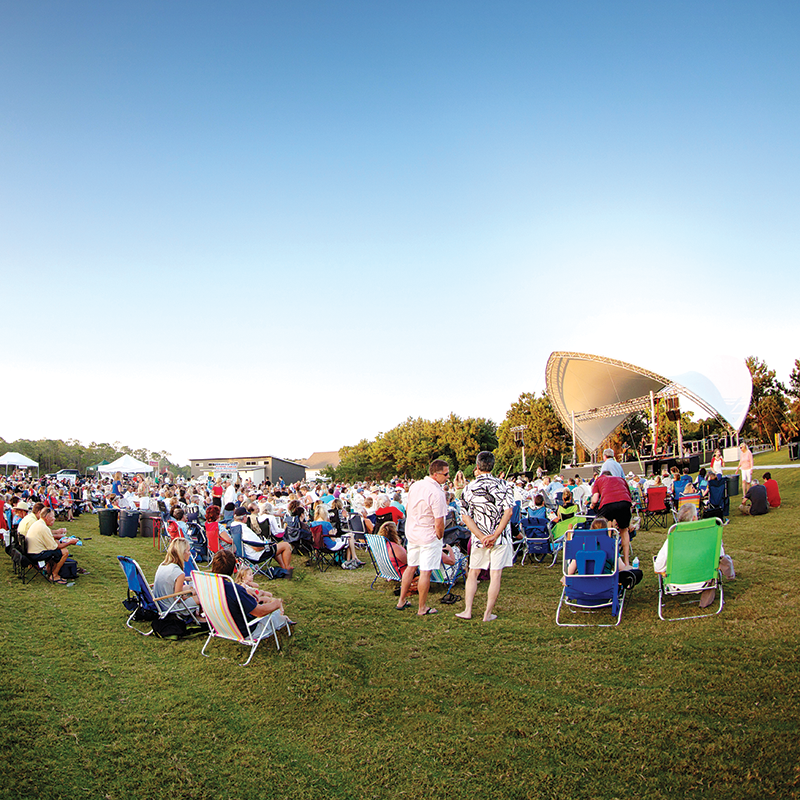 They say you can measure the heart of a community by the health of its arts scene. If that's the case, then the Mattie Kelly Arts Foundation has breathed plenty of new life into Emerald Coast. Before this organization was formed 18 years ago in honor of the late Destin matriarch, Mattie Kelly, to bring art and cultural experiences to the area, there was no music series, there was no art festival and there were fewer kids enjoying the joy of art in their elementary schools.
Now that this non-profit has "come of age," it is celebrating with a refreshed brand image, expanded programming and by opening a new performing arts pavilion that has been years in the making.
A Lasting Legacy
Looking back on 18 years, MKAF has made the grade by providing robust art education programs, lively music and art events that not only entertain and feed the soul of locals starving for art but also to support artists in need of a stage or platform to launch (and sell) their work and wares.
The Destin Festival of the Arts was first staged in 1995 on undeveloped land at the Kelly Plantation Outdoor Theatre. In recent years, the event has expanded to include 100 artists showcasing art in nearly every medium at Henderson Beach Park. This year's event, slated for Oct. 26-27, has been renamed the Festival of the Arts to suggest an even broader reach and will be relocated to the newly formed Cultural Arts Village at 4323 Commons Drive in Destin.
As part of the changes the Concerts in the Park music series was renamed Concerts in the Village and expanded to 10 weeks (May through early July). It will continue to feature a range of music and musical performances for locals seated in lawn chairs, on blankets and gathered around picnic tables for "supper clubs."
Fundraising remains integral to filling the coffers of the organization. A new event slated for Nov. 9 will again partner MKAF and the George Rodrigue Foundation, named for the master painter of vivid "blue dog" paintings. The Foundation will arrange for a 100-year-old Steinway piano painted by the master artist to serve as the centerpiece of the gala event. Plans are in the works to invite local musicians and pianist David Seering to play a range of music from jazz to Broadway on the one-of-a-kind piano at an exclusive event. Proceeds will help support a cornerstone component to the Foundation's mission — All Kinds of Art (AKA), the arts education program.
AKA was founded in 1995 and has since supplemented art instruction by bringing visual, performing and even culinary arts to more than 250,000 students in more than 55 schools in Okaloosa and Walton counties. It too is expanding to include a collaborative alliance with a new partner, the Emerald Coast Theatre Company founded by producing artistic director Nathanael Fisher.
Making an Impact
The biggest impact of AKA is likely made on the smallest of our citizens. Eight-year-old Gabriel Stevens of Destin started attending the AKA art and theater camps when he was in kindergarten. Each year he's one of the first kids to sign up. His mom, Ruth Anne Stevens, loves the range of art experiences AKA offers. "They're able to explore multiple disciplines — drama, art, culinary, dance — and find out what their true interests are," she says.
The theater program, in particular, has coaxed Gabriel out of his shell and into the casts of "Robin Hood," "Jack and the Magic Beans" and this year "Aladdin." The program has given Gabriel more than stage credits and frameable art for his family's walls. "I've seen his confidence grow each year, and that's invaluable for a child," Stevens says.
Thanks to a $1 million grant from the Dugas Family Foundation, locals will get the chance to enjoy live theater and more. After breaking ground in 2005, the grant has enabled MKAF to work with DAG architects to design and build a flexible 79,550-square-foot arts pavilion space that can accommodate an audience of nearly 5,000.
The first phase (open now) includes the Dugas Pavilion, a 1,600-square-foot permanent stage covered by a canvas canopy that opens onto the Village Green. When the space is not in use by MKAF and partner art organizations, it will be available for events and functions on a rental basis.
Welcoming guests to the new Cultural Arts Village is a commanding 20-foot metal sculpture entryway designed by metal artist Frank Ledbetter. The puzzle-like artwork is Ledbetter's largest sculpture to date and is one of the few pieces of public art in Destin. Named "Welcoming Arms," it is made of 5,000 pounds of aluminum and stainless steel. It glimmers during the daylight and will be illuminated at night. "It will be a shining beacon to welcome all," says Marcia Hull, the arts advocate who leads the foundation
Tracy Wood of Niceville has always been an arts lover and has always felt welcome at MKAF events. When she and her husband, Alan, moved to Destin from a big Alabama college town teeming with cultural arts offerings, they were happy to discover MKAF.
Today, Alan serves on the board, and Tracy, a realtor with Century 21, has chaired two fundraising luncheons for the charity. And thanks to CCB Community Bank, where Alan works, the couple has enjoyed the Village Concert Series from corporate-sponsored "supper club tables" for three years. "We just love it. The atmosphere is amazing and fun, and it's a good way for us to network with friends and clients," Stevens says.
Raising Her Voice Even Higher
For Marica Hull, who was born and raised on the Emerald Coast and has led MKAF as executive director for the past 15 years, being "the face" of MKAF comes naturally and serving as "the voice" of the arts in Northwest Florida is personal.
Beyond MKAF's mission, Hull has taken up the mantel to place the arts center stage in the minds and hearts of Floridians beyond the town of Destin, where she makes her home with her husband, Dale. Modeling after larger cities with robust cultural arts offerings, Hull is collaborating with city and state officials and civic leaders to make the arts more of a priority and therefore elevate its value to the community. "We need a cultural infrastructure," she explains.
The path this art advocate is blazing has made important inroads. In 2011 she lobbied to have the arts included for the first time on an Okaloosa County Economic Development panel discussion. In March, she also led key community leaders in an arts-focused discussion as part of a strategic planning process hosted by the Florida Chamber Foundation called Six Pillars. The session was designed to help Okaloosa County prioritize its future plans. "This is about creating a quality of place. (The arts) is a proven catalyst for growth, quality of life and economic prosperity," she says. "I personally just can't imagine a community without art."
Hull's voice has not fallen on deaf ears. Destin Mayor Sam Seevers characterized the opening of The Dugas Pavilion as "game changer" for the community. "This will bring so many cultural arts that we don't have. We need this. This is huge," Seevers says.
At 18, MKAF is just now an "adult" and it appears the arts on the Emerald Coast are growing up. For Hull, the successes to date are to be shared with the organization's active board and 300-member volunteer base. "It takes a village to make a village," she says. "And this year, in particular, she has really grown up."