Mason Jar Chili and Cornbread
Pour on the flavor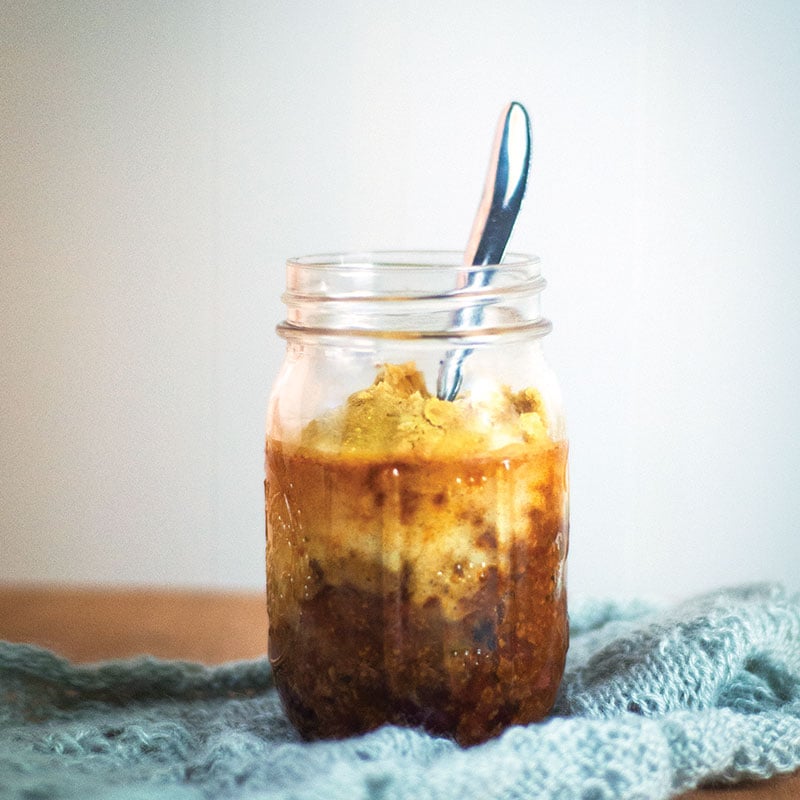 Put prepared chili into a mason jar and add cornbread batter on top. The jar is then baked to create a perfect combo to keep warm during dinner on a cold night.
Cook onion, pepper, garlic and ground beef over medium-high heat for 10 minutes or until beef is no longer pink and vegetables are soft. Drain grease if needed. Return beef mixture to a large pot and add the remaining ingredients — beans through broth. Simmer over medium-low heat for 15 minutes. In a bowl, stir cornbread mix, corn, cheese, green onions, milk and egg. Carefully spoon chili into pint-size mason jars, filling halfway. Add 1/3-cup cornbread mix to the mason jars. Bake chili and cornbread in the oven at 400 degrees for 15–20 minutes or until cornbread is golden brown. Remove from oven carefully and let sit for 10 minutes before serving.
Ingredients
1 cup onion, chopped 
¾ cup green bell pepper, chopped (any color pepper will do) 
2 cloves garlic, minced (or 1 tablespoon prepared garlic/garlic powder)
1 pound lean ground beef
1 15-ounce can black beans, drained and rinsed
1 15-ounce can kidney beans, drained and rinsed
1 15-ounce can hominy, drained
1 14-ounce can diced tomatoes with juice 
1 tablespoon chili powder
1 tablespoon cumin
½ teaspoon salt
½ teaspoon pepper
2 ½ cups beef broth
For the Cornbread
1 8.5-ounce package of cornbread mix
¾ cup corn (canned or frozen)
1 cup Monterey Jack cheese, shredded
3 green onions, sliced
¾ cup milk
1 egg
---
It's the season of love. Here are a few tasty tips to be sure your romantic dinner at home is just that. 
Set the mood 
Flowers, music and candles can create a warm and inviting ambiance — let your imagination take flight, but be mindful that scented candles can detract from food and wine flavors. 
After you decorate and set the table, take a seat and be sure the candles — whether extravagant or simple — allow you to look at each other across the table.
Choose romantic food
Pasta is a classic romantic dish that is easy to prepare and pairs well with wine, chicken and salmon can be prepared an endless number of ways — so be creative. Consider foods that are aphrodisiacs for an even more romantic night. If so, add oysters, almonds, basil and asparagus to your menu. 
Avoid distractions
Make arrangements for child care, tidy up the house, turn off your television and all of your devices, put on some great mellow music such as jazz, classical or blues and … pay attention to one another. 
Add the one you love and enjoy! 
---
A Taste for … Cranberries  Early European settlers to America thought the flower on cranberry bushes resembled a crane, and originally named the fruit "craneberry." Native Americans were the first to use it as food, healing ointment and dye. Today we enjoy cranberries raw, dried, mulled, sautéed and stewed. And we serve them up in juice, sauce, relish, jam, salad and stuffing, to name just a few. Cranberries pack a flavorful punch, so they are a like adding an exclamation point to your meal menu. Whether you use them to simmer in a pot or garnish your cocktail, cranberries are a healthy addition to your menu any time of year. These bright berries are bursting with vitamin C and K. They are full of fiber, and their antioxidant properties elevate them to the status of a "superfood." We raise our cranberry cocktail glass and honor the berry that adds romance to dining all year. Cheers!