Making Sweet-n-Wild Natural Local Honey
The buzz on Destin's local honey.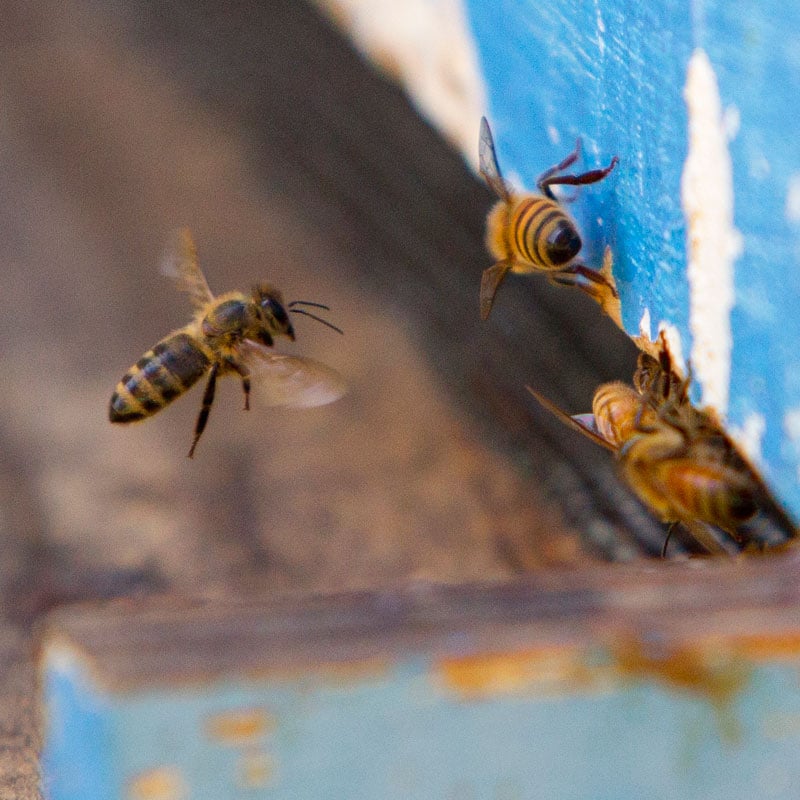 In backyards, fields and gardens from Destin to South Walton honeybees are flourishing. Buzzing in and out of hives, colonies are tended by beekeepers harvesting gallons of their honey — unprocessed local gold. When blooms, pollen and nectar are abundant from all sorts of crops and flowers, between May and October, the worker bees produce the most honey — a healthy sweet, with antibacterial and allergy relief benefits.
A colony can house 50,000 to 60,000 worker bees, undeveloped females who do all the work to satisfy the queen, said Ken Holman, a Destin beekeeper. Only worker bees gather nectar and pollinate the flowers of many plants. A single bee can make around 1/12 of a teaspoon of honey in its lifetime. "It can take up to 300,000 to 700,000 trips to make a pound of honey," said Holman, who started beekeeping in his backyard four years ago. His eight hives produce between 60 to 100 pounds a week when "things are really blooming. That means honey and money."
For hobbyists, there's not much money making honey. "I can make enough to pay my gas money," he said. Drawn to beekeeping after reading about colony collapse — bees dying — and learning about their importance as pollinators for our food supply, Holman, 69, decided to make honey as a hobby when he was semi-retired. Raised in DeFuniak Springs, he enlisted in the U.S. Navy in 1962 for 53 months during the Vietnam War. He married and worked as a construction worker in the Santa Rosa Beach area until the couple moved to Destin in 1978. 
Scott Holstein
The Honey Hutch operated by the Wrights (Amy Wright pictured here) is one of several family-owned businesses that keep bees to make and sell homemade candles, soaps, lotions and even face scrubs in addition to locally harvested honey.
Holman, a member of the Florida Beekeepers Association, harvests 200 gallons of honey a year between the peak producing spring season and the fall, when production tapers off for the winter. The Department of Agriculture inspects his bottling and harvesting annually. "Bees are considered agriculture, protected and inspected just like any other livestock," he said.
Customers are locals. They stop by his home on Mountain Drive to pick up a jar. "It's an honor system — some of my customers can't afford it. They can take [a honey jar] because they have kids who have allergies — the honey helps keep the swelling down." Others leave cash for the 24- or 48-ounce glass jars of wildflower honey. "I set it out at Benjamin Moore, farmer's markets from Destin to Seaside and in Franco's Antiques in Fort Walton." A 24-ounce jar runs $11 and a quart, $22. 
Local beekeepers are fond of each other and people interested in their trade. "Beekeepers are not in competition with each other," said Peter Wright, 55, owner of The Ships Chandler, a marine supply company in Destin. He has a bookshelf of honey for sale there. Wright, who is friends with Holman, learned about taking care of bees from his father. His daughter, Amy Wright, 28, took over the family beekeeping hobby and turned it into a business, The Honey Hutch, in May of 2013.  
Scott Holstein
Maggie Roberts (above) sells their "gold" harvested by Mac McFarland under the name Mermaid Maggie's at a few shops and restaurants such as Dewey Destin's on Highway 98.
The Honey Hutch produces local wildflower, red clover and Gallberry honey from 50 hives in the Destin area. The Tupelo honey comes from a beekeeper in Apalachicola. In a week, Wright can harvest 25 gallons of honey and distributes to stores and restaurants. She makes honey butter too. "Bees make three times more honey than they need to survive," said Amy Wright. "I definitely take pride in our wildflower. It's dark and rich." 
Honey is medicinal and healing, explained Wright. While visiting her father during his recovery from open-heart surgery at the University of Alabama at Birmingham Health System, she discovered the hospital used honey for wound care. This news became the inspiration for her to take the family hobby and turn it into a business. "Honey is antibacterial, helps heal a wound or burn and has many benefits for allergies, too. There are so many cool things about honey."
The Honey Hutch offers honey for purchase online, at farmer's markets and the Destin Seafood Festival. "Bees making honey is such a beautiful process," said Wright. "To me it's the cycle of life. They produce honey which allows us to feed off their honey."
The Honey Pot also opened up shop in May of 2013 in Destin. Run by father and son, Jerry and Jared Waits, in addition to bottles of honey the store offers its Bee Renewed line of honey-based soaps, candles and lotion products made while customers watch. The Honey Pot also offers a bee removal service for bees that swarm unwelcomed into yards or businesses. 
Scott Holstein
Beekeeper Artie Fortner tends to what he calls "a perfect society."
In the spring, colonies tend to swarm or congregate on a tree limb or side of a building due to overcrowding. Swarming is a natural way of creating new colonies and part of the reproductive cycle. "You have to try to prevent them from swarming," said Artie Fortner, 59, a backyard beekeeper. "If they do, you have to hunt them down and take care of the 10,000 bees all in one wad — bigger than a basketball." 
 Getting the bees back into the main hive box with the queen can include delicately sucking worker bees down with a slow-speed vacuum cleaner. "The best thing to do is put a double white sheet on the ground right under them with a couple sticks dipped in honey," said Fortner. "Cut the tree branches below them so they can make a clear fall into the bed. Put a rope around the limb and jerk on the rope. When they fall down in the hive box the ones not in the box will march right in there like soldiers in the army." 
Fortner's first encounter with bees captured his imagination. When he was a 20-year-old carpenter, he cut down an oak tree with a hollowed base. "There was a huge beehive in the bottom of it. I robbed their honey," he said. Although covered in angry bees he was not intimidated. He was captivated. The bees were only mad with him for taking their honey. Five years ago he partnered with beekeeper Mitzi Richardson, owner of Ace Hardware on Main Street, to make honey. 
Along Bayou Drive — across from the Clary Estate in old Destin — Mac McFarland, 78, offers honey jars right outside his front door. Partners with his son, Jeff, they help Fortner maintain his hives and have grown their honey business, under the name Mermaid Maggie, to produce 2,000 pounds a year. "Honey is one of the few foods in the world that won't spoil," said Mac McFarland, who has seven years experience. "It's fascinating the way bees do things. When they are in the process of collecting the pollen and landing with their bags of pollen you can see it glowing … almost like a couple taillights near their hind legs." 
Starting up a hive is easy. Depending on the equipment and number of bees, the local price ranges from $100 to $300. "Once you get them started it's sort of like rabbits. They multiply rapidly," said McFarland. "The queen may live for four years, but she's not productive for all those years. Usually it's best to replace a queen every year. Worker bees last about 42 days."  
As far as a common fear people have about getting stung by bees, McFarland said, "Generally speaking, bees don't sting unless they feel you are endangering their hive. Unless you are allergic to bees, a bee sting isn't all that terrible."
Added Artie Fortner, "They are a perfect society. That's what impresses me most. There are no welfare recipients. They all work. They have to. Out of 10,000 bees there will only be maybe 200 drones, males, in the hive. By the end of summer they are booted out of town."
Where to find local honey
Destin's Own Local Honey, Collected by Artie Fortner
Sold at Ace Hardware of South Walton in Miramar Beach and Designer Consigners of Destin
(850) 865-4191
Ken Holman's 
Sold at Seaside Farmer's Market, Benjamin Moore Paint in Destin, Franco's Antiques in Fort Walton Beach
(850) 259-1561
The Honey Hutch
646 East Highway 98
(850) 499-6528
The Honey Pot and Café
4014 Commons Drive West, Suite 102
(850) 833-8885
Mermaid Maggie's Destin Honey
Sold at Dewey Destin's Bayside, Harry T's, Champa Shop, Destin Ice and Seafood Market & Deli, Mellow Mushroom
(850) 269-2049