Make Sure Your Mailbox has a Message
That object by the curb can speak of order and tradition … or of something completely unique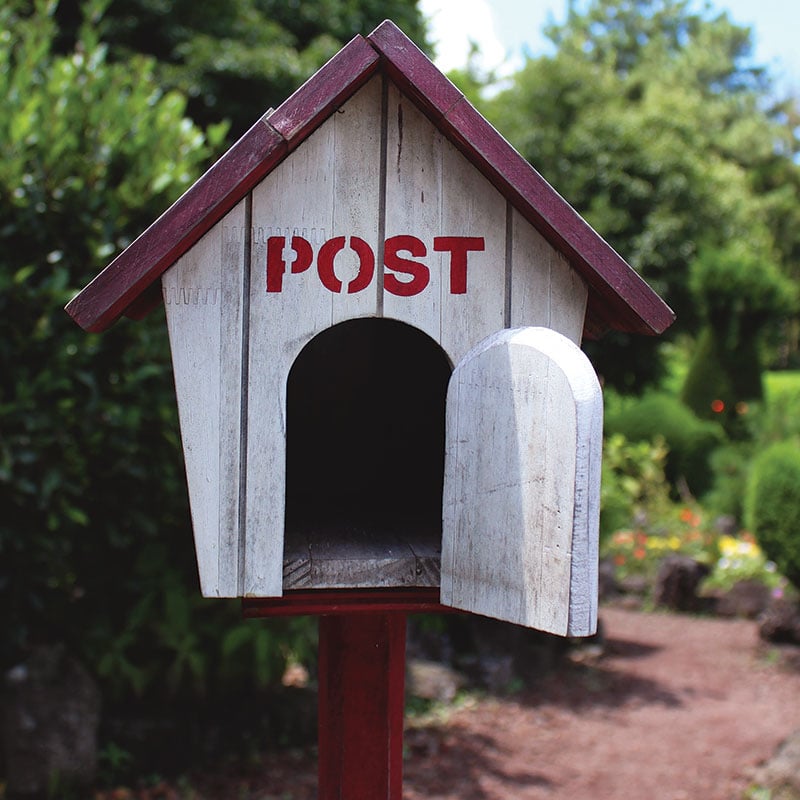 Could you pick your mailbox out of a lineup?
Take away the identifying numbers and letters, and most mailboxes are anonymous: neat black, gray or white receptacles in the classic shape.
That's fine by many homeowners associations, which may enforce restrictions on mailbox appearance with the aim of maintaining home values and neighborhood character, but every now and then, in more eclectic neighborhoods, a mailbox leaps out. It's clasped by a dolphin, disguised as a dog or covered with colorful flowers. It gets your attention, and it might even make you smile. At the very least, the sight is rare enough, here along the Emerald Coast, to make it a little landmark.
In a way, a customized mailbox is also a small leap of faith ­— art anchored curbside and at the mercy of errant drivers and bored vandals, alike. (Anyone who has driven into a mailbox or had one run over, raise your hand.)
For the creative optimists who are ready to make that leap, more in a moment. For those who are bound by neighborhood rules, pretty can come another way: naturally, through landscaping with a flowering vine (see sidebar).
BRING ON THE WILD BOXES
In a neighborhood that welcomes curbside self-expression, your mailbox can look like a barn or a fishing lure, a car or your very own breed of dog. Do make sure the receptacle is fully functional, safe, adequately marked with the house number and properly placed by the curb.
Examples of decorated mailboxes abound online, offering do-it-yourselfers plenty of ideas. Searching for "Cool Mailboxes" on Pinterest (pinterest.com/explore/cool-mailboxes) will bring up dozens of mailboxes — from the kitschy to the elegant — made in the shape of peacocks, horses, cars, boats and planes, or set in the branches of metal tree sculptures. There's even a Pinterest board for "Florida Mailboxes," which features manatees, pelicans and Mickey Mouse, along with standard boxes mounted on salvaged ship anchors.
Prefer your curbside statement to come ready-made? Here are a few options available online or at local stores:
Wraps: Magnetic mailbox covers are the fastest way to give a standard mailbox a colorful makeover. As the name suggests, these vinyl covers are simply wrapped around the box and secured with magnetic strips. The wraps are very affordable — under $20 — and there's one for almost every taste, whether yours leans toward flowers, bugs, animals, flags, sports logos or holiday scenes. The major brand is MailWraps. Wraps are sold locally, at garden centers and stores like Wild Birds Unlimited, and online by MailWrap maker Magnet Works' studio-m (studio-m.com) and other retailers.
Animals: Charming critters are the specialty at Mailbox Ranch, (themailboxranch.com), a home-based business run by a couple "in the piney woods of South Mississippi." Martha and Sonny Carter use wood and paint to turn standard metal mailboxes into dogs of several breeds, horses, birds and other creatures. Their creations cost $165 to $185 each.
Everything but the kitchen sink: Want a mailbox shaped like a giant red shotgun shell, catfish, bass, fishing lure or barn? Take a look at online retailer Amazon.com.
---
Wrap it with vines
A traditional mailbox accented by a flowering vine makes a lovely picture. If you'd like to get one growing this spring, there are several good choices: No. 1 might be coral honeysuckle (Lonicera sempervirens), which local Master Gardener Pam Sawyer calls the "perfect vine." She writes that this native plant is "well-behaved, grows in sun or part sun with average, well-drained soil and moderate water." It has no fragrance, but produces orange, trumpet-shaped flowers in late spring and summer and is loved by hummingbirds.
Other readily available, pretty candidates include:
Carolina jessamine (Gelsemium sempervirens)
Confederate jasmine/star jasmine (Trachelospermum jasminoides)
Clematis (Clematis)