Magical Mangoes
Enough to make limes seem ordinary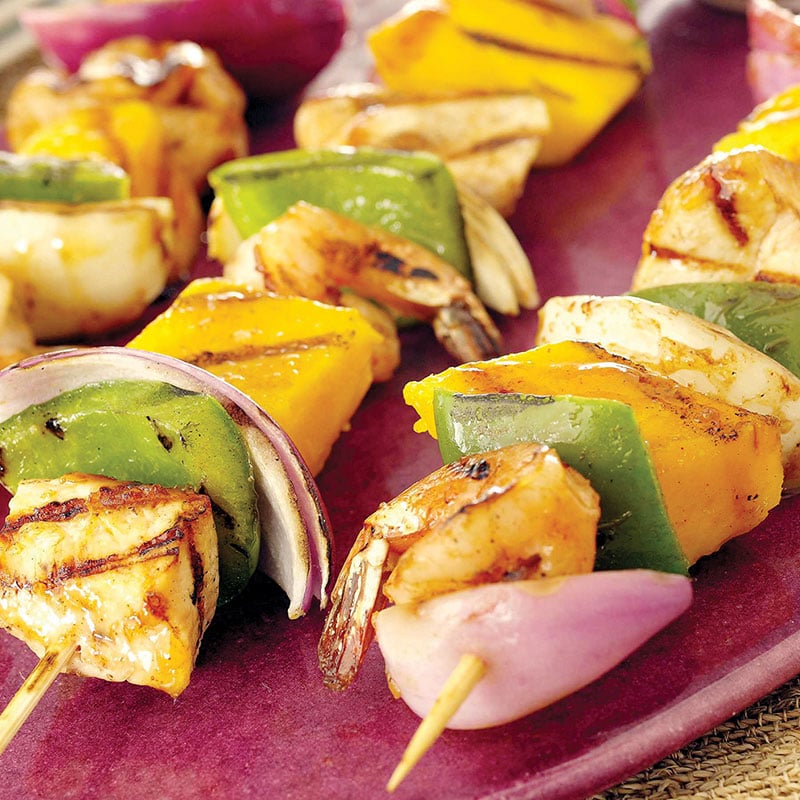 Some fruits have star power; others seem to be magical, like the mango. Some people would go so far as to crown it the queen of the fruit kingdom. Perhaps that's because mangoes help fight cancer, aid in weight loss, regulate diabetes, help with digestion, cleanse the skin … and are a super-tasty snack.
Though many think it is a tropical fruit, the mango is originally from India. This mighty fruit packs a nutritious punch for its 6-ounce size and is only about 100 calories. As it ripens, its tough, green skin gives way to a yellowish-red sunset color. The juicy flesh inside is a brilliant, bold orange.
The magic is found in how versatile and flavorful this fruit is. Whether baked, poached, sautéed or enjoyed raw, it brightens any number of dishes, especially in salsas and salads or as a chutney-style topper to fish, shrimp, chicken and even beef. Mangoes make over boring shakes and smoothies into seductive elixirs and appear to be squeezing out limes to make room for tangy mango-ritas and coladas on many cocktail menus. So be ready to drink in vitamin C (100 percent daily allowance!), plus a bit of A, B6 and K.
Mangoes are available year-round at regular grocery stores and fruit stands but are best in summer and fall. To ripen them, store them in a paper bag at room temperature. Once ripe, keep them in the refrigerator for up to five days. 
---
Island-Style Skewers
Servings: 4; Prep time: 25 minutes;
Cook time: 15-20 minutes
Ingredients 
1/2 cup olive oil
1/2 cup prepared mango chutney,
chopped if coarse
1/2 cup bottled teriyaki sauce
2 tablespoons balsamic vinegar
3/4 pound boneless, skinless chicken breast, cut into 1 1/2 to 2-inch cubes
18 medium shrimp, shelled and deveined
1 medium yellow onion, peeled with both ends trimmed off and cut into six wedges approximately 1/2 inch wide
1 medium red onion, peeled with both ends trimmed off and cut into six wedges approximately 1/2 inch wide
2 firm-ripe mangos, peeled, pitted and cut into large cubes
1 large red or green bell pepper, halved, trimmed, seeded and cubed
Nonstick cooking spray, as needed
Ginger mango sauce
1 mango, peeled, pitted and diced (about 1 cup)
1/4 cup frozen orange juice concentrate
3 tablespoons water
2 teaspoons grated fresh ginger
Directions
For marinade, combine oil, chutney, teriyaki sauce and vinegar. Set aside half to use for basting. Place chicken and shrimp in wide, shallow glass dish or pan. Pour remaining marinade mixture over, then cover and marinate in refrigerator at least 3 hours or overnight. Soak 18 large bamboo skewers (about 12 inches long) in water at least 1 hour before using. Separate the onion wedges into double layers. To prepare kabobs, alternate chicken, onions, mango, green or red pepper, and shrimp (or you can make separate skewers of shrimp and chicken) onto soaked skewers, keeping them near the pointed end of each skewer, leaving a long "handle" of skewer open. Coat the grill grate with nonstick cooking spray. Place skewers over medium coals for 15 to 20 minutes. Brush often with remaining marinade mixture and turn skewers until cooked through. Serve with Ginger Mango Dipping Sauce: Combine mango, frozen orange juice concentrate, water and ginger in electric blender. Puree until smooth and serve with skewers.
---
Source: The National Mango Board