Maestro David Ott Fosters Appreciation for Fine Music
Devoting much of his time and energy to educating the youth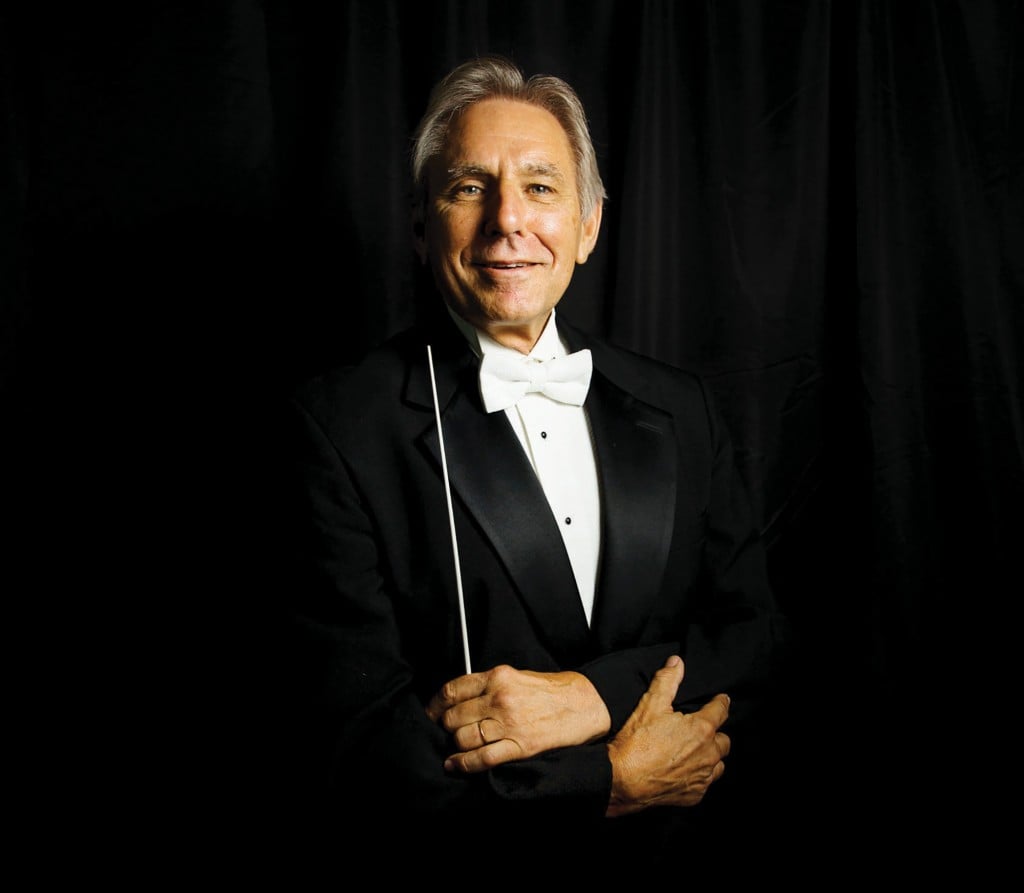 Composer David Ott was scheduled to join the Gulf Coast Symphony Orchestra in Biloxi, Mississippi, for a February performance.
He had written an educational narration that he was set to deliver, which would enable the orchestra's audience to better appreciate the music they would hear.
Ott's phone rang at 6:30 in the morning. The orchestra's director, sounding exasperated, explained that its conductor was stranded in an ice storm in Topeka, Kansas. Did Ott know anyone who could fill in?
"Speaking," he may have replied.
"I dropped the downbeat that night and I said to myself, 'If only I could have an orchestra like this,'" Ott said during an interview late last year.
"And now I do."
Since 2016, Ott has been the conductor and music director for the Panama City POPS Orchestra, an organization that he sees as an emerging cultural nexus in Bay County.
Hurricane Michael knocked its former home, the Marina Civic Center in Panama City, out of commission, and it moved to the Gretchen Nelson Scott Fine Arts Center at Mosley High School. 
Ott, who grew up in Wisconsin and earned his doctorate in music theory and composition from the University of Kentucky in 1982, was scarcely a conducting novice on that night in Mississippi some 12 years ago.
After moving in 1996 with his wife, Susan, and their children to Destin from Indiana, where Ott was a professor at DePauw University, he conducted the Northwest Florida Symphony for three years and the Philharmonic of Northwest Florida for seven.      
When the Philharmonic ran out of funding in 2008, Ott feared he would never conduct again.
He applied unsuccessfully for openings in Birmingham, Alabama, and Meridian, Mississippi, while composing and cataloging music and serving as the director of music and organist at Christ the King Episcopal Church in Santa Rosa Beach, where he now lives.
He was unaware of Panama City POPS board president Connie Gittard's presence when she stopped by the church one Sunday to see Ott at work. Too, Gittard was familiar with his contributions to the Philharmonic and knew that he was a "great educator and captivator from the stage," she said.
Ott would succeed Eddie Rackley, whom he credits with bringing the Panama City POPS Orchestra along to a point where the job interested him.
Ott sees bringing the audience along as part of his role with the orchestra.
"I love our audience," he said. "It's growing and it's learning. I have got to make the orchestra love the music, and I have got to make the audience love the orchestra. We tackle hard literature and play it well."
About 60 percent of the musicians who comprise the Panama City POPS Orchestra are local, Ott said.
Many of the remaining players are music students from Florida State University in Tallahassee who will go on to audition for large metropolitan orchestras.
Noting that FSU is ranked among the top 10 music schools in the country, Ott says, "We have students playing for us who are from South America and Europe and who chose FSU, given its reputation. FSU is a tremendous resource."
Ott began taking piano lessons at age 6. He recalls watching Leonard Bernstein's Young People's Concerts on television when he was a boy.
As a doctoral student at Kentucky, Ott encountered a crossroads. He could study piano or composition.
The composing professor took Ott by the ear and talked him out of piano. It wasn't a hard sell.
Ott had accepted a teaching position at Houghton College in New York after graduating with a master's degree in piano performance from the University of Indiana.
Bill Allen was the composer-in-residence at Houghton. Ott recalls hearing him perform a recital in which he played a Beethoven sonata and pieces of his own, and then said, "I'd like to close by improvising something."
Impressed or maybe dubious, Ott approached Allen afterward and was told by the composer that he had had no idea what he was going to play as he started to improvise.
"At that moment, I knew that was what I wanted to do," Ott said.
Today, the conductor/composer is devoted in large part to education. The roles, he said, are so intertwined as to be inseparable.
Last year, the POPS brought about a Music to My Ears program whereby Ott planned to visit every public elementary school in Bay County along with a complement of musicians.
Ott seeded the initiative with $10,000 of his own; community contributions took care of the rest.
"You've got to talk to children, not necessarily to lead them to come to a concert, but because music is an extremely important educational component," Ott said.
"We introduce the kids to beat, rhythm and tempo. Then we go into what is a melody and how harmony works and how music gives life to a story."
Ott moved on in conversation to touch upon Vitali or perhaps Verdi. It was hard to be sure, because a power-pop hit, Belinda Carlisle's "Heaven Is a Place on Earth," loudly filled the restaurant where Ott was being interviewed.
"If this is all the kids hear, that is no good," he said while pointing to a sound system speaker.
Did Ott mean to suggest that Carlisle is somehow la traviata? Maybe not that bad.
Asked to name the composition that best reflects today's tumultuous times, Ott paused for but a second or two before responding with "Randall Thompson's 'Alleluia.'"
Written in July 1940 just weeks after France fell to the Nazis, "Alleluia" is a choral work but has been transcribed for orchestral performance. It is quiet, contemplative, eerie.
"But we have always had tumult," Ott said, "and we have always come through it. I'm an optimist. I like a sunny day."
Upcoming: The Panama City POPS Orchestra season finale is one of the most colorful and evocative scores in all of classical music. Guest soloist Charles Rex, former associate concertmaster of the New York Philharmonic, joins to play Rimsky-Korsakov's masterpiece in its entirety.