Luxury Pools Make Home More Like A Resort
Create your own water-filled oasis in your abode.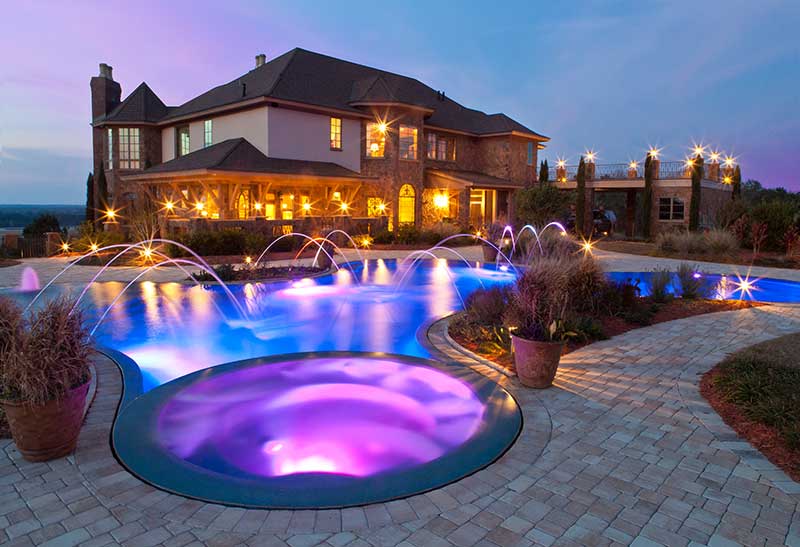 On a hot day, the only thing better than a pool is one with exquisite design. Gone are the boring rectangular pools of our past.
Amanda Bawn with Cox Pools in Panama City Beach says, "We had a customer who used a coffee spill on a napkin for her pool shape. I don't think we've ever built two pools the same."
Current designs enhance the home with beautiful mosaic tiles, linings of emerald, lapis blue or aqua, custom chaise lounges, teak accents and tall swaying grasses.
Picture a villa-inspired, white concrete, walled pool landscaped with colorful flowers and olive trees.
Dream a little. Imagine staying home for a weekend, turning on the LED lights around the perimeter of the pool and lighting the fire features.
To start making dreams a reality, know that location and setting are key. What is the view from the house?
Other considerations include lap pools (good for narrow lots) or resistance pools, size, pool covers, shape, heated or unheated, fencing, infinity pools vs. conventional edge, slides, lighting, filtration system, construction type, surrounds including decking, landscaping, path access to the house, and salt water versus fresh water.
Bawn likes salt, saying, "The salt water in pools doesn't taste like the water in the Gulf, and it makes your skin feel soft."
Quality in-ground pools cost $30,000 and up. Since pools can cover the waterfront, this article focuses on in-ground pools, which are usually made of custom concrete (Gunite, also called shotcrete) or more affordable fiberglass shells and vinyl liners.
Shotcrete covered with a waterproof plaster is the usual for pools in this area.
The plaster can be various colors, with gems or polished stones added for sparkle.
Backyard pools usually slope and range from 3 to 5 feet deep. Bawn says people tend to stay in the shallow end.
Parents can have a sun shelf built for a chair in the shallows so "mom can sit in the chair and stay wet while watching the children."
Likewise, children like wide steps in the shallow end to play on.
Resistance pools, also known as swim spas or swimming machines, are smaller than conventional in-ground pools.
In these, the swimmer swims in place against a water current or other type of resistance.
Infinity-edge pools create the illusion of water vanishing or extending into the sky, woods or lake.
Actually, the water is collected in a basin beneath the edge and goes back into the pool.
In zero-entry pools, the entry gradually slopes from the deck into the water. Other entry choices are ladders and steps.
A multi-access pool would have all three kinds. The drawback to zero-entry is that the floor can get slippery from suntan lotion, so slipping is a risk.
Add a rail, which is good for all age groups.
Swimming pool sanitation is about keeping levels of bacteria and viruses low to prevent the spread of disease and pathogens.
Chlorine (usually as a hypochlorite salt such as calcium hypochlorite) and bromine are commonly used chemical disinfectants.
Automated pool cleaners are a type of vacuum cleaner to collect debris and sediment.
Finally, pools must be made safe against accidents, so be sure to know the local regulations on fencing and safety equipment.
With these notes in mind, a prospective pool owner's most important consideration is to understand what he or she wants from a pool.
It might become the anchor of a backyard resort, a place for entertaining, a source of exercise, a place for moonlight swims or a stay-home alternative to beach trips.
Picture the ideal pool and move forward to get re-acquainted with the rich relationship between our lives and water.