Local Sculptor Covets Peace as Part of His Process
The native Hawaiian has brought his art to Panama City Beach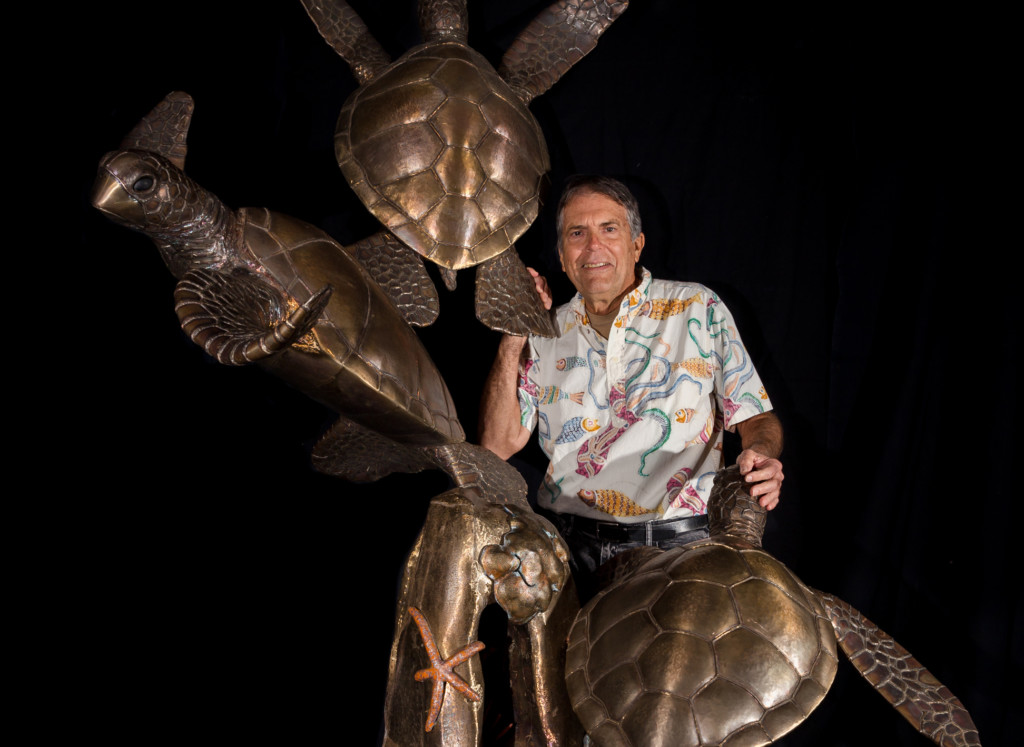 In Hawaii, where he lived for 42 years, Paul Saviskas frequently visited Punalu'u Black Sand Beach on the Big Island not far from Volcanoes National Park. He was attracted to the place not just by its stunningly beautiful scenery, but by fellow habitués: Hawksbill and green sea turtles that gather there to feed on a plant called limu, bask in the sun and nest.
"I love turtles," Saviskas said, and he loved especially to swim with them. On one occasion, he found himself in the water with a tightly bunched trio of turtles and, "I took a photograph in my head," he recalled. "And I told myself, 'I am making that sculpture.'"
Thus resolved, he bought a bunch of disposable underwater cameras and photographed Punalu'u's turtles from various angles, capturing detailed shots of their heads and flippers, and their shells, carpeted in algae so fine it looks like felt.
Finally, Saviskas wanted to get a picture of a turtle's underside. He positioned himself to do so and pressed his camera's shutter release, resulting in a loud click.
The subject turtle reacted by turning around and staring at the underwater paparazzo.
"He gave me the stink eye," Saviskas said. "It was a look that said, 'You pervert.'"
In any event, the portfolio of images was complete, and Saviskas set to work bringing the photograph in his head into being.
Saviskas grew up far from the tropical Pacific, in Worcester, Massachusetts, where his father owned a precision parts fabrication business. At age 14, Saviskas began his apprenticeship there.
"For stahters," Saviskas said, evidencing a Boston accent that he never has shed, "I swept the floors and tidied the place up, and I'd play around with scraps of metal and a welding machine."
His father, encouraged, thought son Paul was practicing to become a parts maker.
"But, really, I was practicing how to make sculptures."
Before long, Saviskas had created a few pieces that he thought had merit, and he approached the owner of a neighborhood barbershop with a proposition.
"Guy's name was Harry," Saviskas smiled. (Of course it was.) "There was nothing on the walls, and I told him that I would hang my sculptures and price them and, if they sold, I would split the proceeds with him, 50–50."
And they did sell, for $12 or $15 each.
"It was better money than I could have made throwing the (Boston) Globe, and I got my stuff in three or four other shops," Saviskas said. He began to entertain hopes that he might sell enough pieces to afford the '58 Corvette he dreamed about.
That didn't happen — too little time, too few barbers — but Saviskas the sculptor had begun, irretrievably, to take shape, and he had discovered his preferred medium: steel.
For a time, Saviskas would spin wheels at Quinsigamond Community College and Worcester Junior College. He studied accounting, but he couldn't make numbers work for him. He started down the road to becoming a state trooper until the woman that would become his wife told him that she would not marry a cop.
So, Saviskas became his father's number two man.
After passing muster with the FBI, Saviskas's dad was entrusted with making parts for MX missiles. The work was exacting, almost beyond measure.
"Tolerances were extreme," Saviskas said. "A human hair is four ten-thousandths of an inch in width. We were dealing with tenths of thousandths of an inch.
"I worked for two months on a piece that I could hold in one hand," Saviskas said. Parts made in Worcester were joined with parts made by other fabricators from around the country to make missiles at a location unknown to Saviskas.
"Quality had to be No. 1, and my father was a stickler for that," Saviskas said.
As a sculptor, Saviskas is given to like precision and discipline. He devoted two years to his three-turtles piece, which is now on exhibit at the Center for the Arts in downtown Panama City. The sculpture, by Saviskas's estimate, comprises $30,000 in materials.
Saviskas traded Honolulu for Lynn Haven two years ago to be near family, including his 92-year-old mother, a sister and a nephew who was a fighter pilot at Tyndall Air Force Base before he was displaced by Hurricane Michael.
Decades earilier, Saviskas moved from the Northeast to Hawaii after plans he made with his wife, Carol, to relocate to New Zealand were scotched by that nation's embassy. (Saviskas suspects that officials were uncomfortable with his connection to the missile program.)
Hawaii seemed like the next best thing, but there was no call in paradise for an industrial parts maker, so Saviskas put his art to work.
He found a niche making elaborate gates for the rich and famous. Customers included Kelsey Grammer and Carlos Santana. He enjoyed referrals from designers and architects to the point where he was pinning deposit checks on the wall and telling people, imprecisely, that "I will get to you when I can." Once, he crafted a spiral staircase for an existing building so exactly that when it was dropped into its permanent home through a window, it fit perfectly and astounded passersby who observed the installation in progress.
His talents came to the attention of the Mayor's Office of Culture and the Arts in Honolulu, and he was commissioned to produce works including a dragonfly of dinosauric proportions and an outsized humuhumunukunukuapua'a, Hawaii's state fish. (It's a triggerfish, but one far more colorful than the gray triggers of the northern Gulf of Mexico.)
The dragonfly and the "humuhumu" soon became the two most photographed pieces of public art in Hawaii.
Saviskas is aided in all that he makes by his devotion to tai chi and qi gong, disciplines that account for his impeccable posture and transport him to a place of calm where creativity flourishes.
"I am happiest when I am in the woods," Saviskas said. "Whenever I travel, I find a wooded area to do my tai chi and qi gong. For a time, my wife (a speech pathologist) had an assignment in Bonifay, and I would go every morning to Falling Waters State Park. The deer didn't trust me at first, and then they got to know me. In a clearing, they would graze and I would do my thing and my vibes were good and I was no more threatening to them than a mushroom."
Not all artists, it seems, are temperamental.
Panama City Center for the Arts
Provides educational experiences, performances and exhibits that contribute to cultural enrichment in Bay County.
19 E. 4th St., (850) 640-3670 bayartsevents.com
Open Tuesday through Saturday, 10 a.m. to 5 p.m.